Calling all foodies and other culinary enthusiasts. We hope you are a glutton for delicious punishment because on March 25th, The Village Voice presents it's
7th Annual Choice Eats 2014
event. "Choice Eats" is one of New York's most unique food events where 3,000 attendees sample food from the most sought after NYC restaurants from over 35 countries, all handpicked by The Village Voice's food critics. Enjoy some of the most decadent gourmand dishes, including sushi, BBQ, seafood, Indian, Thai, sandwiches, Mexican, Italian, French, desserts, and much more, from seventy-five restaurants including:
606 R&D, Alobar, Ample Hills Creamery, Anella, Bear, Beecher's Handmade Cheese, Bhatti Indian Grill, Bien Cuit, Bobwhite Lunch and Supper Counter, Brooklyn Kolache Co., Bunker, Butter & Scotch, Carlo's Bakery, Coppelia, Devi, Dirt Candy, Edi and the Wolf, Egg, El Almacen, Fay Da Bakery, Fletcher's Brooklyn Barbecue, Fonda, Indian Clove, Jimmy's No. 43, John Brown Smokehouse, Kaia Wine Bar, La Newyorkina, Larb Ubol, Little Prince, Littleneck, Louro, Luke's Lobster, Mables Smokehouse, Maima's Liberian Bistro, Martha, Max, No. 7, Oda House, OddFellows Ice Cream Co., Ovelia Psistaria, Pete Zaaz, Queens Comfort, Red Hook Lobster Pound, Robicelli's, SCRATCHbread, Sheep Station, Spicy Bampa, Swine, Tabata Noodle Restaurant, Telepan Local, The Kati Roll Company, The Meatball Shop, The Pines, Thistle Hill Tavern, Xe May Sandwich Shop, Yunnan Kitchen and Zenon Taverna.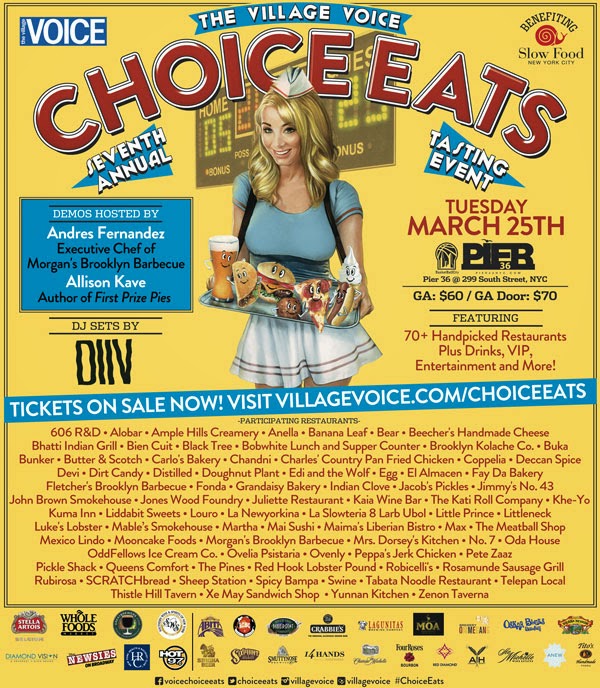 And this year's event sees eighteen new additional restaurants that are all set to :
Black Tree, Buka, Chandni, Charles' Country Pan Fried Chicken, Doughnut Plant, Grandaisy Bakery, Jones Wood Foundry, Juliette Restaurant, Khe Yo, Kuma Inn, Liddabit Sweets, Mexico Lindo, Mooncake Foods, Mrs. Dorsey's Kitchen, Ovenly, Peppa's Jerk Chicken, Rosamunde Sausage Grill and Rubirosa.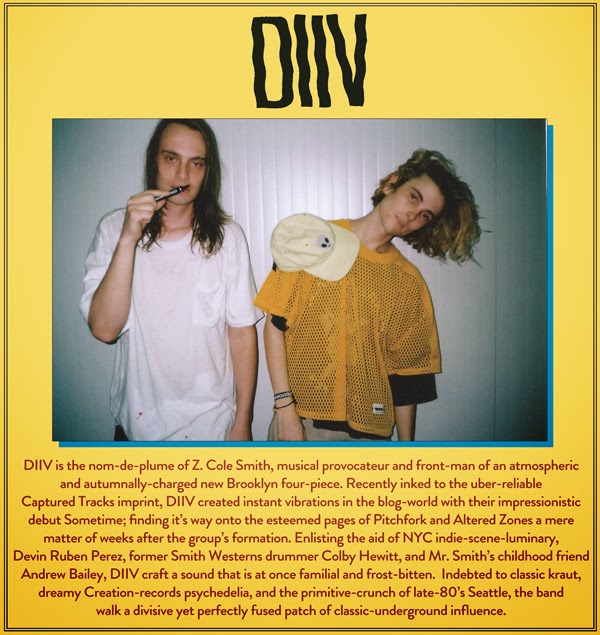 With great food comes great entertainment (and a great way to dance off a full stomach). Brooklyn indie-rockers DIIV (seen above) will DJ this year's "Choice Eats" event. The band has performed on the Late Show with David Letterman and at major music festivals including Coachella, Bonnaroo, Lollapalooza, and more.
VIP tickets for "Choice Eats" 2014 are already sold out but and only a limited number of General Admission tickets are still available. To purchase tickets, go to www.villagevoice.com/choiceeats. The event will take place on Tuesday, March 25th at Basketball City at Pier 36 located in Lower Manhattan from 7:00PM-10:00PM.