Just about everyone of you most likely has a lucky number, a personal number that is important to you or lucky for you. This belief in the power of numbers comes from the study of Numerology, where every number has a meaning.
Glitterrings Jewelry
has a great collection of
Number Pendants
that celebrates what your special number says about you. This number represents who you are and gives incredible insights into your individual character and personality. Unlock your combination using your birthdate and find out what each number represents.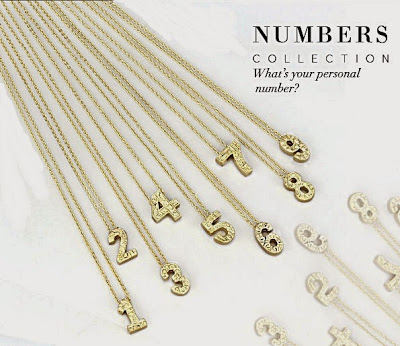 Your personal number is derived from the day of the month that you were born. Everyone has very distinct personality traits and one of the reasons for this is that your personal number has its own unique vibration. To find out your personal number, you must add both numbers in your birth date to get one single digit. For example (and mine is super easy) I was born on the 1st of November, which would make my personal number 1 (0+1). If I was born on the 11th of November, my personal number would then be 2 (1+1) or if I was born on the 23rd of November, my number would then be 5 (2+3) – you get the idea.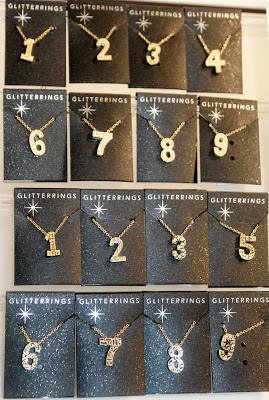 As a special detail, each Glitterrings Number Collection pendant is engraved with a unique characteristic on the back. You can wear your personal number to express your individual personality or wear one to represent a loved one that you want to keep close to your heart. See the number meanings below:
1 – Original, self-reliant, ambitious, dynamic, daring
2 – Charming, persuasive, kind, romantic, receptive
3 – Sociable, fun loving, creative, expressive, artistic
4 – Steadfast, visionary, hardworking, methodical, determined
5 – Adaptable, freedom-loving, versatile, clever, energetic
6 – Dependable, loyal, magnetic, responsible, nurturing
7 – Intuitive, discriminating, analytical, perfectionist, refined
8 – Authoritative, conservative, strong willed, builder, executive ability
9 – Energetic, dynamic, passionate, generous, humanitarian
Each pendant is 14K gold plated with a satin finish, features a clear Austrian Crystal and special characteristic inscribed on the back and comes on a 16″ with 3″ extender. Each number pendant retails for $28.00 and can be purchased on Glitterrings.com.