Leave it to Illamasqua to offer beauty lover more color, more texture and more beauty for spring. The fashion-forward beauty brand brings you
GLAMORE
, a vibrant spring collection of products that invites you to
"immerse yourself in a world of timeless textures, bold shades and strong definition"
. GLAMORE promises you multi-dimensional glitter nail colors, satin lips, defined eyebrows, and a flawless canvas that celebrates the classic yet evolving world of color….and it doesn't let you down. The Illamasqua GLAMORE Collection is made to be mixed and matched with each other. Blend the lipsticks to create new tones, create a great nail art design with two or all of the nail lacquers.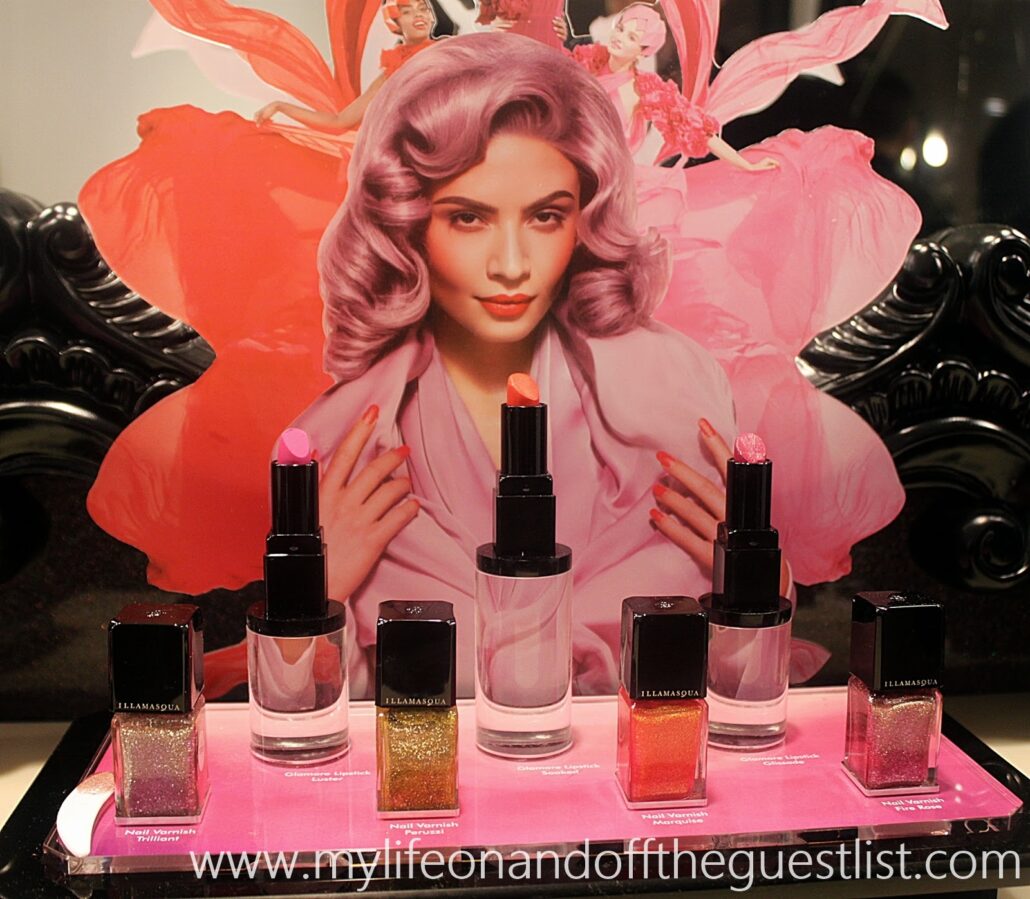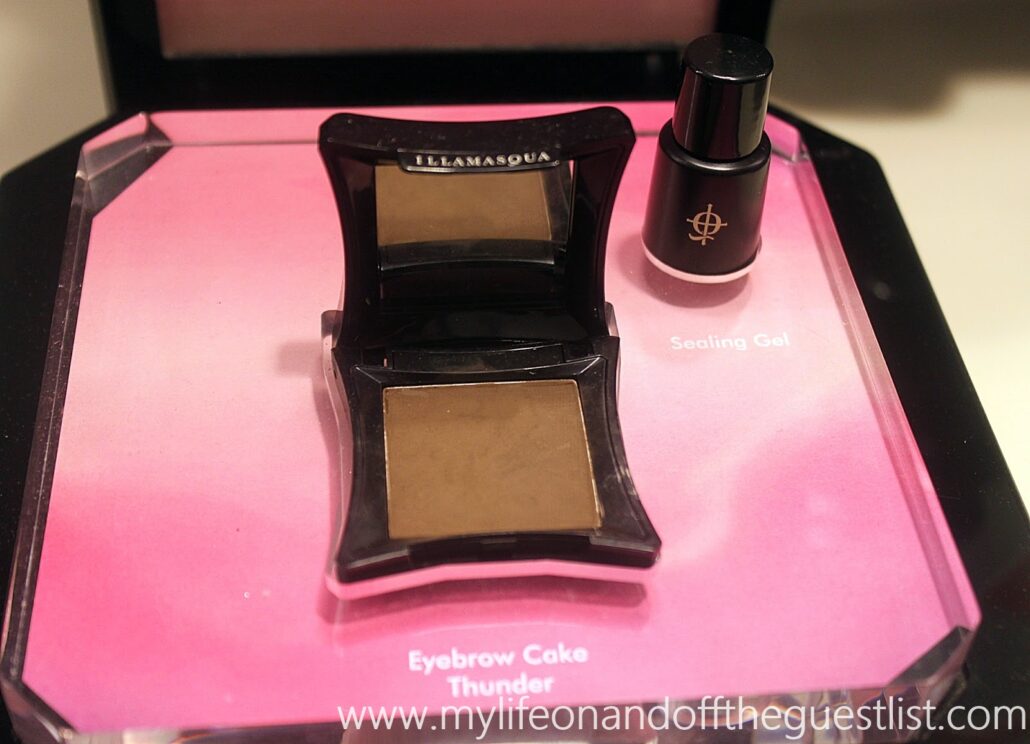 I've been personally searching for the perfect orange that will compliment both my skin tone and undertones and I have found this color in GLAMORE. As you can see, we had the pleasure of previewing the Illamasqua GLAMORE Collection at Bloomingdale's 59th Street with the very adorable Ross Andrewartha, Illamasqua's International Trainer (pictured below), who shared this season's latest trends and some tips and tricks for flawless makeup applications.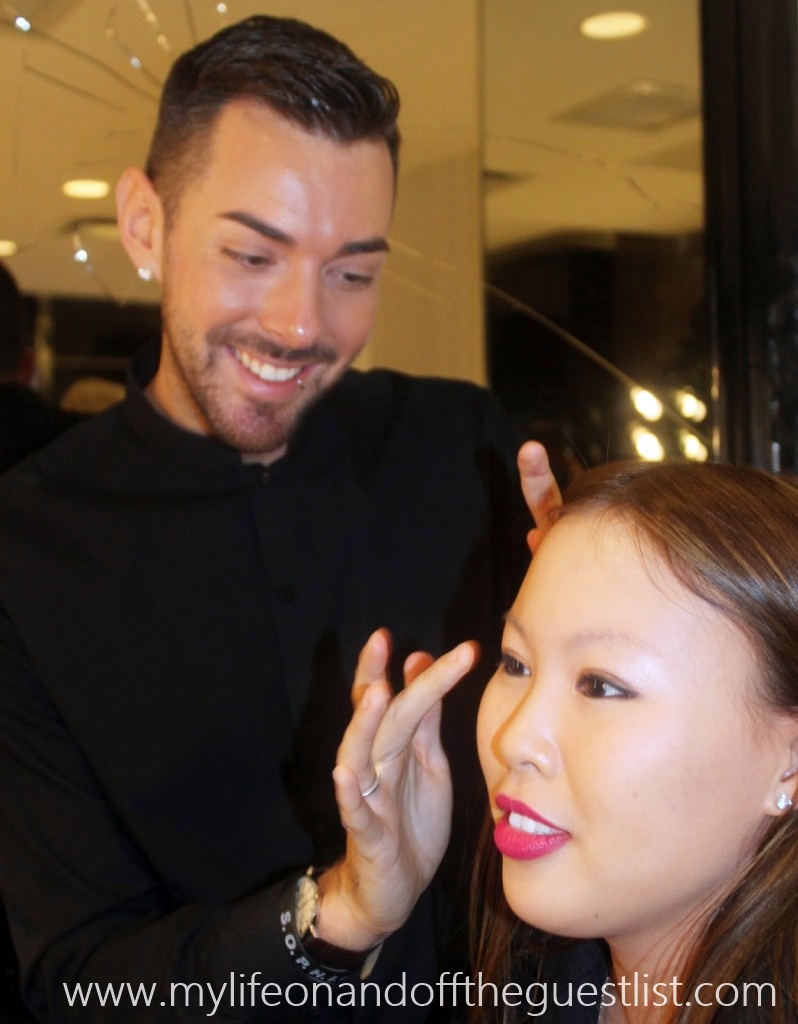 The Satin Finish Lipstick features intense color with a long-lasting satin yet hydrated comfort finish thanks to its moisturizing Vitamin E. It's available in three colors – Soaked (vibrant orange), Glissade (dark, bold pink), and Luster (candy pink). Wear alone or under a sheer lip-gloss for more 3D Effect. Get this amazing lipstick for $26.00 each.
The Shattered Stars Nail Varnish  – are a new take on the same highly pigmented, award-winning and chip resistant Illamasqua nail varnish featuring a multi-dimensional glitter finish. With three shades to choose from – Trilliant (shattered champagne), Marquise (shattered orange), and Fire Rose (shattered pink), these nail colors provide the perfect finish and inspiration for nail art. Each color retails for $17.00.
The Eye Brow Cake, available in Motto (warm taupe), Gaze (dark gray slate), Peek (warm caramel), Thunder (dark brown), Stark (auburn), and Vehement (soft black), gives your eyebrows the edge. Shape and define to frame your eyes and enhance your expressive side. Match with your natural color or experiment with different tones for an alternative look. Use dry for soft definition or mixed with water or Sealing Gel for a sharp shape. Grab your color for $23.00 each.
NOT PICTURED
The Angled Brush is the perfect brush to define and create precision lines. Ideal for eyebrow and eye line definition and for sharpening beneath the eyebrow and around the lip with your foundation. It's the perfect brush to use with the Eyebrow Cake. Get this brush for $29.50.
The Ultimate Skin Trinity ensures you radiate skin confidence every time and gives you a flawless canvas to paint. The Trinity features Hydra Veil for makeup priming, Skin Base Lift to lift and Illamasqua's award-winning Skin Base Foundation to perfect your canvas. Get Hydra Veil for $48.00, Skin Base Lift for $24.00, and Skin Base Foundation for $42.00.
The Illamasqua GLAMORE Collection is available at Bloomingdales and Illamasqua.com. I highly recommend that you pop into Bloomingdales and try out the colors, you will not walk out empty handed.