We humans are a mobile race; we're always on the go and always need to be on the go. We have no time for things that keep us stagnant for too long especially when it comes to going about our daily lives. Naturally as a race who's always on the move, we want our mobile devices to be available and fully charged all the time and sometimes we have no access to an outlet or even have our power cord readily available. Thankfully travel and portable chargers are here to keep us fully charged without slowing us down. Today we're highlighting great ways to power up your devices from
Snow Lizard
,
PNY
,
Rayovac
,
Mimoco
, and
Duracell Power
.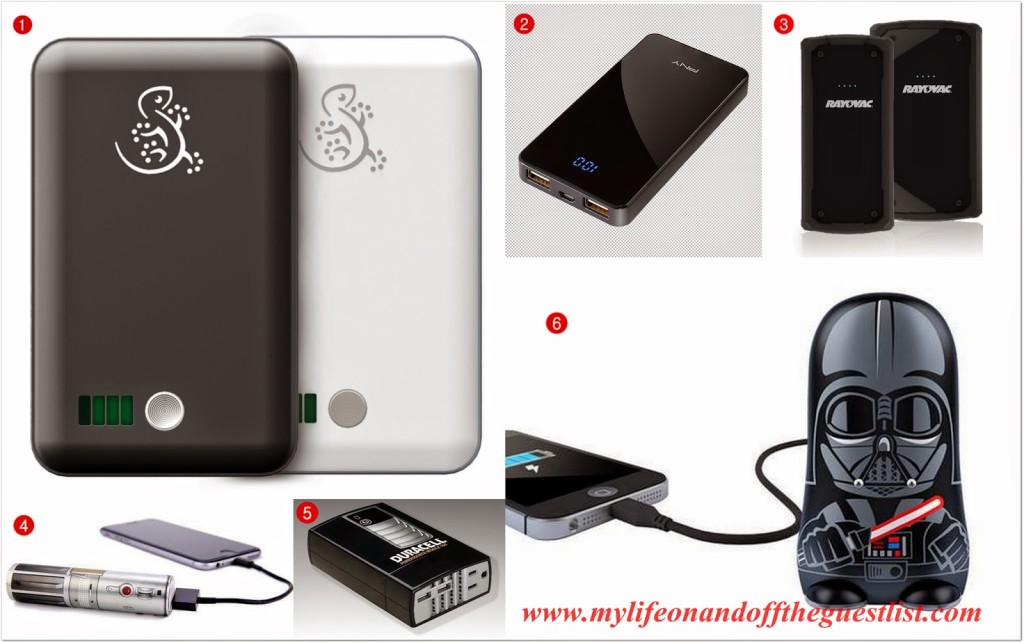 Snow Lizard SLPower 11 Portable Charger – a portable, compact 11000mAh battery that is capable of recharging up to two USB-powered mobile devices simultaneously. It charges and recharges most USB-powered devices, including mobile phones, cameras, and even tablets, two times faster than an AC outlet. With this Snow Lizard portable charger, you get up to +7 recharges of iPhones, +3 recharges of Samsung Galaxy S5, and +1 recharges of iPads. Get it on sale now for $45.49, reduced from $69.99.
PNY PowerPack HD5000 Portable Battery Charger – this 5000 mAh battery will charge any Apple, Android, Windows, or BlackBerry device. When fully charged, the HD5000 PowerPack can recharge most smartphones up to three times. It comes with a 20″ Micro USB cable for charging the PowerPack as well as Micro USB devices and also features hidden LED indicators which easily show how much battery power remains on your PowerPack. The PNY Powerpack normally retails for $39.99 but is currently on sale for only $19.99.
Rayovac 2000mAh and 6000mAh PowerPacks – easily storable, these rugged, durable and water-resistant power packs can recharge mobile devices and be recharged. Similar to Rayovac's other improved mobile charging devices, the powerpacks include LED battery gauge indicators that display a charge and discharge status. The 2000mAh powerpack has enough capacity to give your smartphone a full charge while the 6000mAh powerpack can charge your smartphone three full times. snap up the 2000mAh Rayovac PowerPack for $29.99 and the 6000mAh for $49.99.
Luke Skywalker's Lightsaber MimoPowerTube 2600mAh Universal Battery – may this portable power force be with you. Use this force of the Luke Skywalker's Lightsaber MimoPowerTube 2600mAh universal backup battery to power up your smartphone on the go. The officially licensed Star Wars charger includes carrying pouch and charging cable with adapter tips for MicroUSB, Apple Lightning, and 30 pin devices. It is compatible with most devices with an 5V input and boasts a cycle life of 500 times and 3-4 hours of DC Charging Time. Grab one for yourself for $29.99.
Duracell PowerSource Mobile 100 Charger – a compact rechargeable source of portable power for AC and USB-powered devices. The Duracell PowerSource Mobile 100 has an AC outlet and two USB charge ports, so you can run or charge multiple devices simultaneously. Say goodbye to carrying extra cords, chargers, and device-specific batteries, the Duracell PowerSource Mobile 100 combines a 100-watt inverter with a lightweight, high-output 4.0 amp-hour lithium-ion battery pack. It provides over-temperature shutdown, low-battery voltage shutdown (10.5 volt DC with automatic reset), and overload shutdown. Stay fully charged for $149.00.
Darth Vader MimoPowerBot Charger – With 5200mAh of the Force in your hands, you'll never run out of juice. This portable, rechargeable, backup battery powers up smartphones, tablets, and other 5V mobile devices on the go. It includes a USB charging cable with multiple tips (microUSB, miniUSB, Nokia, Apple 30 pin, Apple Lightning). Pre-order now for a guaranteed discount: Save $10 off the $69.99 price. The Darth Vader MimoPowerBot Charger ships January 2015.
Would one of these portable power chargers help make your life easier. Do you have a favorite portable charger you want to recommend?