Sometimes it's necessary to take a break from the runway shows for a more relaxed viewing collection experience. We had the pleasure of getting better acquainted with the stunning bags from the Angela Roi Fall 2015 Handbag Collection during NYFW, much to the delight of our senses. Housed in the Bene Rialto NYC Marketplace, which highlights and celebrates emerging designers and artists, the classic and elegant Angela Roi bags were a much-needed infusion of sophistication and color. Attendees of the preview were treated to a first-hand view of their just-released Jules Bucket Bags, their classic range of cross-body and tote bags, and a preview of their upcoming Basics Collection.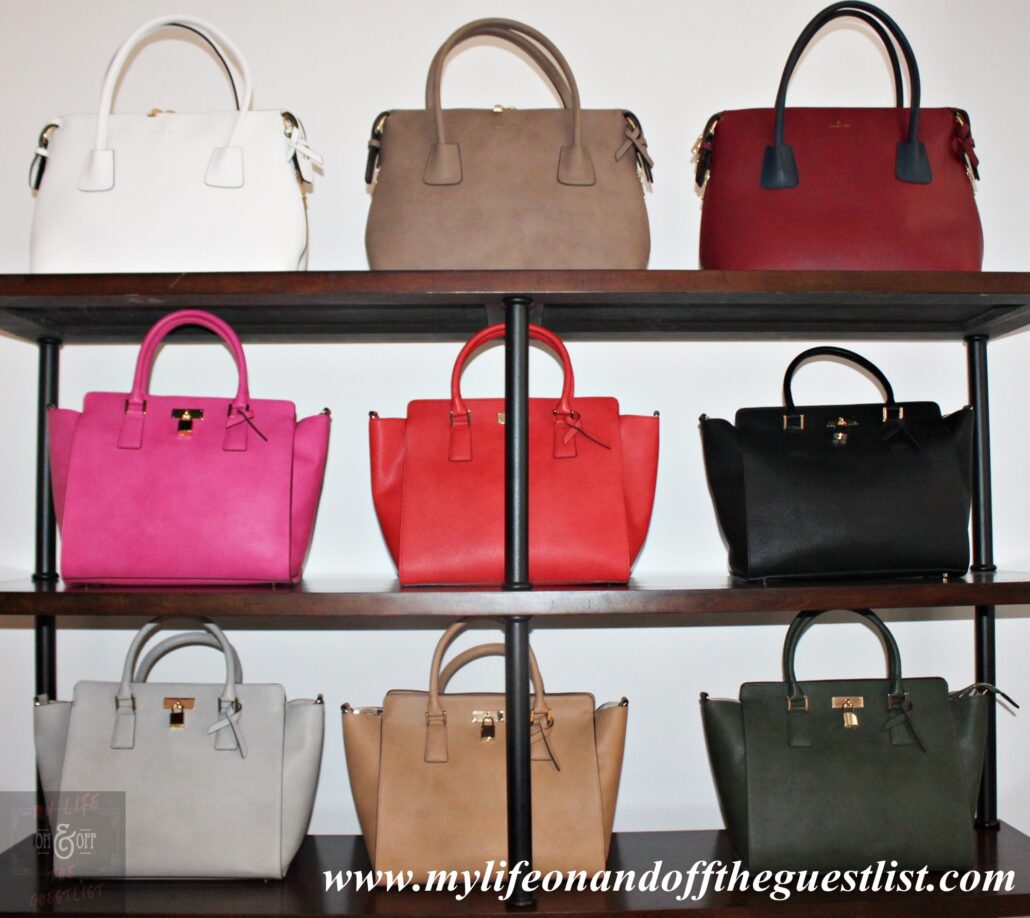 There are so many things to love about the Angela Roi bag collection. The luxurious yet accessible handbags boast vegan leather, a modern aesthetic, classic  minimalist styles that compliment any look, meticulous design, and a connection to amazing causes which they bags raise awareness and support for, through their "Donate by Color" program. where each color represents a different charity. On to the bags! The above features the Moa Tote, $165.00 (top row), and Sunday Tote II, $150.00 (2nd & 3rd row), both are made from high-quality Polyurethane leather, two cell-phone compartments inside, a zipped inside pocket, a fully lined interior, and the Angela Roi logo inside. The Moa Tote also features a zippered closure at the top, zipper embellishment at the side, and an animal-free suede lining inside. The Sunday Tote II features wing-shaped sides, a zippered closure, gold lock embellishment at the front,  gold square shape fixed rings on the handle, and an Angela Roi ribbon logo engraved on the back.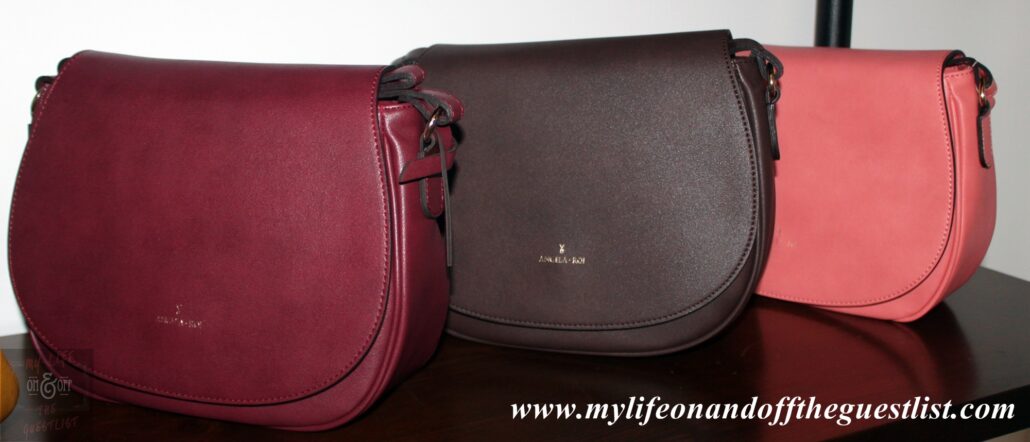 The round, Morning Cross-Body, $95.00 boasts high quality Polyurethane leather, a fold-over flap with magnetic button closure, gold Angela Roi and Signature Ribbon logo embossed at front, Angela Roi logo inside, a zippered closure at the top, a zippered pocket at the back, fully lined cotton interior, inside zippered pocket and an adjustable strap.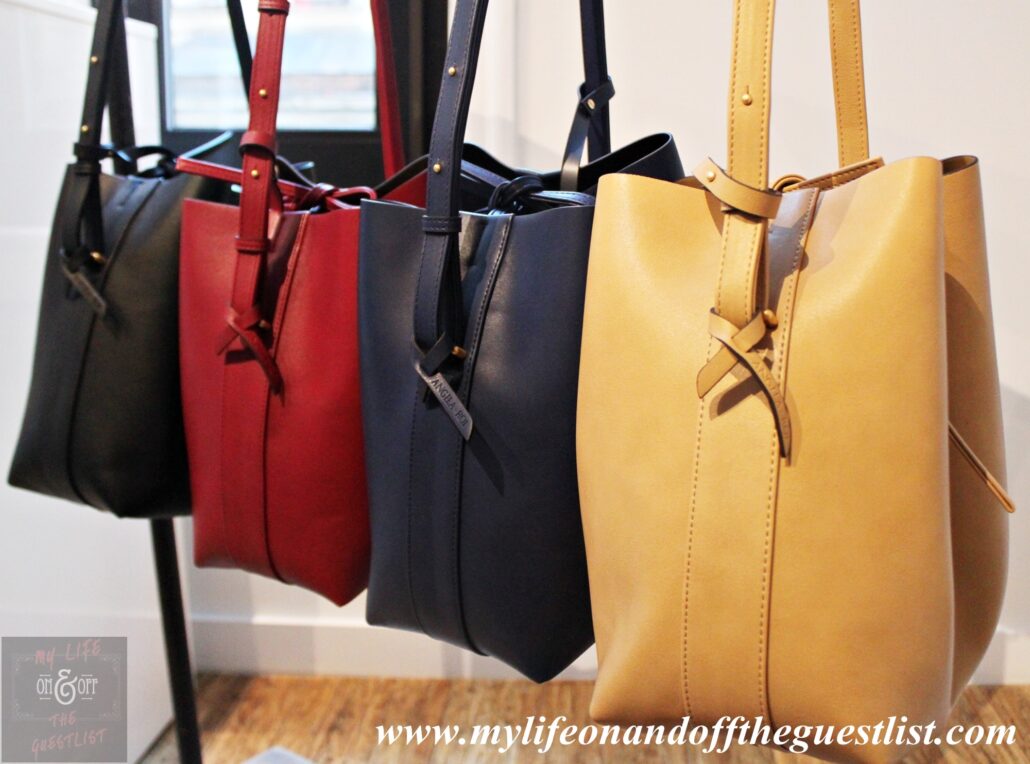 The new Jules Bucket Bag, $145.00, is the perfect everyday bag. It boasts room to carry everything from your laptop, iPad, wallet, etc, an effortless style that holds and goes with everything. It's buttery soft exterior is the perfect compliment to it's structured interior. It features a rope tie and snap button closure,  14k satin gold hardware including round flat studs on the bottom which balances and protects it, and a matching detachable pouch. The new bag is available in four colors: Light Beige, Navy, Wine, and Black, all of which support a charity. The Light Beige supports childhood cancer, the Navy: Colon Cancer, the Wine: Children affected with Aids, and the Black: Melanoma.
Our favorite color, of course, is pink (no surprise there), so we were naturally drawn to the bright pink Sunday Tote II. As with all the bags, a portion of the proceeds goes to an amazing charity. Since it's pink, that naturally means a great breast cancer organization. for every pink bag sold, $5 will be donated to Living Beyond Breast Cancer.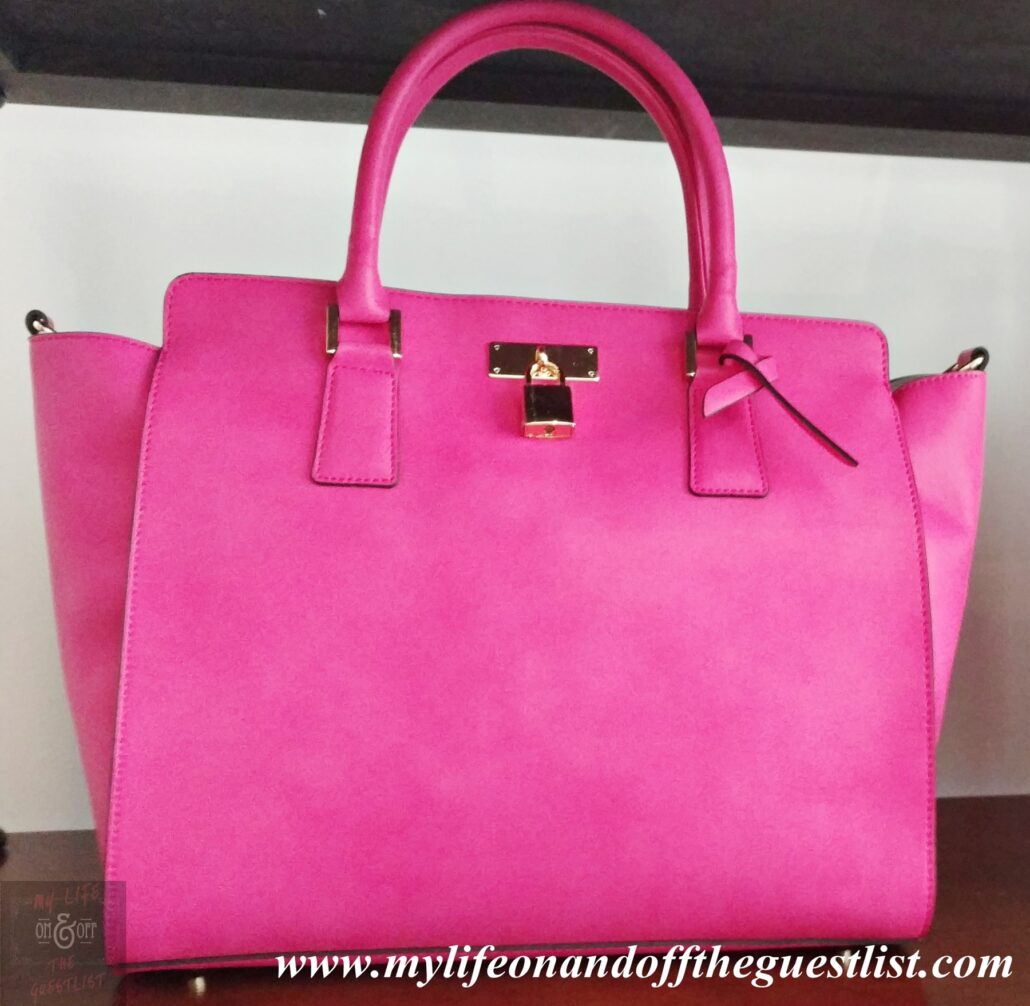 To learn more about which colors support which charities, head over to Angela Roi Donate by Color page and see the great causes your purchases support.