While attending an event during the winter season, we spied one of the event's attendees with a clutch so fabulous, we had to stop her and inquire.  We found out that fabulous holiday designed clutch (it was accented with working small c7 Christmas lights) is from Kent Stetson Handbags. Although it took some time, we're happy to bring you more of the stunning collection from the fun, whimsical, and extraordinary handbag label.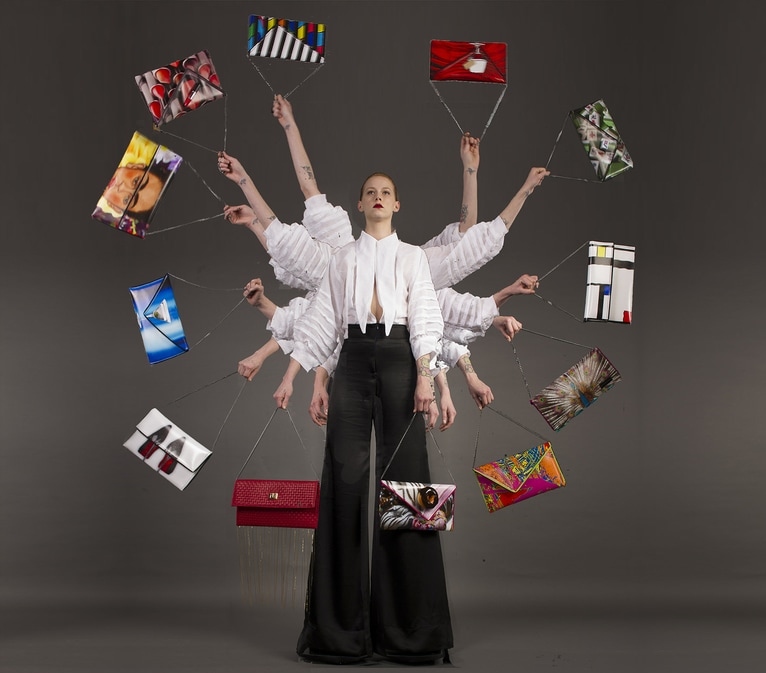 It will come as no surprise that Kent Stetson's background is in art. His signature asymmetrical and non-asymmetrical clutches (they all come with a handy crossbody strap), and larger day bags are fun conversation pieces. As we previously stated, the clutch we saw was so eye-catching, we were compelled to find out more about it.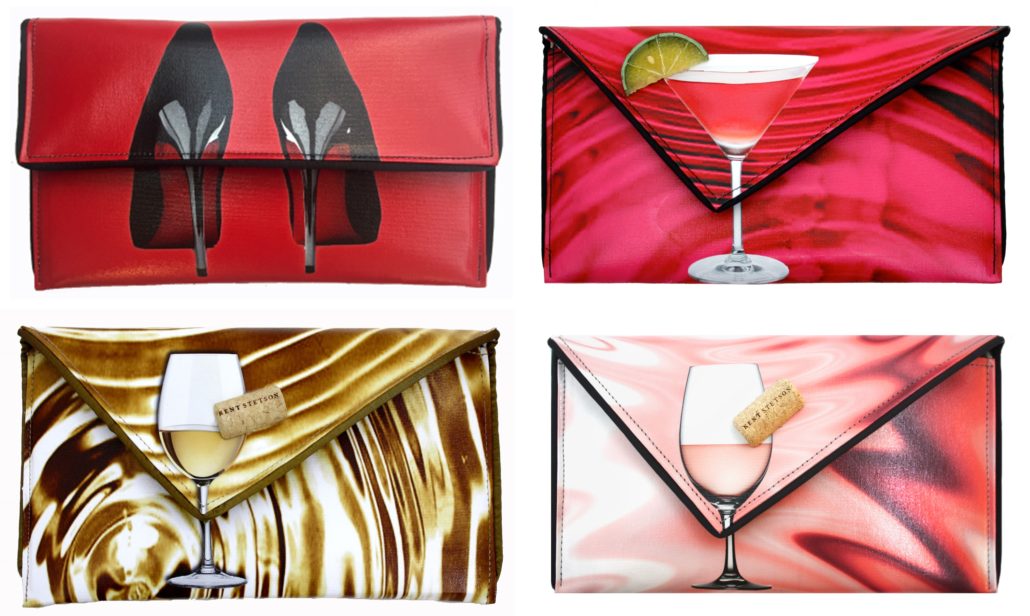 The Kent Stenton Handbags has a wonderful variety of design options made from luxury-quality coated canvas, and we wish we could highlight them all but this would end up being extremely long. We are, however, sharing our favorites with you today.  The shoe addict and those who love adult beverages will love the following clutches, the Heels Clutch ($208.00), Cosmopolitan Clutch ($205.00), Rosé Clutch ($205.00), and the White Wine Clutch ($205.00).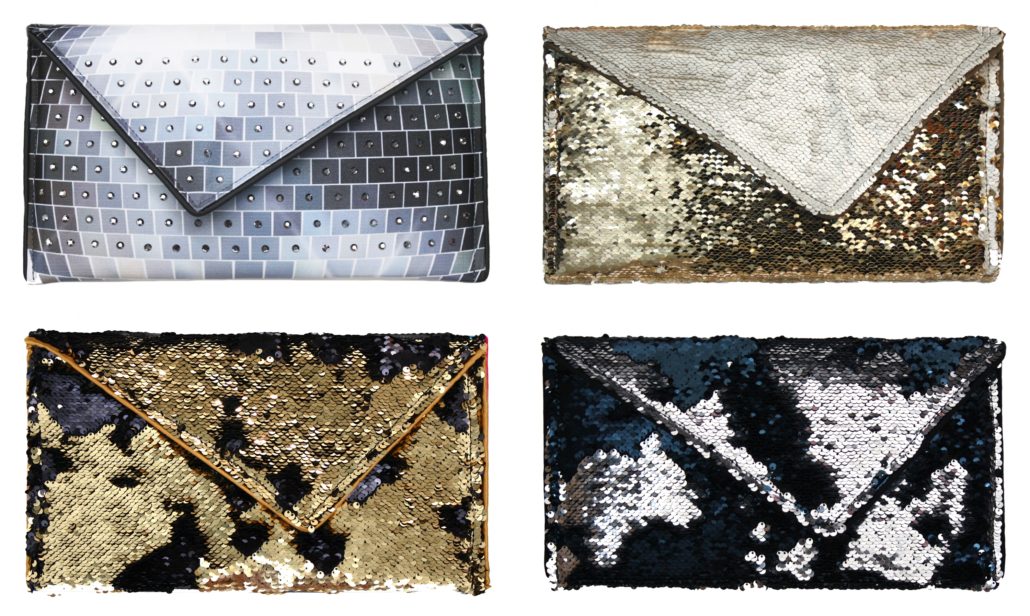 For you metal heads, and by that, we mean metallic fashion; you'll love the following rich metallic and textured styles: the Disco Ball Clutch ($298.00), Ivory & Gold Paillette ($198.00), Gold Paillette Clutch ($198.00), and the Silver Paillette Clutch ($198.00).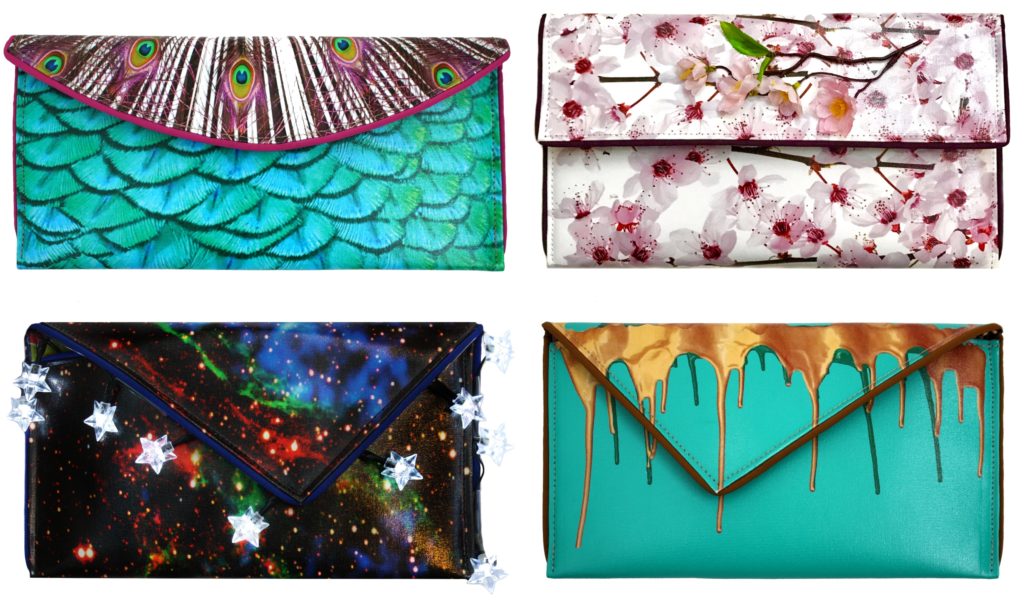 For those looking for bold and memorable color and prints, you'll love the Peacock Clutch ($198.00), Cherry Blossom Clutch ($212.00), Celestial Clutch ($208.00) –  complete with battery powered lights, and the Dripping in Gold Clutch ($198.00).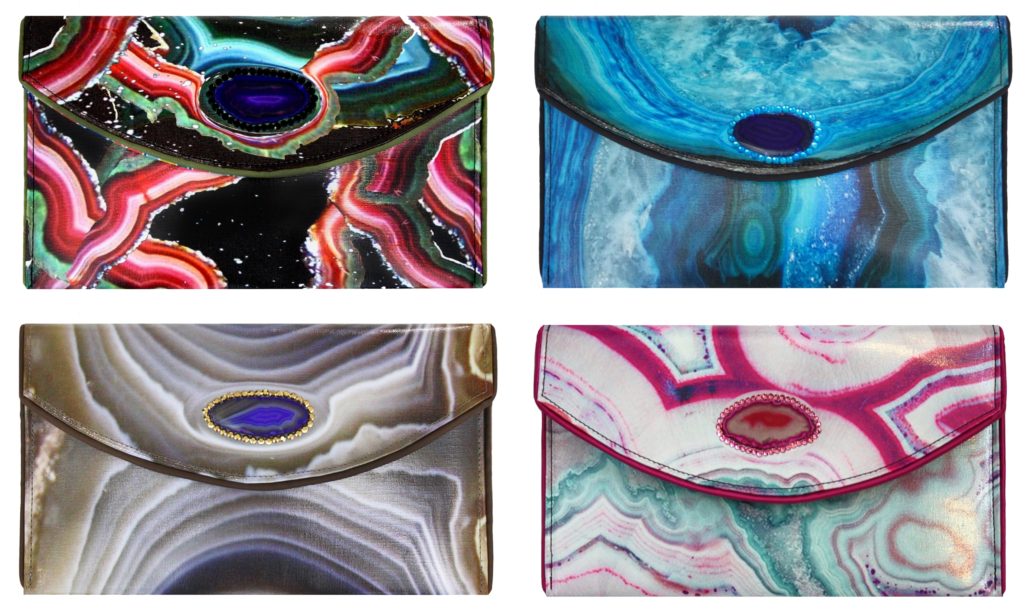 Last but certainly not least, for those of who loves the natural beauty of geodes, the Kent Stetson clutches featured above are perfect for you, most of which are accented in crystals and agate. Going clockwise, we have the Black Geode Clutch ($230.00), Aqua Geode Clutch ($230.00), Topaz Geode Clutch ($230.00), and the Tropical Geode Clutch ($230.00).
All Kent Stetson handbags come with a removable cross-body chain, logo dust bag, clear vinyl inner pocket, and are individually signed by the designer artist himself. So there you have it, your new bag obsession. To get to know more about Kent Stetson and their amazing collection of bags, visit www.kentstetson.com.
PHOTOS BY KENT STETSON