The gifting season is almost upon us and we all know one gift that's always a hit for the ladies – jewelry!! What's better than giving the great gift of jewelry? Saving on those holiday jewelry gifts. We're happy to once again share the upcoming PONO 2018 Holiday Jewelry Sample Sale. As you know, we are obsessed with the stunning Italian Resin jewelry (which you may remember Rihanna rocked in the June 2018 issue of Vogue). Well, here's your chance to score some of the gorgeous PONO jewelry at wonderful sample sale prices.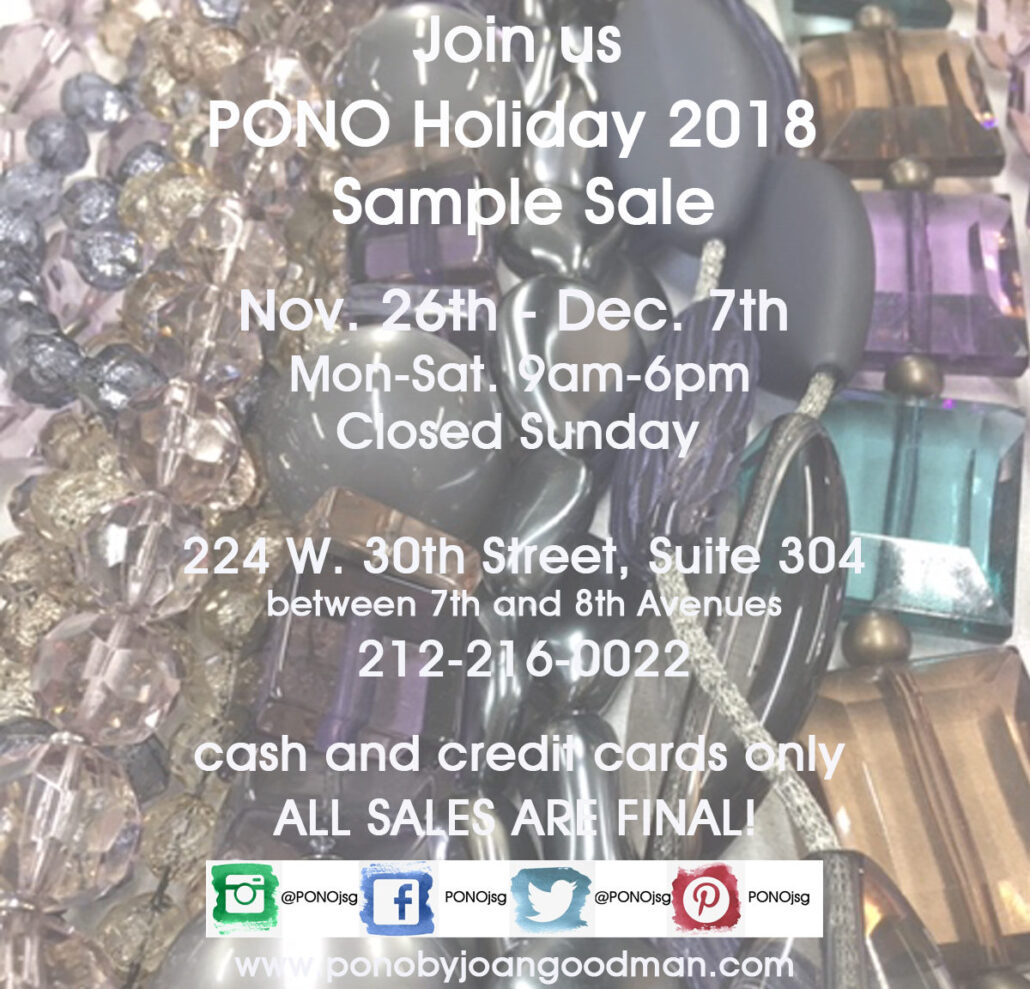 Get gorgeous gifts galore with a stop into the PONO 2018 Holiday Jewelry Sample Sale where the bold and beautiful baubles are all 50-80% off.  Shop and save to your heart's content while you meet PONO's Creative Director, Joan Goodman and feast your eyes on gorgeous goods from $5.00 – $500.00.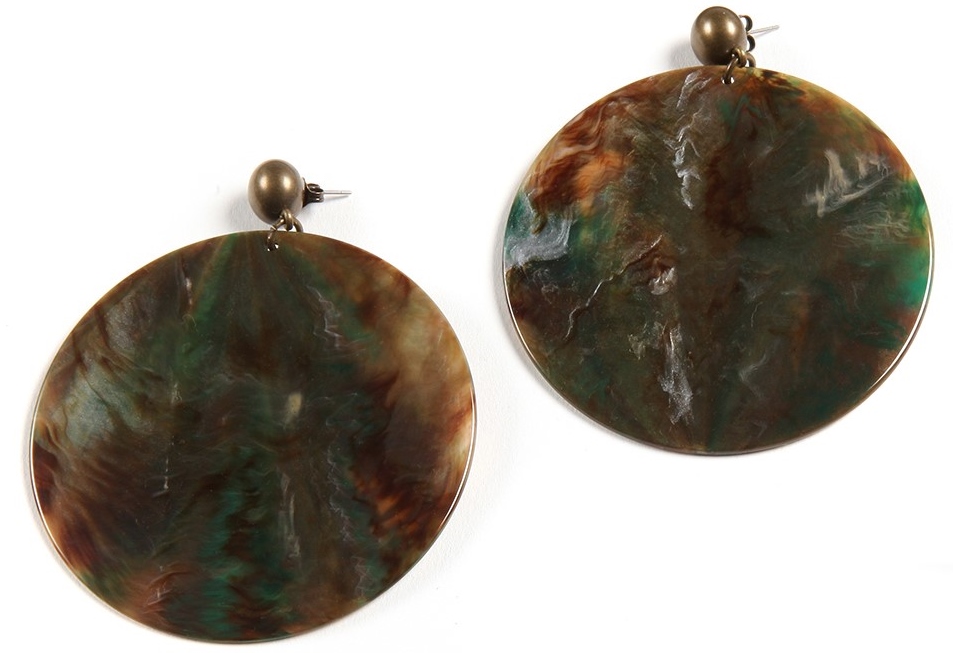 Go big with a posh pair of oversized Moon Resin Earrings – once $100 and now all yours at a fantastic $55.00. Score the sensational hand-sculpted, beaded Italian resin Allegra Necklace, previously $600.00 – now available at an amazing $250.00.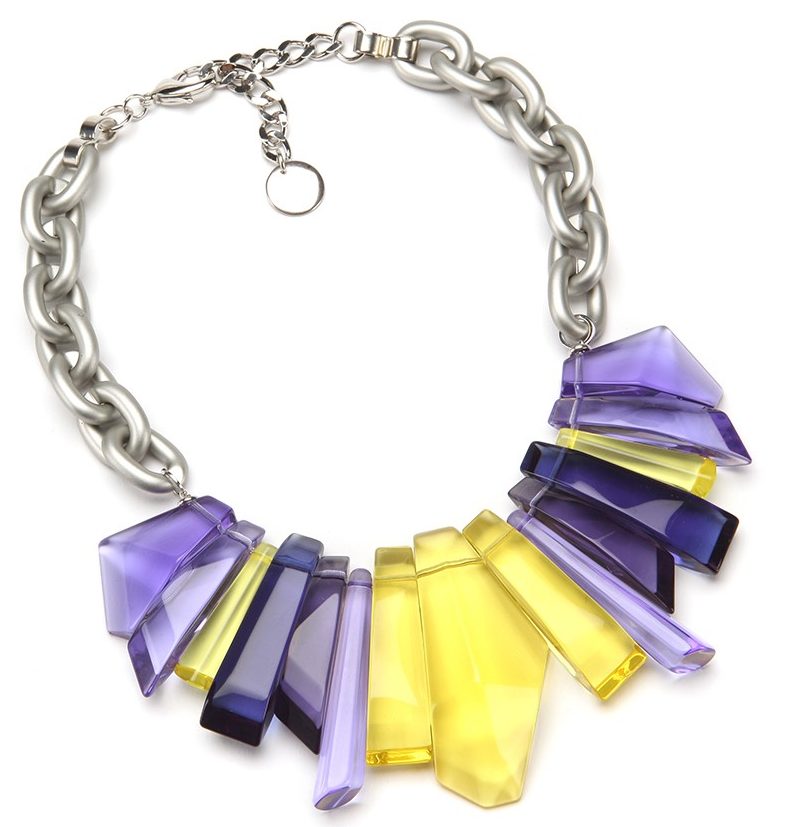 Steal the crystal-clear multilevel geometric Sea Glass Necklace for $175.00 down from a former $415.00, or own the Angle Bangle, a fusion of poetry and geometry – regularly $65.00, now yours for only $25.00. For the finish, indulge your wrists at the bangle bar, where 3 pieces are yours for only $25.00, 5 go for $30.00, and 10 can be taken for $50.00. All bangles are originally valued at $30.00 – $45.00 each.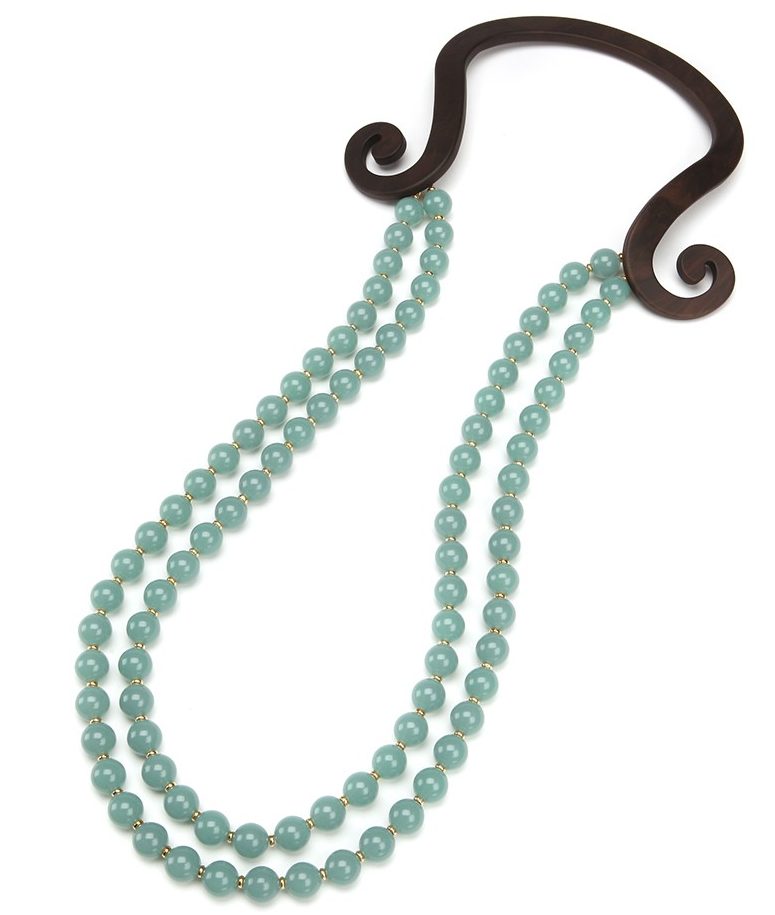 How do you get to the  PONO 2018 Holiday Jewelry Sample Sale? Head over to 224 W 30th St., Suite 304, between Seventh and Eighth Aves. Hop on the following subways: B, D, F, M, N, Q, R to Herald Square, or the 1, 2, 3, A, C, E to Penn Station. The sample sale runs from Monday, Nov 26th through Friday, Dec 7th, from 9am–6pm. Please note the location is closed on Sundays. For more information on PONO and the upcoming sample sale, call (212-216 0022).
What are you looking forward to buying at the PONO 2018 Holiday Jewelry Sample Sale?