The demand for wireless audio has grown vastly in the past decade. Wireless audio is safer than holding a device to your ear and provides greater privacy. Moreover, wireless audio provides better audio production than speakers, making them the audio system of choice for video conferencing.
Even more importantly, wireless audio can help people with hearing loss use their cell phones. Roughly 36 million Americans have some amount of hearing loss. For many of these users, the better sound quality of wireless audio earbuds can be essential for cell use.
However, wireless audio devices come with a few drawbacks. Most wireless audio devices are designed to fit over or in the ear. This means that some people cannot use them because the devices are too large, too small, or improperly shaped to fit the user's ear. Wireless audio devices are also notorious for being misplaced or lost. This leaves the user without an audio device for driving, exercising, or other activities that require the user's hands to remain free.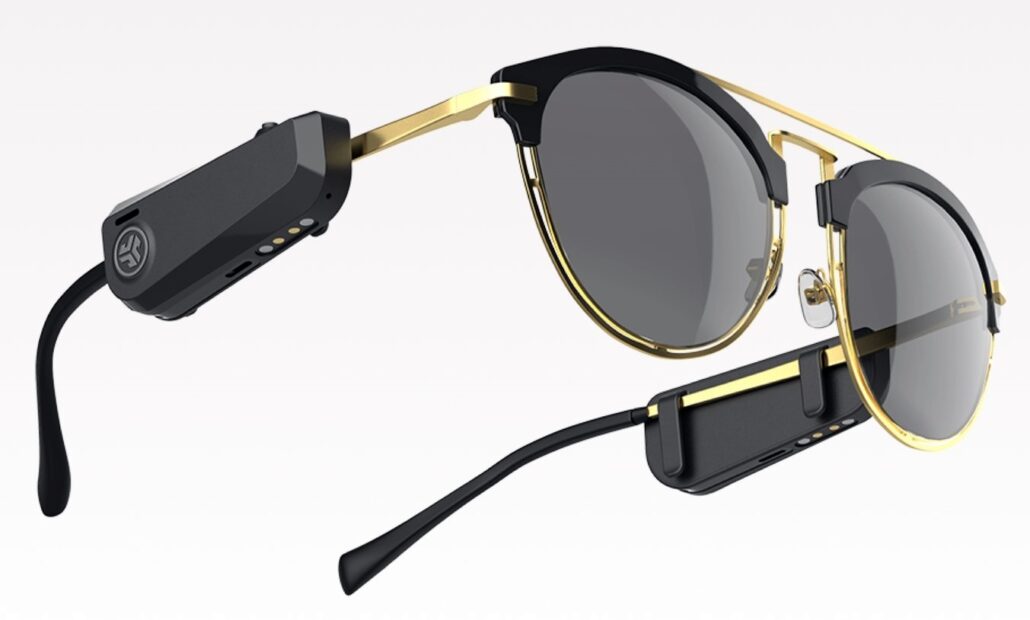 JBuds Frames from JLab Audio is intended to remedy many of the problems inherent in conventional wireless audio devices. JBuds Frames attach to the user's eyeglasses along with the earpieces. Unlike conventional earbuds or wireless audio devices, this minimizes the risk of loss. By attaching the wireless audio devices to the eyeglasses, the audio devices are only as likely to be lost as the glasses. When you wear JBuds Frames, you'll have two Bluetooth true wireless audio devices that operate independently and that you can attach to the temples of any pair of eyeglasses, sunglasses, or other eyewear.
By fitting to the user's eyeglasses, JBuds Frames provides a universal fit that can accommodate any user. The lack of universal fit among traditional earbuds and wireless pieces that are designed for the ears can leave many users with no way to communicate via phone. About 15% of adults over the age of 18 have hearing trouble. This amounts to about 37.5 million Americans. For many of these adults, conventional earbuds or wireless Bluetooth earpieces will not fit into, or over, their ear.
JBuds Frames are a perfect solution to that problem. While the device can help users hear more clearly, the open-ear design also allows the wearer to be aware of their surroundings as they listen to audio content. This can be extremely helpful for those who like to listen to music or podcasts while they exercise or work but still need to be able to hear when the phone rings or a loved one calls from the other room.
As JBuds Frames attach to the user's own glasses, they are endlessly adaptable to the user's style. Whatever the style of your eyeglasses is, JBuds Frames can adapt to them, allowing you to keep your desired style. This is just as important as the function of the device, as style matters to most users. While devices have been created that integrate wireless audio into eyeglasses, manufacturers usually provide a limited selection of eyeglass styles. This makes sense because the device manufacturers are usually more concerned with the technology inside the wireless earpieces than the style of the eyeglass frames. As a result, the frames can look cheap or use colors or patterns that are simple so they can match anyone's needs.
The removability of the Bluetooth pieces also allows you to use them with whatever pair of glasses you want to wear. Whether you have multiple pairs of stylish eyeglasses or you like to switch between different sunglasses, you can use JBuds Frames at all times. When you wear them, you can enjoy over eight hours of playtime and conveniently-located buttons to accept or decline phone calls, adjust volume, and switch between JLab's Signature and Bass Boost EQ settings.
JBuds Frames provide many benefits compared to conventional wireless Bluetooth earbuds or even eyeglasses with integrated earpieces. This new device from JLab will be previewed during the 2021 CES event. You can expect them to be available early in spring 2021 and retail for $50, which is $150-$200 below comparable releases. Check out a preview of the new JLab JBuds Frames on their website.