From the moment Covid19 reached worldwide shutdown status, we've upgraded our wellness regime tenfold. Along with taking 5 different vitamins and adding Sea Moss, a childhood staple rich in vitamins and nutrients, back into our lives, we've now added farm-fresh Spirulina in the form of SNACK; an all-natural, on-the-go, tasty superfood cluster loaded with various nutrients and antioxidants beneficial for the body and brain. For those who are not familiar, Spirulina, believed to be one of the oldest life forms on Earth, is a blue-green algae known as an endurance-boosting superfood. Like Sea Moss, it boasts a multitude of vitamins and minerals. It is high in protein, is a powerful antioxidant, and has anti-inflammatory properties. It grows in high-salt alkaline water in Africa, Asia, and Central America.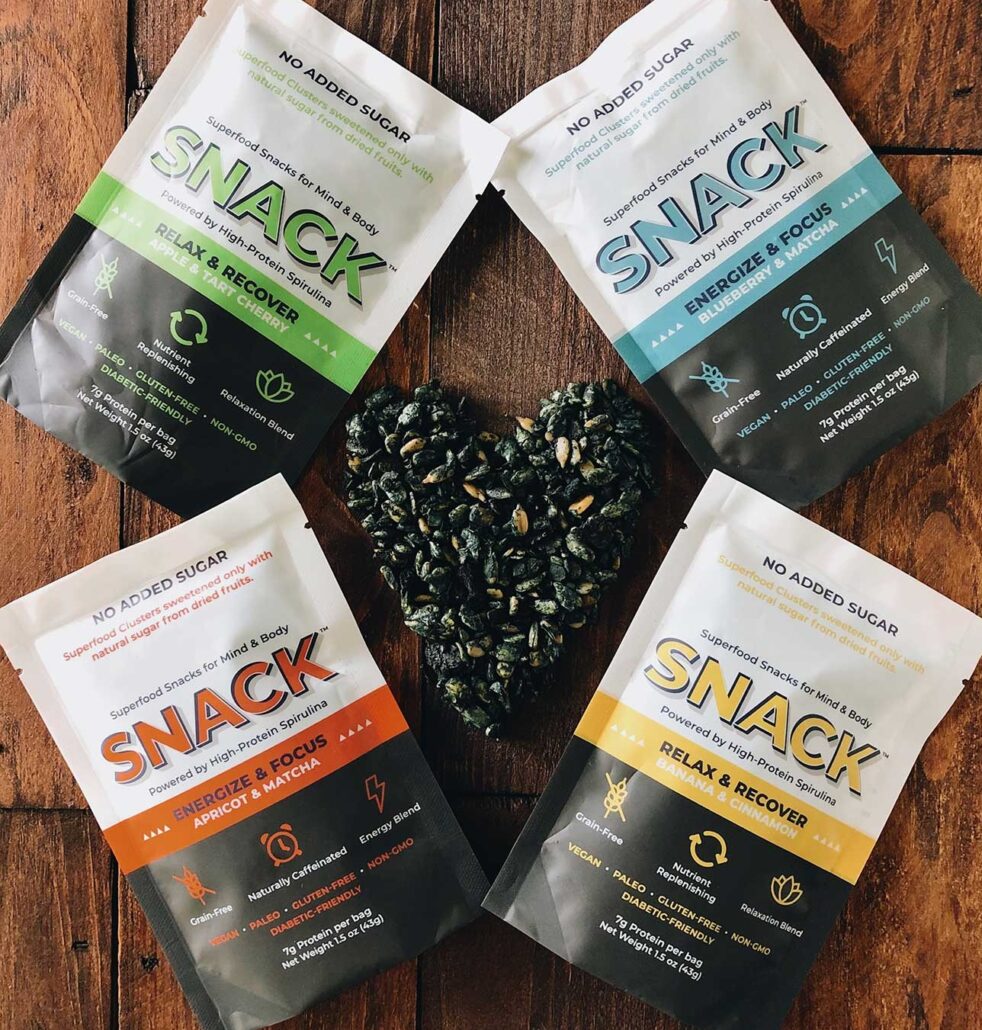 With the SNACK range of delicious Spirulina clusters, you get all the benefits of this superfood in a wonderful on-the-go treat. SNACK offers four different blends of their tasty superfood clusters, each containing 5g of protein and 140 calories per serving. We know it may look strange to you but trust us when we say you won't stop eating it. The days of something very healthy and good for you not being delicious are gone. These are absolutely delicious and we can't wait for you to try them. We are far from being vegan or even vegetarian but as we've gone from blasé to fully adding plant-based foods to our lives, especially if they taste great and help our bodies fight against illness. It's treats like SNACK that make adding plant-based foods to your regular life easy.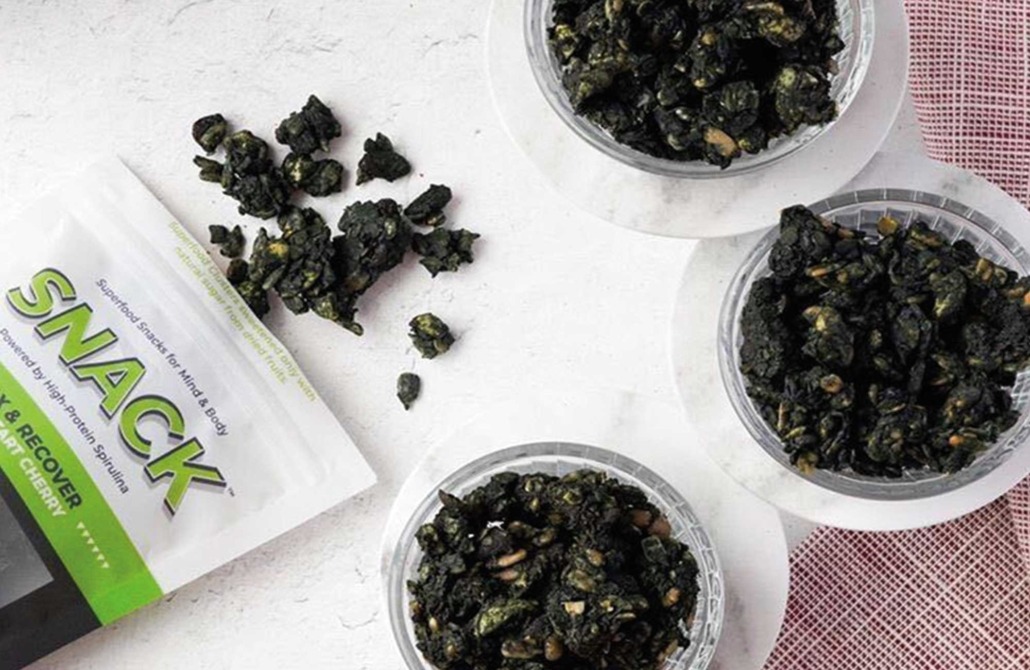 The flavors varieties include:
Apricot & Matcha (Energize & Focus) – A deliciously nutty flavor from almonds and cashews, and natural sweetness from apricots and raisins. Apricots are high in magnesium which is great for bone and joint health. Almonds help to slow the body's absorption of sugar and carbs. Matcha is full of slow-release, naturally-derived caffeine that's great at creating calm alertness.
Banana & Cinnamon (Relax & Recover) – A deliciously nutty flavor from cashews and almonds, and natural sweetness from dried bananas and raisins. Bananas are a great source of Vitamin B6 which helps boosts Serotonin levels. Cinnamon is known as an anti-inflammatory that supports gut and heart health. Raisins are great in helping glycogen production and aiding muscle recovery.
Apple & Tart Cherry (Relax & Recover) – A deliciously nutty flavor from cashews and almonds, and natural sweetness from apples and tart cherries. Apples contain pectin, a fiber that acts like a prebiotic. Tart Cherries are a great source of natural melatonin to support sleep. Like the Banana & Cinnamon, this also contains cinnamon.
Blueberry & Matcha (Energize and Focus) – A deliciously nutty taste from flaxseeds and natural sweetness from blueberries and raisins. Blueberries are high in free-radical fighting antioxidants, potassium, and Vitamin C. Flaxseeds are high in dietary fiber and omega-3 fatty acids. Matcha, in contrast, does a better job at creating calm alertness, with just a quarter of the caffeine — all natural!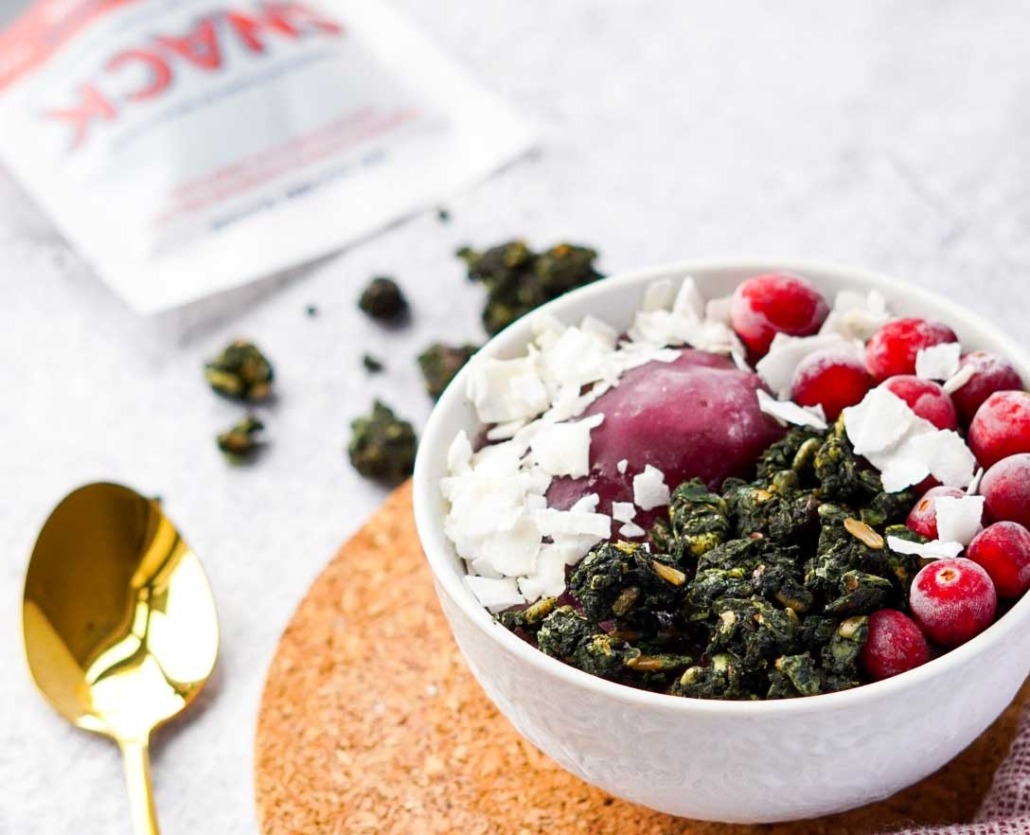 The best part, you can enjoy them right out of the bag, or add some to your regular meals. They're great with fruit, yogurt, or smoothies. We love that the benefits from consuming Spirulina include boosting your immune system, reducing high cholesterol and high triglycerides, and help with viral infections, cancer, and fatigue. During this time of uncertainty with a new deadly virus, scientists are still getting to know, it's important that we protect ourselves every way we can. So many have already lost their lives. We promise you'll love this snack. Along with its benefits, it's vegan, paleo, gluten-free, non-GMO, diabetic-friendly, and grain-free.