It's almost Inauguration Day and we're in such a celebratory mood. In two days, we'll have a new administration who promises to really be for the people. As we watch the virtual swearing-in ceremony, we'll be raising a glass to President Joe Biden and Vice President Kamala Harris. Since we'll be enjoying a new Administration with an actual conscience, we thought we'd celebrate with a spirits brand with a conscience too – Marble Distilling Co.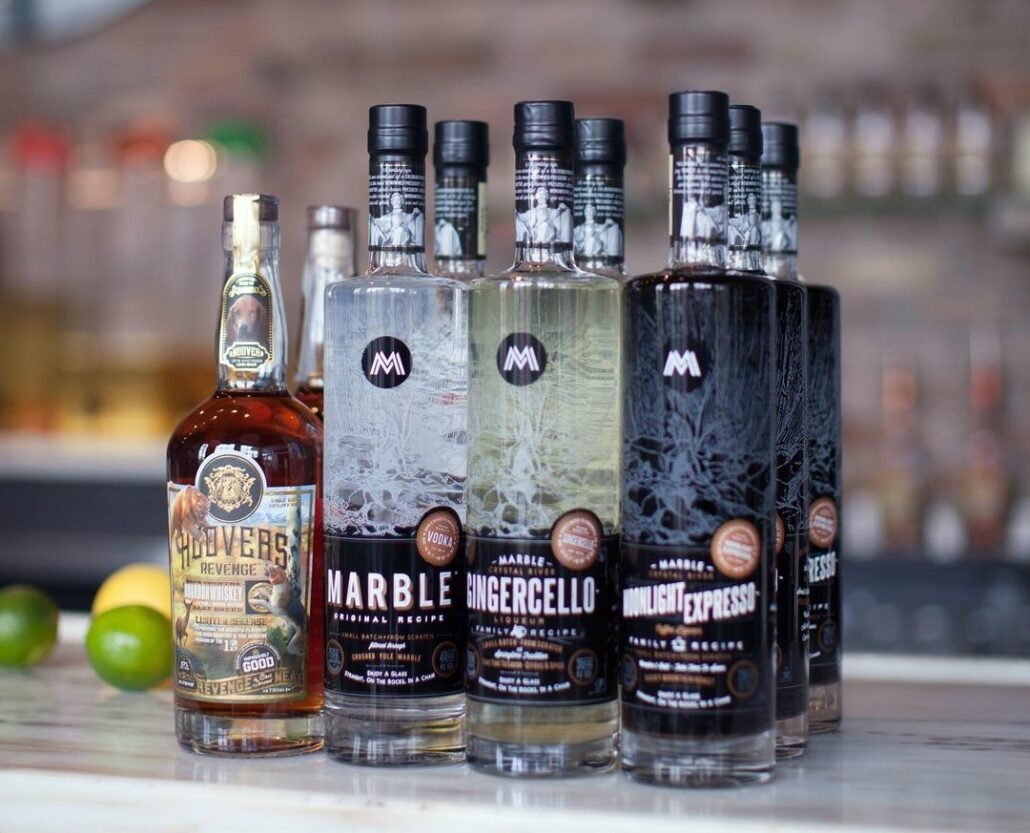 Marble Distilling Co. is an award-winning grain-to-glass to ground distillery located in the Rocky Mountains of Colorado. Their "Drink Sustainably" philosophy is born from their passion to be gentle with the Earth's natural resources and a duty to do their part to save the planet. Marble Distilling Co. returns all spent grains to the farms where they were grown, recycles 100% of their process water, and recapturing all of the energy from their stills. Marble has committed to being net-zero by 2022. They are at zero waste and use 1/100″ of the water a normal distillery utilizes. Their new addition of a 35kw solar array is getting them close to net-zero electricity. This makes them the most sustainable distillery on the planet!
Marble Distilling Co. produces two spirits brands, the small-batch Marble range consisting of Original Vodka, Moonlight Expresso Vodka, Moonlight Expresso Reserve, Gingercello, and Gingercello Reserve; the second brand, Hoover's Revenge, features Hoover's Revenge Whiskey, Hoover's Revenge Ragged Mountain Rye Whiskey, and Hoover's Revenge Single Barrel Bourbon. Their Original Marble Vodka is made from locally grown soft white wheat and malted barley, which imparts a smooth and creamy texture. The 80 proof, non-GMO vodka is 5X distilled in a copper pot still to ensure purity and clarity. It is then filtered over crushed Yule (limestone) Marble for a hint of minerality and finish; then the vodka is filtered on coconut husk for a luxurious, viscous finish.
We had the pleasure of getting better acquainted with some of Marble Distilling Co.'s offerings and we're delighted with this multiple award-winning distilling company. We find ourselves completely obsessed with the Gingercello (a non-traditional take on the Italian classic).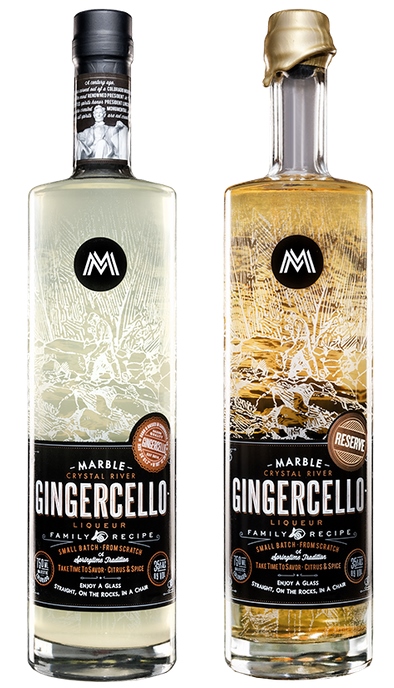 A contemporary cello adaptation, the gluten-free and non-GMO Gingercello liqueur is pot distilled with fresh ginger and rested on 200 hand-zested lemons and more ginger for several weeks. It combines fresh cut ginger and the sweetest part of the lemon zest creates a refreshing taste. Lightly sweetened, it is citrusy and bright with a ginger forward spiciness (the Gingercello Reserve is aged for a minimum of 1 yr in whiskey casks). the 70 proof liqueur is quite lovely on its own. We mostly enjoyed it on the rocks to fully enjoy what makes this such a distinct spirit, but the Gingercello is also extremely versatile as a modifier in craft cocktails. A Gingercello version of a Bourbon tea cocktail is absolutely divine (just switch out the limoncello for Marble's Gingercello and you're in cocktail heaven).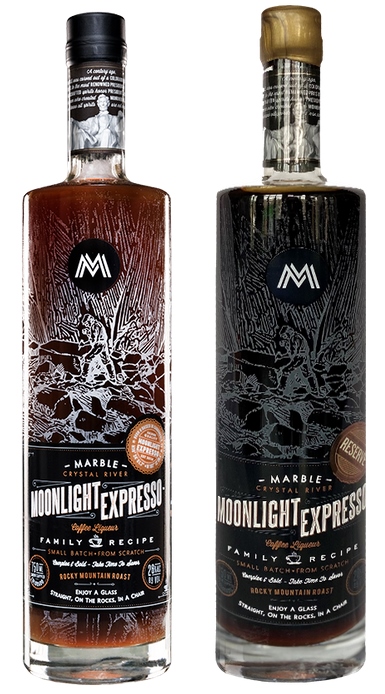 Coffee lovers will love the small-batch-from-scratch, coffee-flavored vodka. Made from a family recipe using all-natural ingredients, Moonlight EXpresso is made by distilling vodka, locally roasted Guatemalan coffee, and Ugandan vanilla beans. The result is a rich, dark coffee profile with a smokey, chocolate finish. Combined with a cold brew made in-house, this luxurious coffee liqueur is perfect for fabulous cocktail creations or stand-alone in hot or cold libations. The Moonlight EXpresso Reserve is aged in ex-rye whiskey casks for a minimum of 1 yr.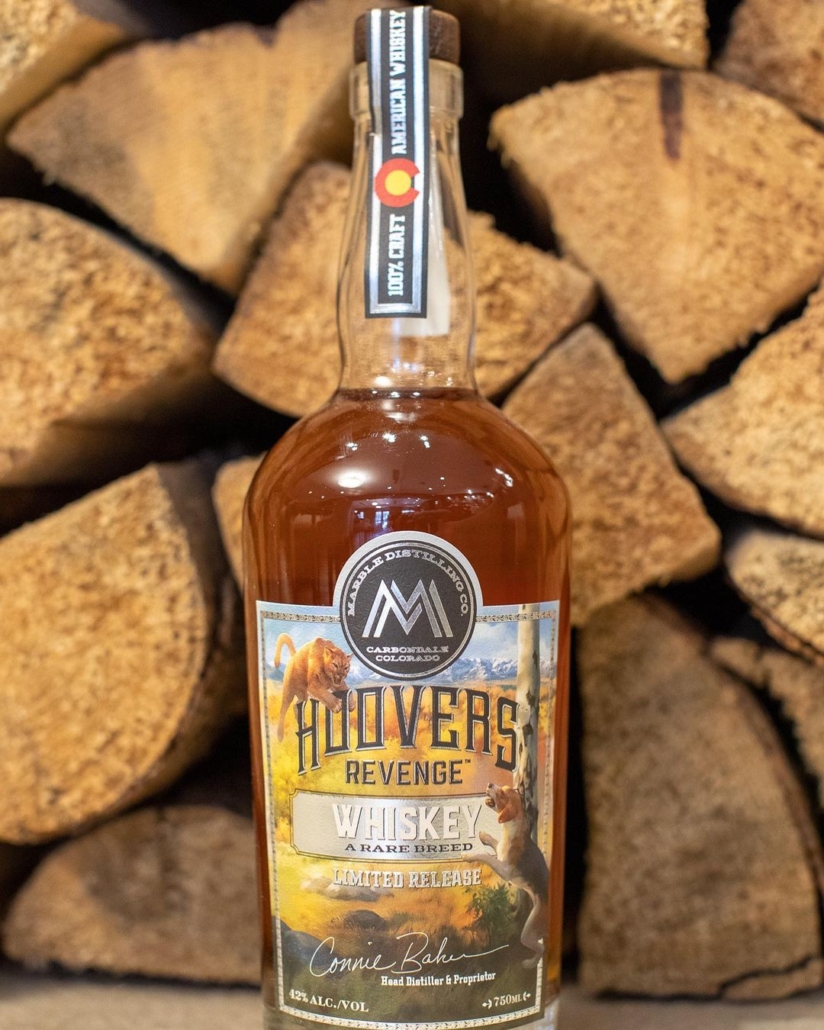 The Hoover's Revenge range is Marble Distilling Co.'s first foray into putting several single casks together, which yielded their Silver Label Whiskey. Each single 53-gallon American Oak cask is hand-selected and tasted for the flavor profiles it brings to this "marriage." This whiskey is aged a minimum of two years, bottled at 84 proof with bottles numbered and signed by Connie Baker, Co-Founder and Head Distiller. The copper-colored whiskey is a marriage of three whiskies made by Marble Distilling Co: Bourbon, Rye, and Triticale. It features notes of hay, pear, and allspice; its taste is light in body with a floral sweetness with a hint of vanilla. It boasts a long finish with black peppercorn and clove spice that spikes at the end.

One of our favorite things that Marble Distilling Co. offers during the pandemic is their Marble's Distillery Doubles. A rotating selection of craft cocktails, such as their house Old Fashioned, Manhattan, Barrel-Aged Negroni, and more. Each Distillery Double makes two cocktails, all you have to do is just add ice. These cocktails are always made sustainably and with all-natural, local ingredients. Unfortunately, you have to live in Denver to enjoy their Distillery Doubles but you can still purchase their spirits online at www.shopmarblespirits.com with free shipping on 3 or more bottles.