90's Americana and biker chic reigned supreme at William Rast. Like the Barbie Show, the crowd was massive (thanks of course to Justin Timberlake's presence). With studded and fringed leather jackets, light denim jackets and jeans with plaid all around, I was taken back to the late 90's (when you were terrified of lightening storms – all that metal was truly a fashion hazard when the stormy sky looms above). Anyway, excluding the studded leather and denim, the collection was made of basic pieces. Of course fashion longevity rules state you start with basics and add your standout pieces and that will take you far.
There was a cute jacket made from leather and grey denim that caught my eye, not just because of the combination of fabrics but the shape as well. Sort of a badass tuxedo jacket. I can definitely see it as a part of my wardrobe.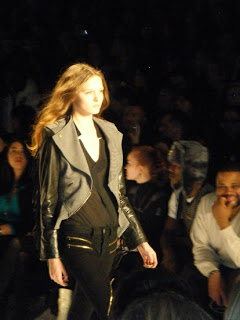 As expected, there were celebrities in the audience, such as Actor Anthony Anderson, former Danity Kane member, Aubrey O'Day, Jessica Biel (color me surprised), Coco Rocha, Sarah Colette, Aisha Tyler etc. I only took one shot of some of the celebrity attendees.
As usual, see the show finale below. The only difference with this one is damn near everyone stood up when Justin Tmberlake came out. I'm not even sure if the audience paid any attention to Johan and Marcella Lindeberg and Trace Ayala, the trio that makes up this design quartet with Justin.