I've constantly mentioned my love of shoes on this blog but most don't know that I have a great love of bags as well (well, my friends know by how many bags I own). Which brings me to this event – The Bagtrends.com's Green Arm Candy Party held at the Union Square Ballroom. As usual, I arrived first (Patty and Jill arrived later and the rest of the gang were unavailable), checked in and headed downstairs to the ballroom where I ran into Pamela Pekerman and I got to interview her about the event, click HERE for the audio interview. Pamela launched Bagtrends.com in 2005 and Michelle Finkelshteyn, the Creative Director who joined Bagtrends.com later that same year, at the event's Step n Repeat banner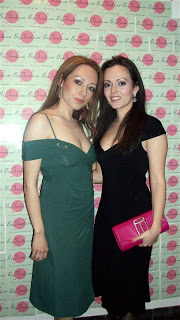 Upon entrance, to my left, a "Win this bag" contest with a bag from Passchal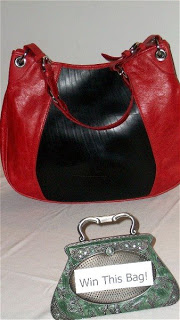 (I will showcase more photos from Passchal later) and to the right was EcoStiletto.com, an online fashion and beauty magazine that shows how to reduce your carbon footprints. I had the pleasure of meeting Rachel Sarnoff, the owner of Ecostiletto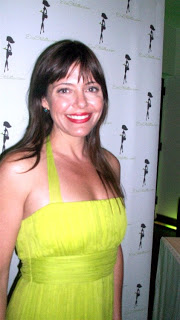 and she told me about the Lips Against Lead Campaign. We were given a mini tube of lipstick (green and lead-free of course) to apply and kiss the canvas and sign our name
The next vendor I visited was RuMe Bags, reuseable, foldable totes that are very fashionable
Next to them was Creollus, a Brazillian company that featured products made from recycled materials like newspaper, copper, tire rubber, etc) by artists that most would readily ignored.
I mean readily ignored because some are convicts, blind, etc. Check out this handbag and belts below made out of old newspapers (that's right, newspapers)
or these rubber bracelets created by a blind artist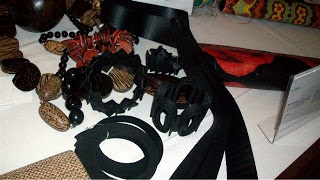 or this gorgeous floor lamp made by convicts (yes actual convicted people). You know talent comes in all varieties. This is a stunning piece that wouldn't look out of place amongst these products on Pagazzi, which is where most people buy their floor lamps.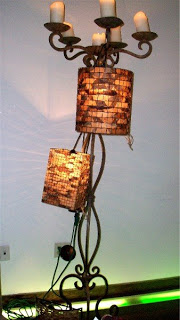 All the stories from Creollus were quite compelling and I'm happy there is a company like them that gives artists a chance. My next visit was to Cork Trends, an amazing alternative to leather. The bags are made from treated cork and are as soft as buttery leather and not only is it waterproof, it's washable and never loses it's shape.
I asked about the availability of these bags in other colors and was told that was their next step. After Cork, my next stop was to the Passchal table (from the "win this bag" at the beginning) whose bags are made from recycled tracker tires (how awesome is that)
Next to them was Jane Marvel, a very chic line that actually reminded me of the pattens of rain boots. The stylist bags are made from laminated canvas, not a stitch of leather is used and the linings are made from polyester. This makes it weather proof, so this could be your rain bag (hmmm, I might need one after all).
Anyway, onwards we go to Teich Bags, unlike the previous, they are leather (deerskin to be exact but no deer were killed for their skin, this is just skin waste from hunting seasons) but they are Chrome-free leather bags.
I briefly stopped by the LeSportsac table but I know you are already familiar as it is one of the well know non-leather bag collections. I own a few and unfortunately I don't get to wear it as much as I can because several bag changes in one day could look a bit vain but here's a pic anyway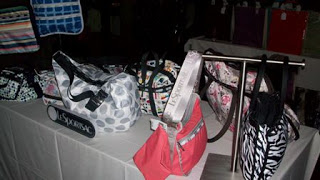 Now we come to my favorite non-leather vendor, NOAH Handbags NO Animal Harmed – love the name), not only are the bags absolutely gorgeous and arty, they're made from canvas and PVC and definitely won't dent your bank account. It took some major will power not to buy one right then and there but I have to save money for a while
Right next to NOAH was Canopy Verde, which had one particular bag that caught my eye (it also fold into a clutch). This line is made from cotton and bamboo blended fabric…very cute
My next stop isn't a hang bag but it is a bag nonetheless…a gift bag to be exact. I am guilty of either receiving or buying gift bags instead of a box and wrapping paper to give gifts (sometimes you just can't find a box or are just too lazy to wrap). What do you do with the gift bags you receive? Do you throw them away or are you like me and have a rather large collection stuffed into a closet somewhere? In comes, Simply Re-Gift It, a gift bag with tracking information. And the best part, you can get the children in your life involved. The bags arrive as coloring books, they have artwork on them that kids (or kids at heart) can color on. Simply Re-Gift It called them Friendship Bags. They come with a tracking number that you can upload and track, it's a fun way of teaching yourself and your kids to reuse products.
Another favorite of mine was Ashley Watson, whose leather bags are made form old vintage leather jackets which also makes them incredibly soft and buttery (it was a bit obscene the way I was stroking my favorite, a bright red bag but it was so yummy to touch)
After I pulled myself together, I continued on (not far) to the FEED table, which was heralded by Lauren Bush.
Did you know the purchase of one FEED bag feeds one child for an entire year? I couldn't get one at the event but luckily I can purchase it on their site. I especially love the brown potato sack bag (memories from my childhood). And that's the vendors in a nutshell. The event was crowded (of course) and while doing the interviews and taking photos, I missed out of the pink press giftbag (yes I'm pouting)
It was also an adventure trying to get to the bar, I'd purposely stayed away while making my rounds to the different vendors but damn it, my throat felt like I'd been in the Sahara for a few days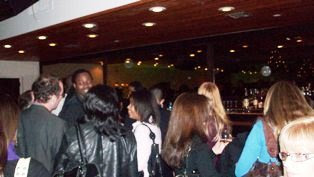 But you know what, I'm happy i did make it at that time, because even though the crowd had disappeared, not all of the drinks were. I had one drink (which was extremely strong) and I wanted something non-alcoholic. O.N.E Beverages was one of the sponsors, along with Boomerang Australian Vodka, Yellowglen Wines and Meridian Vineyards. The bartenders were packing up and one just gave me a ton of the O.N.E Beverages, after knocking off two to balance myself out after that strong drink, I gave some to my girls, left a few more for who ever else and put the rest in my bag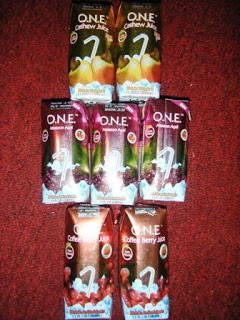 Now, as I stated, I didn't get a chance to get a press giftbag but they did have giftbags for everyone else and I got very nice canvas bag with a one or two items in it. The bag alone is great, made for this event by Give a Green Bag.