Moving from Aromatherapeutic home cleaning to the home fragrances of Seda France. In it's short time of existence (Seda France first launched in 2001), Seda France has become a leading name in Home fragrance. It's not only their amazing fragrances that will take your breath away, their packaging, which is so brillant, will basically make you not want to open your Seda France Candle (at least for me it was). The packaging is so beautiful, I can honestly say they'd make excellent decorative pieces for your home. They're colorful, so chic and definitely catches the eye…..and the scents….hmmmmmmmmmmm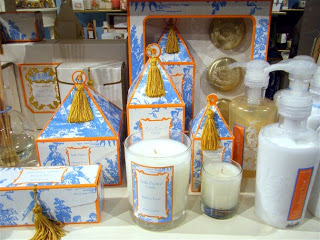 Seda France Home Fragrances comes in the following collections – classic toile, l'occasion, édition limitée, paisley, tea, bon chic, l'argent, trend tins, la menagerie, bridal and the Walt Disney Collection.
You can purchase any of the Seda France Home Frangrances either on their site or at any high-end retailers such as Henri Bendel, the Ritz-Carlton Central Park, Gracious Home, The Four Seasons Hotel, Oasis Day Spa, etc in NYC and many more across the United States. For a list of stores in your area, click on the store finder.
I was given quite the education on Seda France by their Sales Specialist, Tori and I am happy to share that knowledge with you