Like many others, Anna Sui joined the ranks of designers making lines that are more recession friendly. Adding to the chicness (if that's even possible) of the collection is its inpiration, everyone's guilty pleasure – Gossip Girl. There are 19 looks in this budget-friendly collection, each of which are inspired by one of the four main female characters (Blair, Serena, Jenny, and Vanessa). Madame Sui launched her line for Target with a secret shopping event (the line will be available in Target and online September 13th through October 17th) at her pop-up shop from September 10th though September 12th at 54 Crosby Street, near Spring Street. Industry insiders and celebrity guests (we spotted Michelle Trachtenberg and Penn Badgley) mingled and shopped the very cute collection while sipping cocktails and noshing on hors d'oeuvres.
Dave, Kim and I were ushered through the unique store, we had to start from the basement and work our way up, each level giving us some new affordable treat from Anna Sui.
I swore that I wouldn't purchase anything as I am saving for a major move but once a shopaholic, always a shopaholic and if you saw the adorable pieces she offered in this line, you'd understand too. The collection is available now at Target and is so reasonably priced at $19.99 (tops) to $149.99 (Long Sleeve Leather Jacket). So off we went picking fighting for space to peruse the racks and find our sizes, cooing at the clothes like they were adorable babies. Check out a few pieces from the collection
Even the staff's uniform was a much-wanted piece, check out this t-shirt below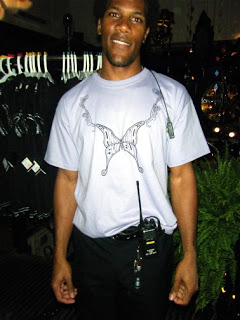 There is a v-neck version of this shirt which is now in my closet as well as the flirty sheer Navy printed blouse which is a perfect match for my Navy Tracy Reese shoes.
Although I didn't get a chance to interview her(hopefully one day) , I did manage to capture Anna Sui (for those of you who do not know what she looks like) on video being interviewed and got some shots of the pop up tent's backdrop
We ended the night with our shopping bags, shipping champagne and enjoying the wonderful desserts. After taking in a bit more of the atmosphere we exited but not before being gifted with Anna Sui's new fragrance, Rock Me! (a floral fragrance which can also be purchased at Target) why thank you, Anna.