Well, it did actually happen, Sheree Whitfield of The Real Housewives of Atlanta showed her collection during New York Fashion Week. No, she didn't show at the tents in Bryant Park, instead she opted for a presentation at the Red Bull sponsored space in downtown Manhattan.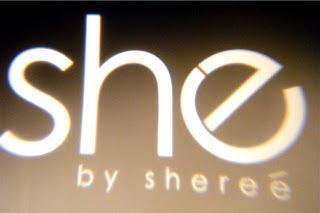 Of course as with everything else with the Housewives, there is always a bit of drama. First, the presentation's location was changed at the very last minute (the presentation was orginally slated to happen at The Metropolitan Pavilion – 123 West 18th Street). The invitation promised "cocktails, VIP Giftbags, a colorful array of Celebs and Fashion insiders will be in attendance" and although I did enjoy a cocktail, I saw no celebrities and will show you the "VIP Giftbag" at the end of this post.
Let's start with the actual showcase; after the last minute location change, which many confirmed guests did not receive (when they went to the Metropolitan Pavilion, there was no information posted about the change and they were just told that it was cancelled), I hopped on the train to the Red Bull Space in Soho arriving to find a couple of models appeared on elevated platforms
Wow, I thought, she did it, here we are…models actually wearing her clothing. However I ran into a friend of mine who informed me that these were the only clothing she'd seen (and she'd been there from the time the doors opened) as the rest of the collection were forgotten at the hotel suite (here we go!!) As I stood there, I wondered if Bravo will show this little juicy tidbit on air, but wait a minute, I don't see any Bravo cameras, is this being taped for the show? Only time will tell.
Luckily, I didn't have to wait that long (I guess someone ran back to the hotel post haste) because a little over 10-15 minutes later, more models came out wearing some of Sheree's other looks. Ladies and gentlemen, behold the rest of the She by Sheree Spring 2010 Collection
This was totally not what I expected from Sheree. (Please note that as I'm writing this, they have not aired her Atlanta Fashion Show, so I don't know if these garments are what will be seen in that episode) The line can be considered cohesive (I guess) because of fabric and color but I really don't see how they relate to each other and I honestly do not see Sheree herself wearing any of these pieces. I am completely thrown off by the Yellow Swimsuit/ice skating outfit and what part does it actually play in this or any collection that doesn't involve the words swimwear collection in the title. The only piece I actually liked was the silver knee length dress with the thigh slit (see below for more detailed shots)
Anyway, I do give Sheree points for finally showing garments and during fashion week. I did not see any of the other Atlanta Housewives or any Bravo Housewife for that matter…interesting. Sheree did come out for a quick photo session with her garments in a chic black dress that seemed a bit familiar (is that the same dress she wore the night of the Derrick Blanks Dual Personality Photo Reveal/Reception? – I think so)
Anyway, please enjoy video of her collection below
On last week's episode, Sheree stated that "She by Sheree is international" – umm, no but at least she did showcase her collection….in New York….during Fashion Week
As for the VIP giftbag, not at all what I expected. Remember the episode where she and the "professional" party planner had it out? Remember her famous quote from that episode? Well here it is on a t-shirt – that was my VIP gift.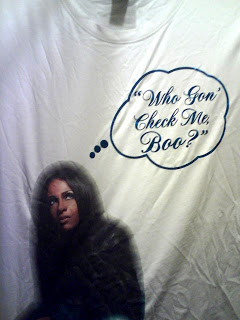 It'd be very interesting to find out what you think