I've attended a few gifting shows and new product launches and showcases and while there are usually tons of products to try out, you do get a few that fits your needs. One such product (well products) for me was from Med 3 Dermaceuticals. It was love at first smell for me and the Med3 Facial Cleanser for Oily Skin with DMAE and C-Lipoic Acids and the Exfoliating Cleanser with Glycolic Acid and Jojoba Wax Beads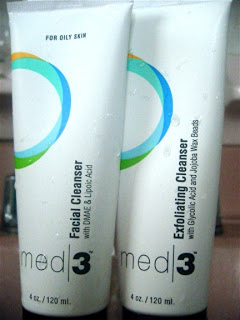 The Facial Cleanser for Oily Skin smelled wonderully of Mandarin Oranges, so invigorating. The cleanser contains Mandarin, Rosemary and Chamomile extracts for cleansing and soothing while DMAE and C-Lipoic Acids gently diminish fine lines and wrinkles. It is a gle cleanser but if you're looking for or used to a cleanser that foams a lot – this is not it but don't let that discourage you. It is an excellent and mild cleanser that doesn't leave your skin dry or tight. A 120ml tube retails for $35.00 and can be purchased online on the Med3 website
The Exfoliating Cleanser, which smells like papaya, contains glycolic acids that help to clarity and brighten your skin by dissolving skin cell buildup and Jojoba wax beads to polish and soften your face. I must warn you, if you have any scratches on your face, this will sting, so be careful. Other than that, my skin is always incredible to touch after, so soft, not a touch of dryness and very supple. Like the Cleanser for Oily skin, the 120ml tube also retails for $35.00 and can be purchased online on the Med3 website as well
As I am writing this, I just started using another Med3 product, the Skin Revitalizing Serum, which contains algae, green tea, meadowsweet extracts, amino-acids, copper, etc.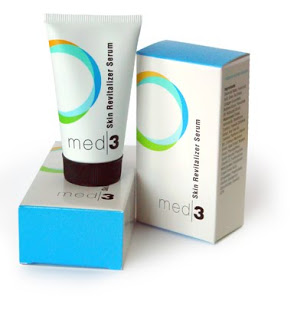 It states that it activates healthy cells to tighten and firm the skin while softening the look of fine lines, wrinkles and dark circles and also reduce the size of pores (this is the benefit that truly taps my interest). I wanted to try the cleansers first to see how my skin reacted to them before I tried the other products. I know products work better when all used together but I didn't want one product to cloud the reaction of another on my skin. The Serum retails for $90 and comes in a 30ml tube.
I also hope to try out the following soon – Illuminate & Hydrate Moisturizer with Medical Grade Collagen and Titanium Dioxide and Revitalize & Hydrate Moisturizer and as a fan of micro-dermabrasion and peels (this goes back to my very enlarged pores), I would really like to try the Collagen Treatment which is said to be great for healing the skin after those procedures.
For more information on Med3 Dermaceuticals, you can either visit their website or become a fan and follow them via their Facebook page