DSW
, every women's favorite shoe store, collaborated with the
Step Up Women's Network
to create a wonderful event, a pop-up shoe boutique held at the W Hotel called
Step Up & Step Out, A Designer Shoe Sale for the Mind, Body and Sole
.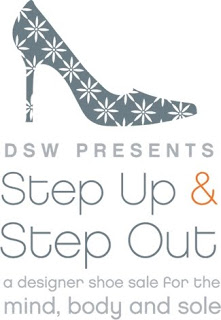 The event wasn't just a shoe sale, it began with a Champagne Preview Brunch for the Step Up Women's Network top supporters (see the end of this post for more information on Step Up)
hosted by Honorary Chair, Vanessa Minnillo, who was super sweet when asked to take photos and suprisingly much taller than I originally presumed.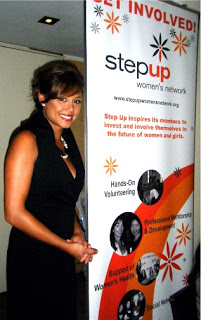 I got a brief video of her speech but I had to run out a grab photos of the shoes, etc before the stampede of women left the brunch to shop (Kelly Rutherford and Michelle Trachtenberg of Gossip Girl were also there but I didn't get to take a photo of either)( I unfortunately also missed a moving performance by Step Up teens)
Let's start with the waiting area to the brunch where we sipped on Mimosas prior to the event. There were quite a few interactive features for attendees to participate. Viv Magazine, the Step Up Women's Network and some fun "what shoe are you?" cutouts from DSW
Continuing on throughout the event, I came upon Style lounges which featured various companies such as Equinox, which offered yoga classes
and Ann Taylor and Tarte (Tarte gave mini makeovers)
Then it was time to the main reason we were there – SHOES!!! I wanted to buy just about ever single pair of shoes. Heaven was the at the W Hotel that day. Approximately 700 women purchased over 1500 pairs of shoes with all net proceeds supporting Step Up's charitable programs
Of course I had my ultimate favorites, many of which I wanted to take right then and there, but having a very commom shoe size (size 9) and the fact that my wallet doesn't quite equal my shoe appetite in size…well…you get the idea
I ultimately left with a very gorgeous pair of purple satin strappies from the DSW Studio, they look very sexy on
We were also treated to some lovely treats from Popchips, Cupcakes from Crumbs and delicious frozen yogurt bars from Jala (a lowfat, active probiotic and anti-oxidant rich yogurt bar)
The best part of the entire event was that we had the first hour all to ourselves before the hour to ourselves to shop before the general public and as time went on prices just kept on going lower and lower. All shoes were 25% off, then 50% off (you get the idea). My shoes only cost about $18
There was another aspect to the event but by that time I was exhausted to do anything other than go home (buying shoes does wear you out) but I think I should at least mention it. Along with the fabulous shoe sale, there was also many wonderful items donated for auction from the companies featured in the photo below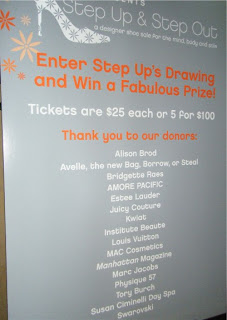 but as I stated, I didn't stay long after. I collected my giftbag and my purchase and headed home. I loved the entire event and I hope they do it again next year. From what I saw, I can honestly say that this was a very successful event for both Step Up and DSW.
About Step Up Women's Network
Step Up Women's Network is a national, nonprofit membership organization dedicated to serving women and girls. It's the go-to organization for women looking to support underserved girls, while developing their own professional and social networks. Our 50,000 supporters benefit from ongoing opportunities for dynamic social networking, professional mentorship and development, hands-on volunteer work, and health support and education.