Wen by Chaz Dean have become one of my favorite hair products (it's amazing on my curly hair) and was first introduced to it at the Holiday Lookbook Hosted by Bobbie Thomas gift guide last year. I made the mistake of introducing the line to my mom and a cousin, both of whom promptly freed me from the burden of having more than one bottle of Wen Cleansing Conditioner – a product which I used as both a cleanser and leave-in conditioner. So when I was introduced to Wen's Replenishing Treatment Mist – I jumped at the chance.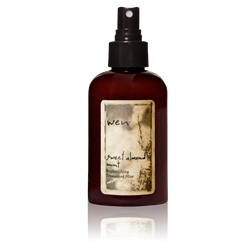 Since I love the scent of Almond, I went with the Sweet Almond Mint (shown above) but the Replenishing Treatment Mist is also available in Fig and Lavender. The bonus of this product is it's not just for your hair, you can also use it on your face and body. This benefit has really come in handy during this horrendous heatwave – a great tip I've been using is to keep it in the fridge so after you've been baked in the sun and humidity, the cooling mist feels like heaven. I must admit that I used it more for my face and body than on my hair; I used it on my hair both wet and dry but it was a better benefit for me when my hair was wet. Either way a good product nonetheless. Wen Replenishing Treatment Mist is a blend of restorative botanicals and extracts such as Bergamot Fruit Extract, Lemon Fruit Extract, Sage Leaf Extract, Clove Flower Extract, Cactus Flower Extract, Horsetail Extract and several others. A 6oz bottle of the mist retails for $32.00 and can be purchased online
Below is Wen's official description of the Replenishing Treatment Mist:
Give your hair, face and body an instant pick-me-up with the rejuvenating and moisturizing properties of the WEN® Replenishing Treatment Mist. Infused with a unique blend of restorative botanicals and extracts, the multipurpose WEN® Replenishing Treatment Mist can be used to revive and restyle hair in between cleansings and can also be used as a light-weight formulation in place of a leave-in conditioner for those with hair lacking volume or body. Misting your hair with the WEN® Replenishing Treatment Mist will aid in rejuvenating dry, frizzy, dehydrated hair by giving it the moisture it needs to remain soft, healthy and luxurious. The WEN® Replenishing Treatment Mist can also be used for extra hydration to refresh the face and/or set make-up, and it is also very beneficial as a moisturizing spray on the body.