Be still my beating heart, the vision of sexiness that is Gabriel Aubry is featured in a very hot new campaign (and I mean HOT) for
Charisma
, maker of luxury bath and bedding. The 2010 campaign, which comes in two versions features Gabriel in bed and Gabriel in a towel and has the tag line
"Gabriel Aubry has Charisma"
and boy does he ever (excuse me while I burn these images into my brain for the next hour or so)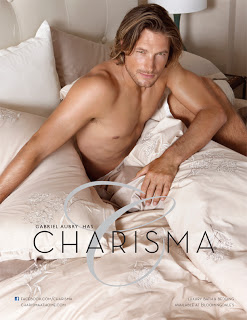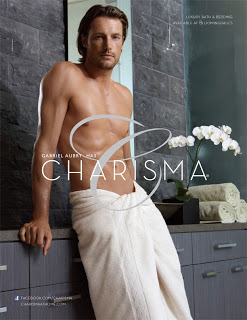 wait, give me five more minutes………..wait…five more.OK, I'm back. My favorite out of the two ads is of course with the bedding. Charisma has made a vision so inviting, I swear I'm seconds away from trying to climb through my computer screen and into bed with Gabriel. And after staring at the ad for so long, I can't help but notice the delicate tonal floral design on the pillowcases and comforter. Who is Charisma, you ask? Charisma represents understated elegance with a focus on details and quality workmanship. Charisma products include fashion bedding, sheets, blankets, coverlets, rugs, bath accessories and towels and are available at Bloomingdale's.
The Fall 2010 campaign, which was shot by photographer Tony Duran in Los Angeles, will debut in October issues of shelter and lifestyle magazines such as Elle Décor, House Beautiful, Traditional Home, Gotham and will also be featured online. Gabriel will also be be making personal appearances on behalf of Charisma in Bloomingdale's in New York and Los Angeles. Until then, feast your eyes on the behind the scenes of the shoot (oh lord there I go again). On a separate note – isn't Gabriel giving you Alexander Skarsgard fever in the video? Gabriel on True Blood one day perhaps? His voice also surprised me though, but his Canadian french accent is adorable.
Gabriel Aubry commented, "Charisma products have an understated elegance and luxuriousness to them, which is noticeable just by looking at the detailing of the towels and bedding. Since we spend so much of our lives in the bedroom, Charisma can add luxury and comfort to your everyday life."
Dari Marder, Chief Marketing Officer, Charisma, commented, "We had such a great reaction to our Jason Lewis campaign last year that we knew we had to follow it up with a sexy, handsome man. Gabriel was completely charming and knew just what to do in the bedroom as soon as he hit the Charisma sheets. It was an easy shoot to say the least."
Unfortunately people only remember Gabriel as Halle Berry's former significant other but he is frequently listed on People Magazine's Most Beautiful List (no surprise) and has modeled for Hugo Boss, Louis Vuitton, Tommy Hilfiger, Gianni Versace, Calvin Klein, DKNY, Valentino, GAP, Nautica, and more.