While attending the Launch of Mizani's Supreme Oil, we were given a certificate for a complimentary blowout to experience Mizani's new hair wonder, Supreme Oil. I had the pleasure of getting my blowout by one of Mizani's famed hairstylists, Rod Horton, who coincidentally I'd interviewed at the launch event.
After warning Rod of the thickness of my hair, he proceeded to tame it by giving me a thorough shampoo and tantalizing conditioning using Mizani's other products. After some of the fastest blow-drying I've ever seen on my life, Rod indulged my always thirsty hair with the multiple benefits of Mizani Supreme Oil and proceeded to style. The fabulous result is below: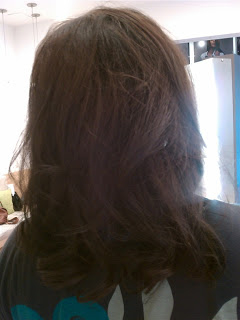 And even after a few hours and stepping out into the tumultuous wind we had that day, my fabulously moisturized and shiny hair still looked great, shiny, healthy and very touchably soft (yes it received many touches)
Since I've received the Mizani Supreme Oil, it has become a part of my hair moisturization process and it should definitely become yours.