I'm sure you seen the commercials featuring a delicious seafood dinner for a low price at whatever American chain eatery and you probably thought to yourself….wow, that's a pretty good deal. Well if you factor in appetizers, beverages, paying tax and tip, the deal's not looking as great as it did especially when you get your seafood for much less than the "deal" price.
Why pay so much when SeaPak can give you fresh delicious easily prepared seafood with their wide variety of products. And seeing as tis the season for entertaining, Sea-Pak's Seafood products are absolutely perfect. So while many are having a traditional ham or turkey dinner for Christmas, I enjoyed dishes made with SeaPak's Shrimp Scampi, SeaPak Maryland Style Crab Cakes and SeaPak Butterfly Shrimp.
First recipe was made with the delicious Shrimp Scampi – before I even begin, let me just tell you the delicious smells of the Shrimp Scampi working brought out what the best comment from my friend – "that shrimp came out of a box?". It was true, the scampi smelled incredible, not at all like a frozen dish. The first recipe I'm featuring is Garlic Herb Shrimp Stuffing (I must not I stole these recipes from SeaPak's website). Click on Shrimp Scampi Recipes for more recipe ideas.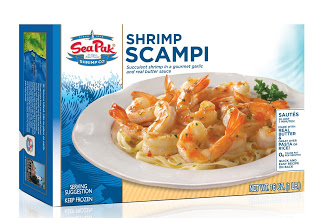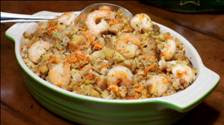 Garlic Herb Shrimp Stuffing
1 (12 oz) package SeaPak Shrimp Scampi, frozen
Nonstick cooking spray
1 medium yellow onion, diced
2 stalks celery, diced
1 medium carrot, shredded
3/4 cup hot water
1 (6 oz) carton stuffing mix (like Stove Top – Savory Herbs)
Spray non-stick cooking spray (3-4 seconds) into large skillet. Preheat skillet on medium-high for 1-2 minutes. Add diced onion and celery. Sauté for 3 minutes then add shredded carrots. Stir to incorporate and continue sautéing for 1 minute. Add frozen shrimp scampi. Stir to incorporate breaking up any shrimp that are frozen together. Sauté for 6-7 minutes or until shrimp are fully cooked. Add 3/4 cup hot water. Bring mixture up to a simmer. Remove from heat. Add stuffing mix. Stir to incorporate. Cover with a tight fitting lid and set aside for 5 minutes. Fluff with a fork and serve. Makes 9, ½ cup servings.
The next recipe for Crab Quiche, although a very good one, didn't happen but I still want to feature it. I do have a good reason for it not happening though. I made the mistake of heating up on of the crab cakes since I was hungry and wanted to snack on something to tide me over while preparing, I had one bite and next thing I knew, I was out of crab cakes – I swear I blacked out, the crab cakes were too delicious to stop eating them. They were unequivocally, the best darn crab cakes I have ever, ever had. Not only did it taste like it was hand made in someone's kitchen, it has huge chunks of sweet real blue crab meat that was beyond divine. I could go on and on about it but I'll stop myself now. Please enjoy the recipe below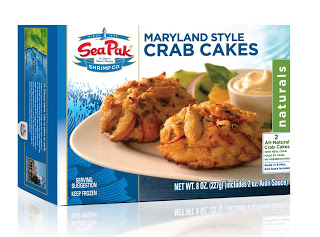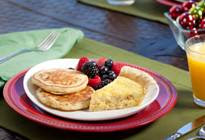 Crab Quiche


1 package (8 oz) SeaPak Crab Cake, thawed
2 9-inch frozen pie crust, thawed
1 (8 oz) package cream cheese, cut into cubes
2 cups (about 8 oz) gruyere cheese, shredded
8 large eggs
1 cup whipping cream
½ teaspoon garlic salt
1/8 teaspoon nutmeg
Preheat oven to 400 º. Prick pie crusts several times with a fork. Bake 3 minutes. Remove crust and re-prick several with folk. Bake 5 more minutes. Remove from oven and set aside. Place cream cheese cubes into a small glass dish. Microwave for 1 minute or until melted. Combine eggs, whipping cream, garlic salt and nutmeg in large mixing bowl. Whisking constantly, add ¼ of the melted cream cheese to egg mixture. Continue to add ¼ of cream cheese, whisking constantly until fully incorporated. Crumble 1 crab cake into each pie shell. Sprinkle ½ shredded gruyere cheese into each pie crust – if you are unable to find any gruyere cheese, then you can easily find a substitute for gruyere instead. Pour ½ the egg mixture into each pie shell. Sprinkle remaining shredded gruyere cheese over the top. Bake 35 minutes or until fully set. Remove from the oven and let sit for 10 minutes before serving. Makes 2 pies.
The last dish is an updated version of one of my favorite hors d'oeuvres – Bruschetta, which is usually on grilled bread, but a quick substitute of SeaPak's Butterfly Shrimp instead of bread made this updated version a new favorite.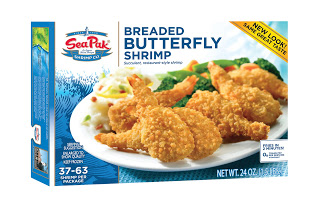 1 (9 oz) package SeaPak ® Jumbo Butterfly Shrimp – Oven Crispy or (8 oz) SeaPak ® Butterfly Shrimp – Oven Crispy, frozen
2 medium-sized roma tomatoes, seeded and finely diced
1/4 small onion, finely diced
1 clove fresh garlic, finely diced
1/8 cup lime juice
Salt and pepper
Preheat oven to 425 °. Arrange shrimp on baking sheet in a single layer so that the shrimp are not touching each other. Bake shrimp for 10 minutes. Place tomato, onion and garlic into small bowl. Pour lime juice over vegetable mixture and gently toss until well mixed. Add salt and pepper to taste. Set aside until shrimp finish baking. Remove shrimp from oven but leave them on the baking sheet. Spoon tomato mixture onto each shrimp. Return baking sheet with shrimp to the oven and continue baking for 5 minutes. Plate and serve hot.
So while you all were enjoying turkey, ham, maybe chicken and for a few people, Tofu, I had a very delicious Seafood Christmas. I am stuffed, I took a break and went back for more.
For more information on SeaPak, check out the SeaPak Facebook Page and check out more recipes SeaPak on YouTube.