Believe it or not, there is another event that happens during Fashion week that I love just as much as the shows – Robert Verdi's Luxe Laboratory Fashion Week Retreat. During the ultra hectic schedule of shows, its hard to get time to relax and regain your sanity so lounges like Robert Verdi's are a welcomed escape. It's also a great time to discover or get reacquainted with some great products and enjoy fabulous services and indulgences. Though I had a packed day, I got a chance to squeeze in half an hour at Robert Verdi's retreat, sadly I didn't get to experience everything but I will showcase what I did.
After running around in heels from show to show, you can only imagine how my feet felt, so when I discovered Okabashi, the 100% recyclable and comfortable shoes with Ergonomic footbeds for the person who is constantly on the go, relief immediately reached my feet. It's good for the planet, good for your well being and good for your wallet (they're only $20).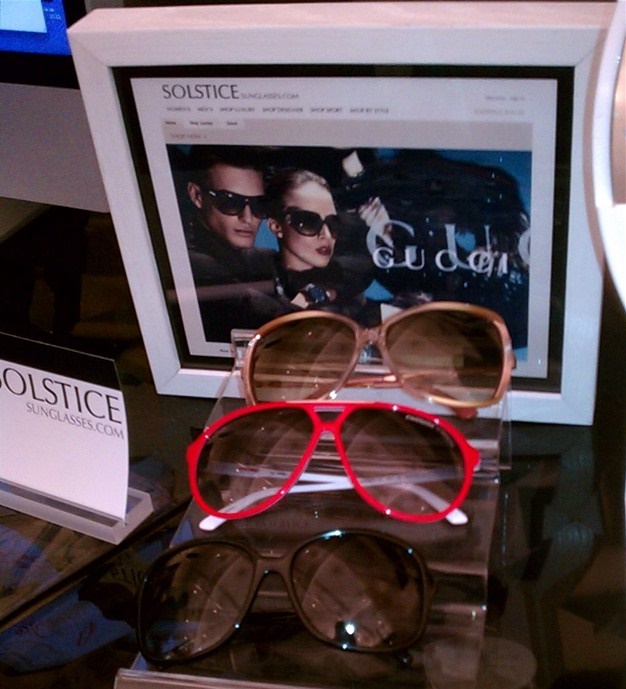 Next were the fabulous eyewear offerings from Solsticesunglasses.com; the e-commerce site just in November 2010 with over 40 luxury, designer and sports brands available for purchase including Gucci, Dior, Giorgio Armani, Marc Jacobs, Bottega Veneta, Balenciaga, and Carrera.
My next discovery I'm already very familiar with because I'm craving one for myself (with a pink case of course) – NOOK Color. NOOK Color by Barnes & Noble is the first full-color touch Reader's Tablet for people who love to read in rich, beautiful color. It is in the top five of my "need, want, have to have" list.
My next stop was to some very sexy shapewear, that's right it's shapewear though it looks like lingerie. Body Wrap Shapewear introduced a sheer, very sexy and sultry Iridescent Collection that is both sexy and functional. Body Wrap's shapewear features an innovative paneling system has differing levels of control that slim where you need and enhance where you want! Unlike others, this is shapewear you will want to show off. Id personally would love to show off the Divine Lace Body Suit.
I took a short break to indulge in some French Silk Pie from TEMPTATIONS by JELL-O. A line of decadent single serve, layered pie snacks and cheesecake snacks in six delectable flavors, all for 150 calories or less. I've been on the hunt for the French Silk Pie ever since. Temptations by Jello also comes in Strawberry Cheesecake, Apple Custard Pie, Lemon Meringue Pie, Double Chocolate Pie and Raspberry Cheesecake. I've only found the Double Chocolate Pie, which is equally divine, but there was just something about the French Silk Pie that made my taste buds quiver.
I continued on to Lifetherapy,a luxurious body collection that readjusts your mood and attitude with five mood-enhancing fragrances using the therapeutic powers of fragrance. I was introduced to the five mood scents – Play, Vacation, Flirt, Escape and Chill by owner and founder, Lynette Lovelace. Each mood scent comes in a Body Lotion, Hand Creme, Pulse Point Oil and an Ultra Rich Body Creme. My favorite mood was Vacation, an exotic scent of Polynesian coconut flakes, white orchid and sandalwood and was all too happy to take home a sample of the velvety, paraben free Vacation Hand Creme.
Other features which I unfortunately did not get to view was Conair, who showcased their InfinitiPRO by Conair Dryer; Visine who showcased their Maximum Redness Relief Formula and Total Eye™ Soothing Wipes; Perrier-Jouët Champagne, who is celebrating their 200th anniversary this year; Vintage Revolution Jeans, which I was first introduced to at last year's Robert Verdi Fashion Week Lounge and covered them on my blog; Incoco Nail Polish Appliqués, 100% real nail polish in the form of nail strips that you simply peel and press on; Chelsea Taylor Jewelry, a sterling silver and Swarovski™ crystal jewelry line who I actually met at another event, so hopefully I'll get to cover the line in more detail; FoodParc, a modern playground for food lovers and OBOEbags, limited edition eco-chic bags made from reclaimed or remnant fabrics.