Whether you're playing bartender at your summer parties or looking to drop a few pounds, adopt a healthier lifestyle and eating habits or just save money by making your own smoothies, then you need a great blender. You need a blender that is fast, versatile, and hard-working – in other words, you need The Ninja Professional Blender.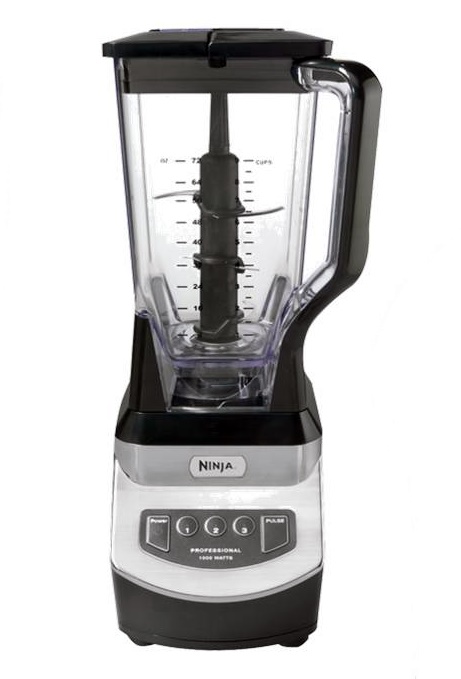 The Ninja Professional Blender has a 1000 watt motor and exclusive blade system. This innovative blender offers professional power and performance but at a price that's easy to swallow. Like much more expensive, professional-grade products, this blender has the speed and accuracy to blend batter, soups, sauces, and dips evenly; whip up a smoothie to help lose weight or improve your health; or concoct yummy frozen drinks for your guests if that's more your style. And, with the largest capacity in its class, the 72 ounce jar can easily serve six ten-ounce frozen drinks, making the Ninja Professional Blender the perfect product for large families, health enthusiasts, or those who love to entertain.
One thing that blew my mind about the Ninja Professional Blender is the fact that it crushes ice, make that pulverizes ice into snow…..in seconds – it's an amazing thing to see.
So amazing that I took video of this wonder blender in action when I was whipping up some at-home Jamba Juice Smoothies (more on that in another post) for a few friends I had over. I must add that I wasn't the only one impressed with the Ninja Professional Blender's power, the word WOW was used several times. Check out the video below
Ninja products are designed to be affordable as well as revolutionary in their capability to crush, blend, chop, and puree," says Mark Rosenzweig, CEO of Euro-Pro, the company responsible for developing innovative Ninja products. "In fact, the new Ninja Professional Blender crushes ice and blends ingredients faster than any other blender, and yet it won't crush your budget." At $99.00, the Ninja puts several more expensive blenders to shame (I speak from first-hand knowledge), So whether you want to into snow for sno-cones, blend frozen fruits into creamy smoothies, or puree vegetables into delicious, fresh soups or dips, make your first choice the Ninja Professional Blender. The Ninja Professional Blender is available at retailers in the U.S. and Canada such as Target, Bed Bath & Beyond, Kohl's. Visit www.ExperienceNinja.com to learn more.