On Thursday, September 8th,
Votre Vu
will re-create history's most glamorous and exciting cabaret, the Moulin Rouge, for Fashion's Night Out. Votre Vu's customized 27-foot Airstream, The VuBAR, will be stationed in front of the Soho House on 9th Ave between 13th and 14th Sts for what promises to be a truly French fête.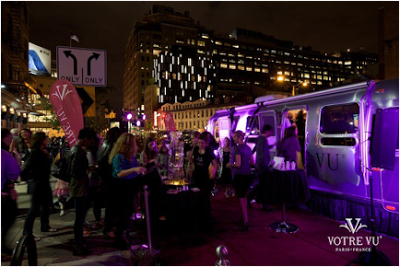 The famed VU-Lin Rouge MC will wrangle crowds to watch authentic performances by French Can Can girls and a contortionist, with a photographer on hand to document the revelry and snap photos of guests with performers.
In addition to sampling Votre Vu's handcrafted, French-made skincare, guests can taste SnapDragon Beauty Beverage chilled in an ice luge and distributed by Votre Vu's very own SnapDragon Sprite.
Vu la la!
Votre Vu VU-lin Rouge
When: Thursday, September 8th, 2011
6-11 PM; performances from 6:30-9:10 PM
Where: The VuBAR, parked on 9th Ave between 13th and 14th Streets