The Mercedes-Benz Fashion Week Spring 2012 Collection shows is drawing very near with shows taking place from September 8-15 at Lincoln Center's Damrosch Park. To celebrate it's one year anniversary at Lincoln Center, Mercedes-Benz Fashion Week will debut a new sleeker façade that will have a sexier look with the potential to integrate digital multimedia, offering designers and sponsors the opportunity for optimum exposure in seasons to come (potentially seeing show tweets on the tents façade does sound quite fabulous)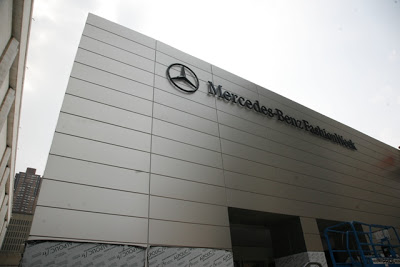 "We decided to evolve the design this season as we continually make improvements to the facility. We're excited about the new more modern look of the façade, which juxtaposes itself against the more traditional architecture of Lincoln Center, as well as the flexibility it will provide over the next couple of seasons to explore digital integration and other technology driven enhancements," said Peter Levy, SVP Managing Director, IMG Fashion Worldwide.
Though I still wish a little color was implemented, I am anxious to see the finished product. I also hope the weather doesn't jeopardize the digital additions seeing that Hurricane Katia is trying to potentially make landfall during fashion week.