Totally loving Ricardo Rojas new hair brush line called Tango. Rojas, trusted stylist to Eva Longoria, Jessica Chastain, Donatella Versace, and many others, has established his reputation as one of the world's leading hairstylists by aligning virtuoso technique with a finely tuned understanding of his clients' individuality, is launching his Tango Brush Line, as a tribute to his Argentinean roots. The brightly colored Tango Brushes comes in a set of brush and coordinating mirror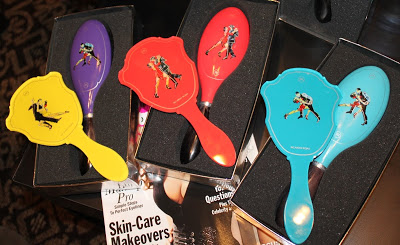 Wooden Frame and Handle
Utilizing natural resources wooden brush and fit to hand molded handle will allow great control and versatility when styling the hair. The brush has a fluid movement allowing you to curl, straighten, and create waves.
Natural Boar Bristles
Natural boar bristles strategically placed to grab perfect amount of hair for elimination of frizz and optimal shine of each stroke.
Hard nylon bristles (without balled top) will effectively detangle your hair.
The Nylon bristles bring the natural Keratin through the hair to create beautiful shine and texture.
The natural boar bristle's act as the "caresser" of the brush. These bristles bring softness to your hair and eliminate frizz by carrying natural oils from root to end.
These bristles together incorporate all the qualities needed for any type of hair to look and feel luminous, static free, shiny and full.
Brush Size
The large brush creates that glamorous look of a professional blow-out allowing movement and creating volume.
Handle created to fit in hand perfectly
Long Lasting Quality – The brushes luxurious qualities create a long lasting timeless product for consumers.
Hand Mirror – The hand cut mirror is the perfect accessory for when you are on the go.

Growing up in Argentina, Rojas remembers the vibrant colored streets of La Boca, which evoked a memory of passion and elegance and this is what theses brightly painted brushes show. Ricardo Rojas sketched the movements of the tango dancers on this fine collection of hair accessories. He states "I can vividly remember my mother's favorite moment each day; she would stroke her hair with an ornate brush and it would bring a smile to her face," explains Rojas "it was luxurious, sophisticated and alluring very much like tango. I wanted to translate that into my collection. And so he does; these colorful brushes evokes unspoken words of vibrant, energy and modern elegance.
Ricardo Rojas was backstage this season for the Walter spring/summer 2012 Presentation, where he used brushes from his Tango Hair Brush Collection to create a texturized style, perfect for the fashionista on the go. Ricardo was inspired by the fast pace of New York City; he created a fashion forward look that was chic, edgy yet very wearable.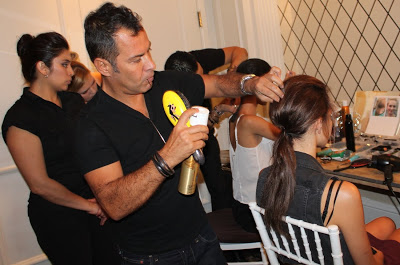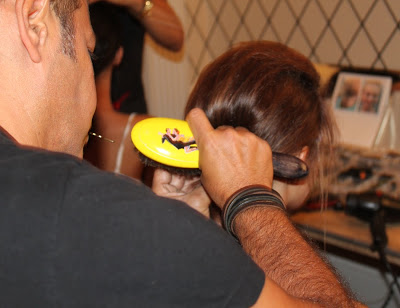 The suggested retail price of the Tango Brush and Mirror Set: $125.00 / Specially Priced for the Holidays at $95.00