You guys may remember my first experience with System Mechanic, the #1 PC Tune-up software from Iolo Technologies and how it brought my laptop back from the dead. If you don't remember, just click
HERE
. Well, there is a newer version,
System Mechanic 10
, that is even more powerful and effective than the earlier version that I used. Among its hundreds of new improvements and technological breakthroughs throughout the product, version 10 unveils a pair of patent-pending performance tools that will supercharge your PC's performance like never before. Plus, for those of you, like me, who own more than one computer, System Mechanic 10 debuts iolo's revolutionary Whole Home™ Licensing Program* where a single product license can be installed on all of your personal PCs. Bring life back to all the PCs in your household at no additional cost.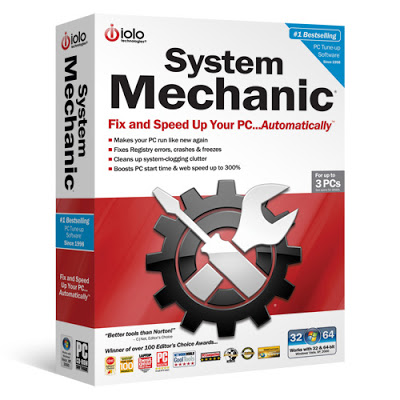 With version 10, System Mechanic is now the only complete PC performance software that resolves all 9 root causes of PC slowdown:
Root Cause of PC Slowdown Symptoms
1. Program misalignment – Sluggish programs
2. Available RAM decline – Overall system slowdown
3. Windows startup bottlenecks – Slow Windows startup
4. Redundant programs – Overall system slowdown
5. Mismatched internet settings – Slow internet
6. Registry errors – Hesitations, freezes, and lockups
7. Registry bloat – Overall system slowdown
8. Fragmented system files – Overall system slowdown
9. Accumulated clutter – Slower hard drive access
What makes this new version of System Mechanic so great?
NEW: Program Accelerator™ – Supercharges Your Programs
NEW: CRUDD Remover™ – Eliminates System Drag
NEW: Internet Connection Repair™ – Gets You Back On the Web
NEW: Whole Home™ Licensing Program
ENHANCED: Tune-up Definitions™
ENHANCED: DriveAccelerator™
ENHANCED: Hundreds of Overall Improvements Throughout
I feel in love after my first use – trust me, you will too.