Want to see something amazing? How about being a witness to what could be a World Record activity? Tomorrow, November 15th, Columbia Sportswear, along with Wim Hof, their quirky Omni-Heat Electric "anti-spokesperson," will take New York City by (ice) storm.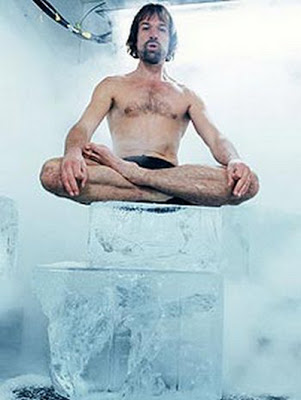 Columbia Sportwear invites you to join them as Wim attempts to break the world record for full body ice endurance, live on national television, by standing in ice up to his neck for over 1 hour and 52 minutes. If you're not familiar with his daredevil activities, you MUST check out his videos on Columbia Sportswear's YouTube Channel – http://www.youtube.com/columbiasportswear.
CAn't make it but still want to meet Wim – no worries. Wim will be available to meet face to face at the Columbia Freezer Tour in Bryant Park the very next day. The Columbia Freezer tour opened at Bryant Park in New York on Friday October 28th and goes through the end of November. The tour encourages consumers to take off their old outdated jackets and test a Columbia Omni-Heat jacket. Last year proved it: there is no better way to test an Omni-Heat than in a 7 foot freezer while singing karaoke!
From 5pm-9pm Friday evening, people visiting the Freezer Tour will have the chance to put on an Omni-Heat Electric jacket and recreate one of their print ads by taking a seat on a block of ice and getting their photo taken next to the legendary iceman himself, Wim Hof.