My favorite thing to get (besides free shoes) is a facial. And during stressful times or the cold winter months, it is essential to fight back damaging elements with a facial. Of course not all of us can just run out to a spa but luckily you can heal your skin at home. The Somme Institute has introduced a new addition to their wonderful 5-Step Regimen – the Boost Gentle Warming Mask.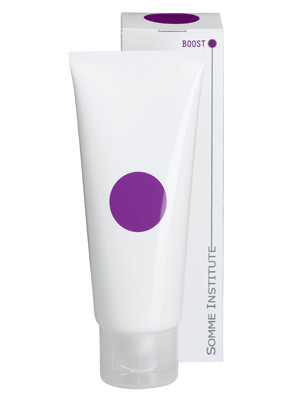 Boost is a multi-tasking treatment mask that purifies and nourishes the skin leaving it smooth and refreshed. Infused with a specialized blend of minerals, enzymes and vitamins, it brings new skin tone, texture and clarity. Gentle enough for all skin types and skin conditions (including Sun Damage, Fine Lines & Wrinkes, Acne and Rosacea), Boost prepares the skin to better receive and absorb the Somme Institute 5-Step Regimen. This creamy oat-colored mask is decadent to apply, it smooths on the face with ease and spreads evenly and smells absolutely divine. The faint scent reminded me of fall dessert and after reading that it contains pumpkin enzymes, I quickly saw the appeal. Pumpkin is rich In Vitamins A, C, and Zinc; it soothes, moisturizes and acts as a carrier, assisting the other mask's ingredients to absorb deeper into the skin and intensifying the results. So with Boost, you will benefit even more from Somme Institute's Patented MDT5 Technology. Boost also contains Zeolite, a natural mineral to warm the skin and open the pores enabling Kaolin to aptly absorb excess oil, dirt and impurities.
I realized one major perk of using Boost, as the weather gets colder, I always noticed that I immediately felt the temperature on my face only a few minutes of being exposed to the elements. My face felt a bit tight even though I used a moisturizer but while using Somme Institute's Boost, that was not an issue anymore. My skin not only felt supple and moisturized, it truly was. The skin on my face took no notice of the cold weather and wasn't affected by it at all.
How do you use Boost? Somme Institute recommends you use it 1-3 times a week but Boost can be used daily as well without harm. After Nourishing Cleanser on dry skin, apply Boost to forehead, cheeks and chin and massage Boost onto skin for a couple of minutes. Leave Boost on the skin for 3-5 minutes and then remove with a warm towel. Continue with Somme Institute Transport.