Smirnoff, the world's number-one selling and most awarded vodka brand, has introduced what I can honestly say are my two favorite flavored vodkas –
Smirnoff Whipped Cream
and
Smirnoff Fluffed Marshmallow
. I'm a sucker for alcoholic beverages that's on the sweet side, so these two flavors are right up my alley. Of course the fact that they're so tasty are a dangerous thing, they're just way too amazing and delicious. I'm never one for having any alcohol straight but this I would and I did (a lot) – both are incredibly smooth and went down a bit too easy (not that I'm really complaining).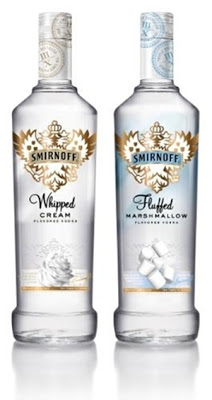 So what do they taste like? Let's begin with the Smirnoff Whipped Cream – I first took in its fragrance and it wasn't what I expected and neither was the taste. I figured it'd taste more like milk or cream but what came to mind was cocoa. The press release states that "Smirnoff Whipped Cream Flavored Vodka possesses a seductive aroma that compliments its smooth whipped cream taste." I immediately started thinking of mixing it with chocolate-based drinks, ice-cream floats and milkshakes because of its flavor. My favorite was mixing it with what I call a Holiday Hot Chocolate:

1/3 cup cocoa powder
3/4 cup brown sugar
1/3 cup hot water
3 1/2 cups milk
3/4 teaspoons vanilla extract (optional)
1/2 cup half-and-half cream
2-3 shots of Smirnoff Whipped Cream
Top with Whipped Cream and a bit of cocoa powder
On the other hand, Smirnoff Fluffled Marshmallow reminded me of cotton candy. "Smirnoff Fluffed Marshmallow Flavored Vodka has a refreshing and airy scent that is met with the subtle sweetness of confection—qualities that exemplify the innocent side of a favorite indulgent dessert." It makes an amazing base for Cosmos and other sweet vodka cocktails, so ladies get ready to enjoy some extra yummy drinks. Why not try this Fluffled Marshmallow Cosmo:

1 1/2 oz Smirnoff Fluffled Marshmallow Vodka
3/4 oz triple sec
3/4 oz cranberry juice
1 oz fresh lime juice

Pour Smirnoff Fluffled Marshmallow vodka, triple sec, cranberry juice and lime juice into a cocktail shaker half-filled with ice cubes. Shake well, strain into a cocktail glass, and serve.
To introduce these two sensual and sweet flavors, Smirnoff has recruited Model and Kanye West's former love, Amber Rose as the face of this bold and audacious new campaign.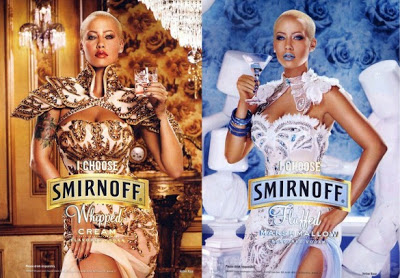 Created to launch the new flavors, Amber brings to life the luscious and opulent world of Smirnoff Whipped Cream Flavored Vodka and the sweet and playful world of Smirnoff Fluffed Marshmallow Flavored Vodka.
"Flavored vodkas continue to be widely enjoyed by our consumers, which is why we're consistently adding innovative, high quality flavors to the Smirnoff portfolio," said David Tapscott, Brand Director, Smirnoff. "We're confident that the new Smirnoff Whipped Cream and Smirnoff Fluffed Marshmallow Flavored Vodkas will be broadly embraced, much like their namesake dessert counterparts."
Both Smirnoff Whipped Cream and Smirnoff Fluffed Marshmallow Flavored Vodkas are available nationwide at local retailers with a suggested retail price of $12.99 per 750mL bottle (prices may vary per market).