For those of you who're dying for one of these skin polishers (ME) but can't bring yourself to extract $100+ for one (ME again), then there this will make you and your band account very happy. Target.com currently has a special going on for their
Spa Sonic ® Skincare System Face & Body Polisher
, normally $65.00 can be yours for only $45.00
(this holiday offer expires January 15th 2012)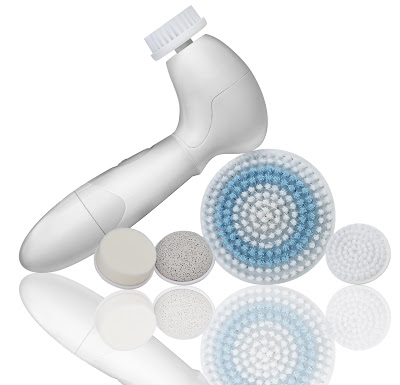 The Spa Sonic works to deep cleanse the entire face and body. It is an affordable, waterproof devic for both men and women, that's ideal for use in the shower, bath or sink. It operates with 4 attachments (all included): a small brush for the face, a large brush for the body, pumice for rough areas, and a facial sponge for microdermabrasion and reduction of fine lines. The Spa Sonic's dermal penetrating action promotes rapid absorption of skin care products and leaves skin toned and super smooth.
* Exfoliates, Cleanses and Smoothes
* Clear Complexion Technology, Non-Irritating
* Comparable to Clarisonic Plus Skincare System
* Affordable – $100 less than the leading brand
* Larger Body brush than the leading brand for faster exfoliation

Spa Sonic tested comparably to the Clarisonic® Plus Skin Care System in an independent study conducted by the leading consumer testing laboratory (STR/Shuster Labs 2010). Made with Clear Skin Technology, the Spa Sonic brush heads were specially designed by dermatologists, to deep clean while being completely non-irritating. Four removable rotating brush heads offer a variety of benefits:
Small facial brush: cleanses the face by getting deep in to pores;
Large body brush: cleanses entire body deeper than loofah and body sponges;
Facial buffer: aids in moisture absorption and exfoliation to reduce fine lines and dark spots;
Pumice stone: smoothes rough areas such as elbows, knees and heels.
Features:
Exfoliates, smoothes and softens skin
Recommended by dermatologists
Can be used with favorite cleanser and moisturizers
Tightens and reduces size of pores
Supports the reduction of fine lines and dark spots
Eliminates dirt, makeup and oil
Safe and effective for all skin types
4 bonus attachments included
Long lasting AA battery four pack – no need to charge
So if you want great skin this season and for the new year, get your hands on one of these while the savings lasts.