I recently shared my secret for keeping my skin supple and moisturized during the brutal winter season on Betty Confidential, that secret being baby oil…but that was just my body. Our face gets the most abuse from not just the effects of the freezing temperatures and biting winds but from the drying heat of indoor heat as well. While we have hundreds upon hundreds of facial moisturizers and barriers, our lips do not get the same moisturizing benefit – at least mine didn't until I tried
Elizabeth Grant's Collagen Lip Restore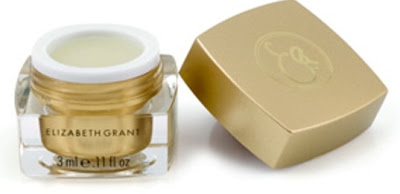 Not only did the Collagen Lip Restore melt onto my lips, they were instantly hydrated. All sight of any dryness was instantly gone. The Lip restore also redefined my lip line and gave me the benefit of softer, smoother younger-looking lips. It contains Torricelumn™ and Collagen to help diminish the appearance of fine lines and wrinkles (just in time to have my lips be 100% kissable for New Years). But, my dears, that is NOT the only benefit of this amazing little wonder-product. Believe it or not, your hands, hair, eyebrows, nose and forehead will all benefit from this intensive rejuvenating product
Dry cuticles can be hidden in your gloves, but once you remove them, your cracked cuticles will be revealed! Just grab the lip restore and massage into your cuticles for healthy looking nails
Frizzy hair from static electricity (or hat hair) driving you crazy? Rub some lip restore on your fingertips and apply to the tips for a more controlled look.
Bold brows are so in style, but rogue hairs can wreak havoc on the look: dip the tip of your finger in your lip restore and stroke over your eyebrow to restore order.
Wrinkles are a common side effect of dry skin caused by harsh winter weather – fight back by massaging a dab of lip restore over problem areas on your forehead and crows feet (thanks to Torricelumn, a super moisturizing compound, works to diminish fine lines and wrinkles).
Cold weather = runny noses. Every time you use a tissue to blow your nose, you're stripping your skin of its natural oils, causing irritation under your nostrils. Apply lip restore after blowing your nose to moisturize dry sensitive skin!
You're definitely getting much more bang for your buck with this super product, not just because of it's multiple uses but a little goes a very long way. So if winter has got your skin parched, you must add Elizabeth Grant's Collagen Lip Restore to your winter rescue.