Designer Lindsay Degen presented a collection of colorful striped pieces inspired by the image of "dazzle ships" – very brightly colored, sliced geometric designed ships that made it difficult to align split screen range finders, as well as fake bows that made it difficult to gauge speed and heading. She wanted to mimic the patterns on ships using complex knit structures, which in turn camouflaged the knitting to look like more of a bold, all-over printed surface.
"The collection called "Ask Tell", celebrates the more open-minded policy. She set out to make a collection that references military themes while commending the idiosyncratic, quirky and even Queer"
, celebrating the queerness in all people as a salute to the importance of the individual.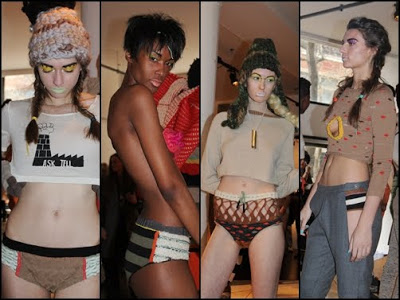 Her collection included knit pants with cutouts and crochet details, oversized hats crocheted from hand-spun merino wool, angora ridged knit tops with short row lace, racked rib dresses in cashmere, hand silk screen printed t-shirts, plated knits pants.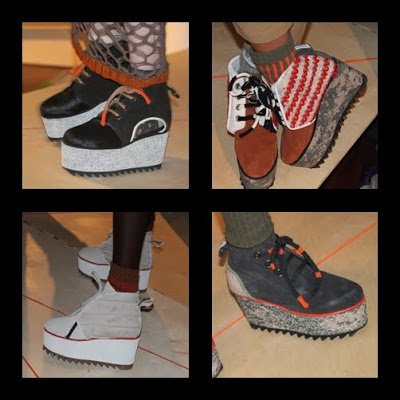 The shoes shown with Degen Fall / Winter 2012 "Ask Tell" featured knitted elements paired with leather and pony hair; the platform sneakers featured hand drawn pattern work by downtown artist RJ Raizk. Degen brought knitting to footwear as seen on various sections of the shoes along with the incorporation of knitted shoe laces. Additionally shoes featured (in classic Degen style) target-specific cut outs which served to reveal Degen's trademark mis-matched socks.