It's HERE!! (almost) Hello my fellow beauty addicts, the long awaited Spring Collection from Illamasqua is here. The collection, coined,
Human Fundamentalism
, is an explosion of your alter ego. It's becoming who you are and not who you're told to be. For Illamasqua, beauty isn't conformity, it is the fundamental human desire to express your inner self on the outside. This newest collection speaks just that with its in-your-face (no pun intended) color palette. Those like me who love color will truly appreciate what this collection has to offer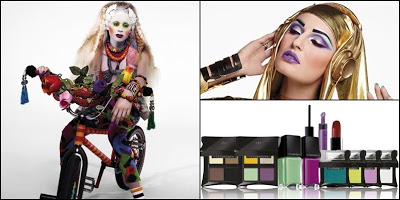 The bold collection features blinding flashes of pigment that provide a sharp contrast to neutral tones, creating a saturated palette that catapults your alter ego to new levels of self-expression. Mix contrasting textures to express your true self, spiraling from rich metallic to pale matte shades. This is nonconformity at its most fundamental. At its unpredictable best.
"Human Fundamentalism is the unique spirit and fundamental human drive for individuality. It's a belief, a movement and an emotion. A connection with the spirit of the age and its global motifs. You are your own human hybrid, a unique nomad of street cultures and global trends." – Alex Box, Illamasqua Creative Director.

"Human Fundamentalism to me is physical expression of your self-belief, sharing your opinions with colour that shape the narrative of your thoughts and inner self. It is a statement of conviction and colour confidence, it states, this is me and now see what I see, be tinted by how I express colour and behold an oblivion to social convention and constraints." – David Horne, Illamasqua Director of New Product Development.
The collection includes the following:
Powder Eye Shadow $20.00
Subvert normality with an explosion of highly pigmented Powder Eye Shadows in four bold shades: Burst (Blue Green), Pivot (Yellow Green), Cancan (Lilac Purple), and Sex (Pure White). Intense, long lasting and easily blendable, there's an extraordinary shade to express every aspect of your humanity.
Palettes $42.50

Fundamental Palette – The Fundamental Palette is a playground for self-expression. Experiment with contrasting textures, from glistening Liquid Metal in molten pewter to matt Cream Pigment in mint green, to express every inch of your alter ego. Coupled with two vibrant Powder Eye Shadows in Hype (Bold Yellow) and Inception (Rich Violet) this palette demands bold levels of nonconformity.
Neutral Palette – Create sculpted highlights and stark contours anywhere on your face and body with these four fundamental Powder Shadows. From new matt shades in Stealth (Creamy Buttermilk), Wolf (Chocolate Brown) and Vintage (Antiqued Gold) – a shade exclusive to this palette – to the glistening metallic accents of Obsidian (Rich Black), express your inner light and darkness in a rich riotous glamour.
Precision Ink $27.50
Precision Ink in pure white Scribe is the ultimate anti-liner. Subvert expectations and highlight the unconventional, creating white-lined eyes and white-out brows with Precision Ink's super-fine tip. Waterproof and extremely long- lasting, Precision Ink also makes the perfect nail art pen. Simply apply then seal with Illamasqua Top Coat for nails that transcend conformity.
Nail Varnish $14.00
New Nail Varnishes in Stance (Bright Mauve) and Nomad (Bright Jade) are fearlessly fresh, bold and vibrant. High-gloss, chip-resistant and packed with pigment, they represent the most stunning shades of idiosyncrasy.
Lipstick $22.00
Dare to be you with our vibrant Box Lipstick, the richest of reds, deep scarlet Lipstick takes you way beyond conformity.
Intense Lipgloss $20.00
Intense Lipgloss in Fierce (Bright blue purple) speaks of uncompromising self-expression, the fundamental desire to stand out and a strong connection with the power of pure colour.
The Human Fundamentalism Collection is available starting March 20, 2012 on Sephora.com, and will be available at select Sephora Stores beginning March 22nd.