Hello all you fragrance lovers, I have some great news. You may remember my post last October about Sephora and Firmenich's Sensorium: A Sensory World, refresh your memory here –
Sephora and Firmenich Presents Sensorium – A Sensory World
. Well, the beauty and fragrance powerhouses are bringing another sensational fragrance experience. Sephora invites you to a unique event experience, a one-of-a-kind fragrance lesson to transform how you think about fragrance at the fragrance flight bar. These capsule events are based on Sephora's pioneering Sensorium™ fragrance experience in New York City, produced in partnership with global fragrance powerhouse Firmenich, which allowed consumers and fragrance lovers to sample scents categorized by "impressions" instead of traditional fragrance notes.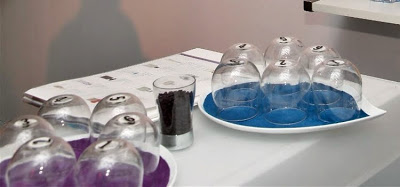 Similar to a wine tasting, you take your place at a table in front of scents classified by one of four impressions: Addictive, Playful, Casual or Chic (as seen above). Each scent is unlabeled and presented in stem-less wine glasses, allowing you to experience how each fragrance makes you feel, without branding or preconceived notions.
You can try any or all the scent impression stations at your leisure.

Once the Fragrance Flight Bar journey is complete, a Sephora fragrance expert is on hand to reveal your preferences and can provide you with additional information about the scents, help you select products, or provide samples for you to further assess the scents after wearing them on your skin. A scented guide book is also provided as a take away to continue the fragrance education, based on the four impressions.
Sephora's Fragrance Flight Bars will be available for three weekends only:
April 28th/29th, May 5th/6th and May 12th/13th at the following locations:
Sephora Times Square (New York, NY)
Sephora Powell Street (San Francisco, CA)
Sephora Soho (New York, NY)
Sephora Santa Monica (Santa Monica, CA)
Sephora 5th Avenue (New York, NY)
Sephora Valley Fair (Santa Clara, CA)
Sephora 34th Street (New York, NY)
Sephora South Coast Plaza (Costa Mesa, CA)
Sephora Union Square (New York, NY)
Sephora Prudential Center (Boston, MA)
Sephora 86th and Lexington (New York, NY)
Sephora Aventura (Aventura, FL)
Sephora 711 Lexington (New York, NY)
Sephora Ala Moana (Honolulu, HI)
Sephora Roosevelt Field (Garden City, NY)
A permanent fragrance flight bar will be opening in a New York City Sephora this June.