Sephora held a beauty fair which highlighted some of their top ten brands and some must-have essential summer products every beauty needs. In this post, I will discuss the technically innovative brands available at Sephora. My first stop (and something I was really excited about) was the 
Sephora by OPI GelShine At-Home Gel Colour System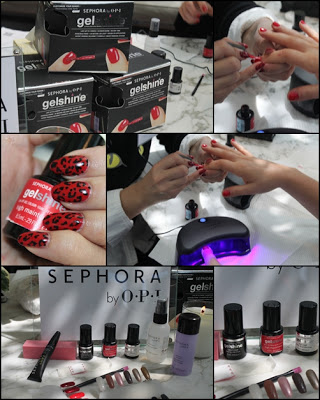 GelShine is the ultimate at-home gel system, offering unprecedented gel performance and technology for instantly dry, chip-free color with amazing high shine gel colour that lasts for up to 14 days. With an array of Sephora by OPI's top-selling nail colour shades to choose from in gel form. The Sephora by OPI GelShine Gel Manicure System, which retails for $159.00, includes: LED Light, your Choice of GelShine Colour, GelShine Base Coat, GelShine Top Coat, GelShine Brush-on Cuticle Oil, GelShine Cuticle Stick, Nail Buffer, GelShine Nail Cleanser, Gel Shine Lint-Free Cleansing Pads, 3 Sets of GelShine Removal Wraps.
The Sephora by OPI GelShine is available in the 18 best-selling Sephora by OPI Nail Colour shades and retail for $17.50 each. The shades include:  I Only Shop Vintage, Already Famous, Metrochic, High Maintenance,  I'm Wired, Just a Little Dangerous, Iris I was Thinner, Handpicked for Me, It's all About Me, Seeing Pink Elephants, Leotard Optional, Bare to be Different, Caffeine Fix, Curv-aceous, Mr. Right Now, Opening Night, Break a Leg-Warmer, and Havana Dreams.
While I was getting my GelShine mani, I whitened my teeth with the GLO Brilliant ®
Personal Teeth Whitening Device, which I was first introduced to at the Allure Magazine lounge during fashion week in September 2011. Teeth whitening is becoming one of the most popular dental treatments around as everyone is chasing that perfect smile. If you haven't had one already, a chat with a professional cosmetic dentist can give you a great idea of what kind of things they can do to whiten your teeth, as well as things you can do from home to maintain this whitened look. Most people would recommend speaking to an actual dentist before giving a home-use device a go as their opinion is based on years of training and experience.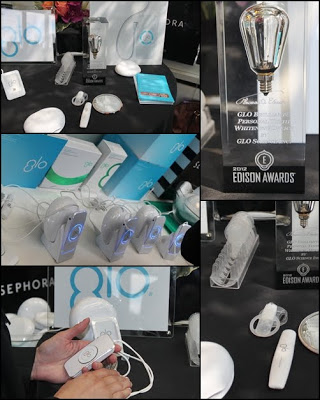 GLO is the future in teeth whitening; using heat-and-light, technology built directly inside the closed system, patented GLO™ Mouthpiece with a unique whitening gel formulation and easy, automatic GLO™ Control, the innovative GLO delivers faster, safer, superior results without tooth sensitivity. GLO is clinically proven to whiten your smile up to 5 shades brighter in as few as 5 days. All it takes is 32 minutes per day – four 8-minute applications in a row, for 5 consecutive days — and you're on your way to a brighter, more beautiful smile. The GLO Brilliant ® Personal Teeth Whitening Device retails for $275.00 and includes: GLO Brilliant ® Whitening Mouthpiece and Case, GLO Brilliant ® Whitening Gels (G-Vials) 10pk, GLO™ Control, GLO™ Charging Dock, USB Power Plug, GLO™ Lip Care and GLO™ Travel Bag.
From futuristic teeth whitening to This amazing device was also named the 2012 Silver Edison Award Winner in Consumer Packaged Goods in the Personal Care Category.
Stay tuned for more from this awesome beauty fair….