One of my favorite juices is Welch's Grape juice, my go to is the White Grape juice (made with Niagara grapes) but I usually get the Concord Grape juice as well because I love the taste of the two mixed together (my recipe is 70% white grape juice and 30% concord grape juice) – it delicious plus I get the health benefits of the concord grapes as well. You've seen the commercials, you've most likely tasted how delicious it is and of course know the health benefits but if you don't, please read on.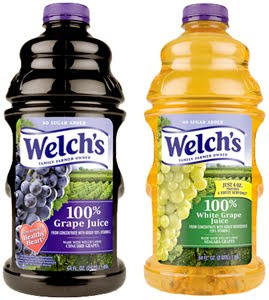 Concord grapes have natural plant nutrients called polyphenols – including many of the same ones found in red wine. Not only do polyphenols give Concord grapes their vibrant color, these plant nutrients also act as antioxidants and deliver benefits to help promote overall health. 100% of Welch's Grape Juice is made with whole grapes – skin, seeds and all with no added sugar, color, or flavor, it helps support a healthy heart and there are two servings (1 cup) of fruit in every 8-oz. glass and each glass is an excellent source of the antioxidant vitamin C.
Welch's 100% Grape Juice is available in the following sizes: 4‐oz. bottle, 5.5‐oz. can, 11.5‐oz. can, 12‐oz. bottle, 14‐oz. bottle, 16‐oz. bottle, 24‐oz. bottle, 46‐oz. bottle, 64‐oz. bottle, 96‐oz. bottle, and six‐pack 10‐oz. bottles

Another great and tasty way to enjoy the delicious health benefits of Welch's is with their Natural Spreads. Made in Concord grape, Strawberry and Raspberry flavor varieties with no high fructose corn syrup, no artificial flavors or colors and no preservatives, Welch's Natural Spreads make a great tasting, all-natural, budget-friendly spread the whole family can enjoy.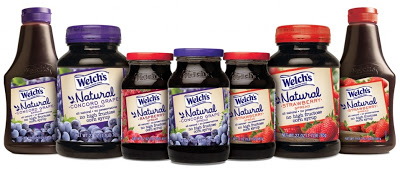 Not only are these great on sandwiches and on crackers, they're amazing as a dip for pretzels, apples, and to mix with plain yogurt. As a huge fan of their White Grape juice, I'm hoping they come out with a White Grape Natural Spread.
Welch's Natural Spreads are available in the following sizes: 12-oz. plastic jar, 19.8-oz. squeeze bottle, and 17-oz. glass jar.