I had the pleasure of attending an event with Simple Skincare, UK's #1 facial sensitive skin products (now available in the US and Canada) which contains no dyes, artificial perfumes or harsh irritants, and U.S. Women's National Soccer Goalkeeper, Hope Solo. Prior to this event, my experience with this brand of skincare was limited to their Cleansing Facial Wipes, a product I've come to love but now that I got a chance to sample from from the product range, I'm even more enamored.

Simple Skincare is a new line of products that gently and effectively addresses the needs of 58% of women, like Hope Solo, who have sensitive skin. It can be a struggle for those with this to find good eye balms and other beauty products, and whilst some brands do exist, more choice is always good. Hope Solo has teamed up with Simple Skincare to share her trade secrets for balancing her skin and her very active life.  
"My philosophy is look good, feel good, play good – and I live by this everyday," said Hope Solo.  "Simple looks at skincare the way that I look at life – the choices I make have an impact on my skin and I am mindful of maintaining a balance.  I'm happy to finally have products I can rely on and share my experiences with other women."



One lucky person will have the chance to meet the Gold Medalist, experience her health and fitness routine and hear about her time in London competing with the US Women's National Soccer Team.  A grand-prize winner will receive a 4-day, 3-night all-inclusive trip for two to Los Angeles to meet Hope and experience her balanced routine.  Enjoy one-on-one time with the soccer star, soak in all her skincare secrets, workout like a pro-athlete and dine at one of her favorite restaurants.  Enter for a chance to win at www.EscapeWithHope.com, where you can also see Hope's sensitive skin story.  Women can take Simple's Skin Health Consultation to evaluate their own skin sensitivities at www.simpleskincare.com.
"Hope's Simple Skincare Escape" will run from 02:00 PM ET on May 8, 2012 through 02:00 PM ET on July 17, 2012.  Simple is a proud presenter of MAKERS, a dynamic, interactive video experience developed by AOL featuring exclusive access to compelling stories from trailblazing women like Hope.
The Simple Skincare product range includes Eye Care, Moisturizers, Facial Wipes and Cleansers, all of which feature a perfect blend of Simple's purest possible skin loving ingredients such as aloe vera, jojoba oil, chamomile, cucumber extract, etc, along with added vitamins, B5 and  E. Skin is thoroughly cleansed without any drying and moisturized without being greasy or oily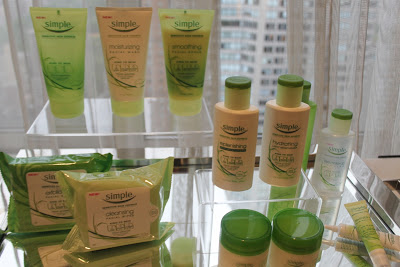 EYE CARE
Revitalizing Eye Roll-On: a revitalizing Eye Roll-on that helps reduce puffiness and awakens and revitalizes tired eyes by instantly cooling and gently massaging the delicate eye area.
Soothing Eye Balm: soothes and relaxes tired eyes.
Eye Make-Up Remover: effectively removes makeup, even waterproof mascara.
MOISTURIZERS
Replenishing Rich Moisturizer: this rich moisturizer leaves your skin replenished and nourished all day long
Hydrating Light Moisturizer:  leaves your skin hydrated and nourished all day long
Vital Vitamin Night Cream: helps restore and replenish your skin's moisture balance throughout the night
Vital Vitamin Day Cream SPF 15: moisturizes skin all day long and helps protect the skin from UVA and UVB rays
FACIAL WIPES
Cleansing Facial Wipes: refresh and nourish your skin plus remove waterproof mascara.
Exfoliating Facial Wipes: gently lifts dead skin cells to leave skin revived and revitalized
CLEANSERS
Moisturizing Facial Wash: leaves your skin thoroughly cleansed and nourished
Refreshing Facial Wash Gel: leaves your skin thoroughly cleansed and revived
Soothing Facial Toner: leaves your skin feeling clean and refreshed
Smoothing Facial Scrub: gently lifts dry, dead skin cells to help your skin look brighter and more even textured
 What makes Simple Skincare such a wonderful range of products, you can send a lot of your thanks to the brand's Consulting Dermatologist, Dr. Jennifer M. Segal, a Duke-trained, board certified dermatologist extensively trained in all areas with a specific interest in sensitive skin.
To get your hands on Simple Skincare's range of products, visit Duane Reade, Kmart, Walgreens, Rite Aid, CVS