Hello Kitty
has gone rock. The uber cute and girly brand has paired with "The hottest band in the world" – KISS – for an unexpectedly cute collaboration. The
Hello Kitty x KISS Collection
offers a mix of co-branded products that will appeal to fans of all ages. Making it's debut in retail outlets nationwide this month, this exceptional collaboration offers something unique and unexpected for fans of KISS and
Hello Kitty
. Two overarching themes in the collection include "Rock 'N' Roll / Rock Mood," and "1976 destroyer / Street Mood."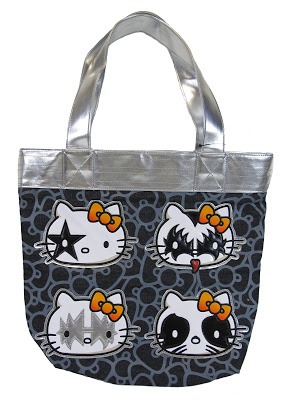 The 70s-era "classic" KISS retro collection is filled with unexpected fun, including Hello Kitty's take on the classic KISS band profiles. Young customers will love the adorable styling of the t-shirts and accessories, while adults who love the rock culture will find the nostalgia pulling on their inner guitar strings. Two rock star Hello Kitty x KISS T-shirt designs have been at Hot Topic stores and online since April as a teaser for the Fall collection launch. The collection includes a something-for-everyone selection of bags, jewelry, stationery, plush and of course, more must-have rocker Hello Kitty x KISS t-shirts.

"KISS and Hello Kitty Rocks. Over the past 40 years we have watched proudly as The KISS Army has crossed and come to include all generations and demographics. This co-branding is trailblazing and we have all been very excited about the collaboration of our 2 iconic brands from the beginning," said Paul Stanley lead singer and co-founder of KISS.
Each collection is available at specialty retailers, including Hot Topic, and Claire's, Sanrio.com and select Sanrio boutique stores.