Burt's Bees introduces two new lip color products that bring color to you naturally –
Natural Lip Glosses
and
Natural Lip Shines
– and adds more shades to their
Natural Tinted Lip Balms
. The green beauty company has partnered with celebrity makeup artist, Katey Denno, who only uses green beauty products and is dedicated to living an eco-friendly lifestyle. You may remember my
Sneak Peek: Burt's Bees Launches New Spring 2013 Lip Color
. The following new Burt's Bees Lip Color products and shades will be available in March at select natural, grocery, drug, and mass retailers as well as on
www.burtsbees.com
.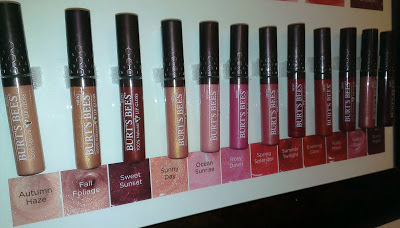 These vibrant, pearlescent glosses bring a new dimension of color and shine. It is infused with moisturizing botanical oils and Beeswax and formulated with 100% natural ingredients (Jojoba Esters and Sunflower Polyglycerides) and a natural, light Vanilla fragrance that allows these new lip glosses to capture the beauty of nature's. The Burt's Bees Natural Lip Glosses are available in 12 shades: Autumn Haze, Fall Foliage, Sweet Sunset, Sunny Day, Ocean Sunrise, Rosy Dawn, Spring Splendor, Summer Twilight, Evening Glow, Ruby Moon, Nearly Dusk and Starry Night. Each natural Lip Gloss will retail for $8.99 each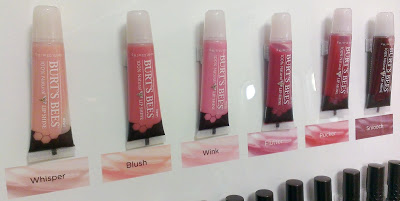 Burt's Bees new Natural Lip Shines features a breakthrough formula that awash your lips in sheer, glassy color and nourishing hydration. Unlike other lip products, it will not leave your lips sticky or parched thanks to key ingredients like Apricot Kernel Wax Blend, Shea and Cocoa Butters, and Sunflower Polyglycerides. The Natural Lip Shines are available in 6 shades: Whisper, Blush, Wink, Flutter, Pucker and Smooch. Each Natural Lip Shine will retail for $6.99.
Available in modern, wearable shades and a sweet natural flavor, the Burt's Bees Tinted Lip Balms takes their regular lip balms to the next level. These natural balms enhance your natural lip color with sheer color while leaving your lips petal soft with lush natural ingredients that care for your lips, like soft flower waxes, moisture-rich Shea Butter and Vitamin E. Currently available in six shades, Burt's Bees welcomes Sweet Violet, Petunia, Caramel Daisy and Blush Orchid to the line up to complete the nine-shade range. Each Natural Tinted Lip Balm retails for $6.99 each.