Take your music and the party wherever you go as your cellphone, tablet or laptop will turn anywhere into a hot nightclub thanks to a pocket-sized high performance Bluetooth speaker. With
Bassbuds's BassBoomz Portable Bluetooth Speakers
, you revel in superior sound quality with depth and clarity thanks to its powerful built-in speaker and an amazingly enjoyable 5-6 hours of music at 70% volume because of its high performance Li-ion rechargeable battery.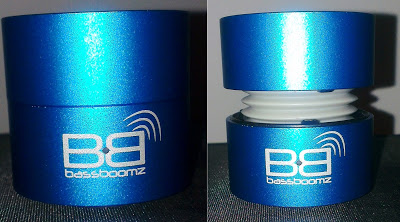 This little solid aluminium sphere is designed with an innovative Bass Expansion System for an spectacular volume-to-size digital amplifier giving you deep, rich bass tones. To amp up your bass, just twist to unlock an astounding enhanced entertainment experience. It is constructed with a high grip base that provides stability, reduces interference and vibration dampening when used on hard surfaces. Check out some video of this little powerhouse in action.
Want to get your hands on one of these for half the cost? Simply click on http://www.bassbuds.net/usa/bassboomz and use voucher code BBZUS026500 and save $46.00 off the portable Bluetooth speaker for the entire month of March. Though it is a Bluetooth device, the Bassboomz speaker also supports all devices with a connection through a 3.5mm audio jack.