Don't you love products that multitask? Not only are they incredibly beneficial but you're getting more products for your bucks. Today we're sharing the wonderful products from Fragrance with Benefits. This "made in the USA" fragrance brand features unique products that combine fine fragrances with carefully selected essential oils. This fusion highlights the beauty and the benefits of its ingredients; all of which are backed by science to bring you added benefits. Their fragrances make fool-proof holiday gifts that can be enjoyed year-round.

Fragrance with Benefits offers two signature unisex lines, Égide and NoMo, both of which offer their own added benefits. Égide leaves you feeling warm during winter with notes of sandalwood and frankincense that bring holiday bliss to an often stress-filled time of year with its calming benefits. While NoMo refreshes with scents of Florida orange and French lavender; all with the added benefit of repelling mosquitoes for those tropical trips taken during the peak travel season.
NoMo
The NoMo range (pictured above) is a unique approach in that it offers a luxury fragrance that's also an insect repellent. Charm only your own species with the fresh scents of Florida orange, Sicilian lemon, French lavender, and peppermint, geranium, and cedarwood. Enjoy the finest essential oils with no harsh chemicals (free from deet and citronella). It's never tested on animals (except mosquitoes). We've all had the displeasure of battling mosquitoes. While there are chemical-based products to fight them off, you don't want to breathe those toxins in while cooped up at home.
The Fragrance With Benefits NoMo range is a great non-toxic way to keep the annoying pests away. Enjoy the 100ml bottle of NoMo Eau Fraiche for $85.00, the Shower Gel for $30.00, Body Cream for $50.00, or get a Travel Set (includes Eau Fraiche 30ml/1 fl oz, Shower Gel 60ml/2 fl oz, Body Creme 60ml/2 fl oz, washable cotton pouch) for $65.00.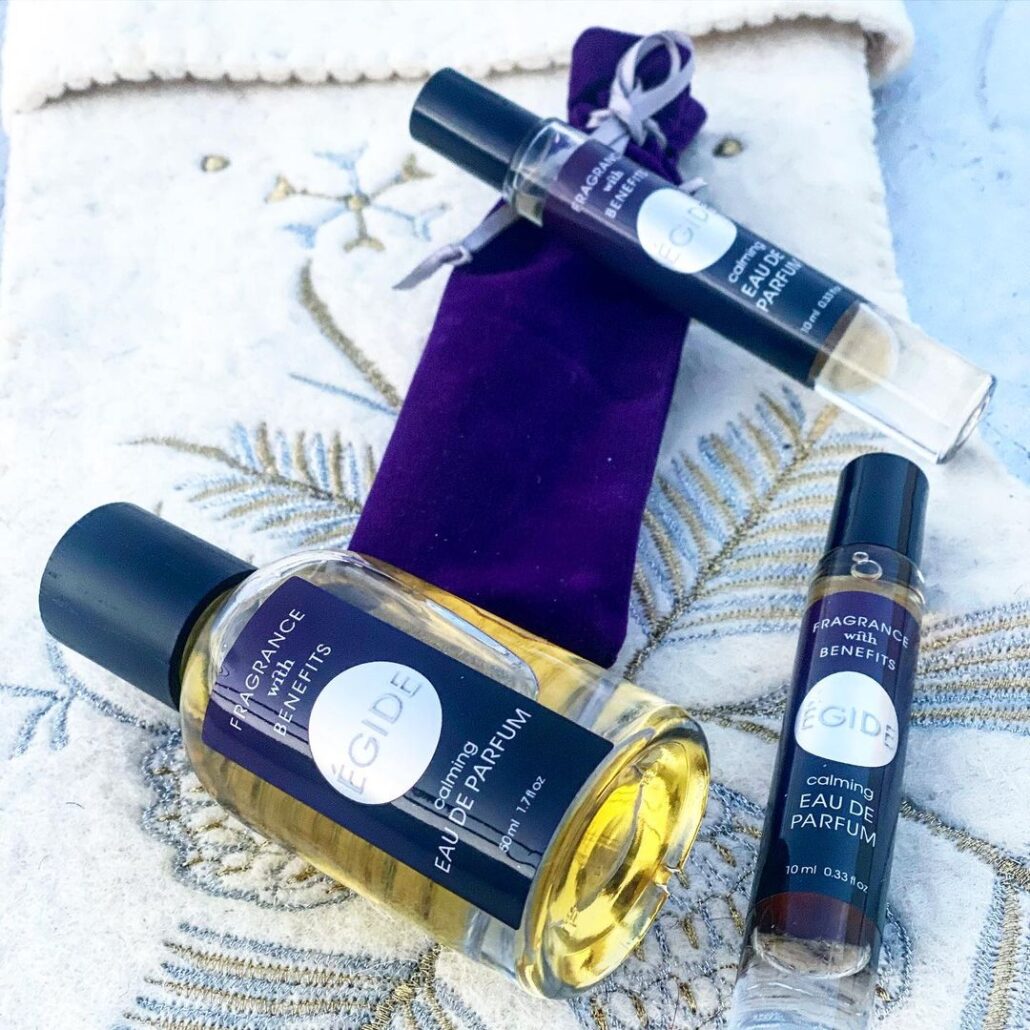 Égide
This calming fine fragrance has an effect that is hypnotic and uplifting. The Égide range envelops you in warm, sensual notes of sandalwood, ylang-ylang, frankincense, neroli, and cistus; essential oils prized since ancient times for their calming properties. Available in two sizes, you can enjoy the Égide Eau De Parfum, $105.00 for a 50ml bottle or a Rollerball fragrance for $45.00. Either would make a wonderful holiday season stocking stuffer.
Fragrance with Benefits was created by two female entrepreneurs, Olivia Jan (perfume creator) and Corinne Gillespie (market research expert); two avid explorers with an affection for essential oils. Their innovative take on fine perfumery is like nothing currently available in the market today.
We recommend you add these fool-proof gits to your holiday gift list now and head over to www.fragrancewithbenefits.com to try these for yourself.