While I love discovering new brands, I find myself becoming quite nostalgic and fiercely loyal when a long-time favorite brand launches a new product I know I will enjoy. I'm a lover of fruit and I can't always take fresh fruit on the go with me, so I opt for fruit cups. One of my go-to brands is
Del Monte
. The majority of my grocery list is filled with apple sauce, pear chunks, tangerine slices, etc which I either eat as a snack or use for a few smoothies. Of course not all fruits are available – I love mango but until recently, I had to buy whole mangoes, slice them, etc. Thanks to Del Monte, I don't have to do that anymore with their
Mango Fruit Snack Packs.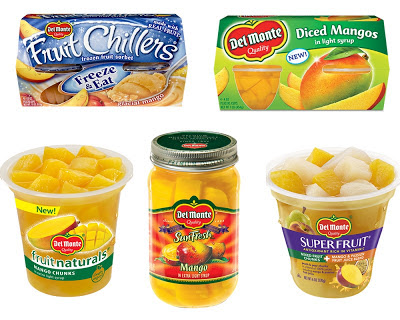 I have enjoyed several packs of this delicious tropical fruit. I hope you don't mind my sharing a few of my favorite recipes – all of which you guys should definitely try.
Mango Refresher

1 jar (20 oz.) Del Monte® SunFresh® Mango, undrained
1/2 cup orange juice
1 Tbsp. fresh lime juice
8 ice cubes
(Optional) fresh mint
Combine all ingredients in blender or food processor; blend until smooth. Garnish with sprigs of fresh mint, if desired
Mango Chicken Stir-fry

2 cups Del Monte® SunFresh® Mango, drained and cubed
3 medium skinless, boneless chicken breast halves, cut in cubes (I sometimes substitute shrimp)
1 cup green pepper strips
2 garlic cloves, minced
2 Tbsp. minced fresh ginger
1/2 tsp. red pepper flakes
2 Tbsp. oil
1/2 cup stir-fry sauce or sweet and sour sauce
1/4 cup sliced green onions
(Optional) salt
(Optional) pepper
(Optional) rice
Cook chicken, green pepper, garlic, ginger and pepper flakes in oil in large skillet, 5 minutes or until chicken is no longer pink. Season to taste with salt and pepper. Stir in sauce and green onions; cook 2 minutes. Add fruit and heat through. Serve with rice, if desired.
Don't feel like cooking, you can eat it straight out of the cup or add a few extras first like granola, yogurt, etc to get a little snack variety. All these delicious fruits are available at your local grocery store.