There are some brands that are as significant to your life like drinking water. Those are the brands you grow up with either because you've always used it or its been a staple in your family. One of those staple brands is Epilady. As the first electric hair remover, Epilady had female fans worldwide, including my mother, so of course this created a lasting impression with me. Over the years they have introduced many new updated versions since their 1986 launch; their newest addition, the cordless
Epilady Waterproof Rechargeable Wet/Dry Electric Hair Remover
, a complete hair removal kit. This kit includes an
adaptor, Perfect Angle Guide, Precision Epilating Head, Shaving Head, 3 Bikini Trimmer Guides (3-6-9 mm), cleaning brush, carrying case, and an instruction manual
.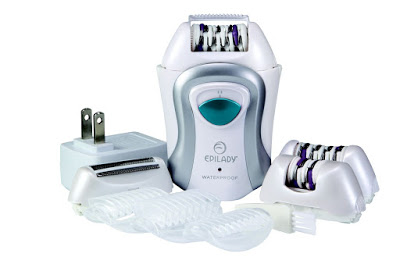 With Epilady, you enjoy hair-free smoothness for up to 4 weeks and only has to be used once a month. Hair grows back more slowly, and diminishes over time. Epilating is much cheaper that waxing in a spa, much cleaner than waxing at home, and leaves no nicks and cuts like shaving. Made to exacting IPX7 waterproofing standards (submerged to 1 meter for 30 minutes), the new Epilady Waterproof is not only allowed to get wet, but can also take a dunk in the bathtub and continue to work. It features a faster, smoother epilator head with 44 tweezer discs, delivering over 41,000 tweezes per minute at high speed, improved electrical system, and improved gearing system. The built-in LED searchlight illuminates the epilated area so you can see the hairs better. The Epilady removes even the shortest and finest hair by the root, leaving skin smooth for up to 4-6 weeks.
If you're not used to an Epilady, then the first use can take some getting used to and be a bit jarring which is why it features two massaging discs are built into the epilating head to reduce discomfort and they have a very informative tips page on their site for first-time Epilady users. Wait, there's more, the Waterproof Epilady's interchangeable precision epilation head makes it easier to remove hair from delicate areas and facial hair with more precise control. Other interchangeable shaving heads include a single-foil shaver for a close shave, two trimmers – one for shortening longer hair and the other for trimming and shaping all the way down to skin level. Three bikini trimming guide combs fit on the trimming head to create a versatile and gentle bikini trimmer.
For a limited time, Epilady is offering a 10% discount on their website (on top of any sale going they have) when you use code GL10. Why not start your road to never shaving again today.