The 2014 prom season is not too far away and for teens, the search is on for the perfect dress. There are several hot trends to look out for in prom fashion this year but luckily you can find most of them from one convenient place – DressFirst.com. Thanks to this great online dress site, there is no need to run around to different stores looking for that perfect "IT" dress. Shopping for discounted prom dresses, especially the latest must-have trends, should be simple and stress-free and this season it is. Here are some of 2014's hottest prom trends and our favorite picks from DressFirst.
High-Low Dresses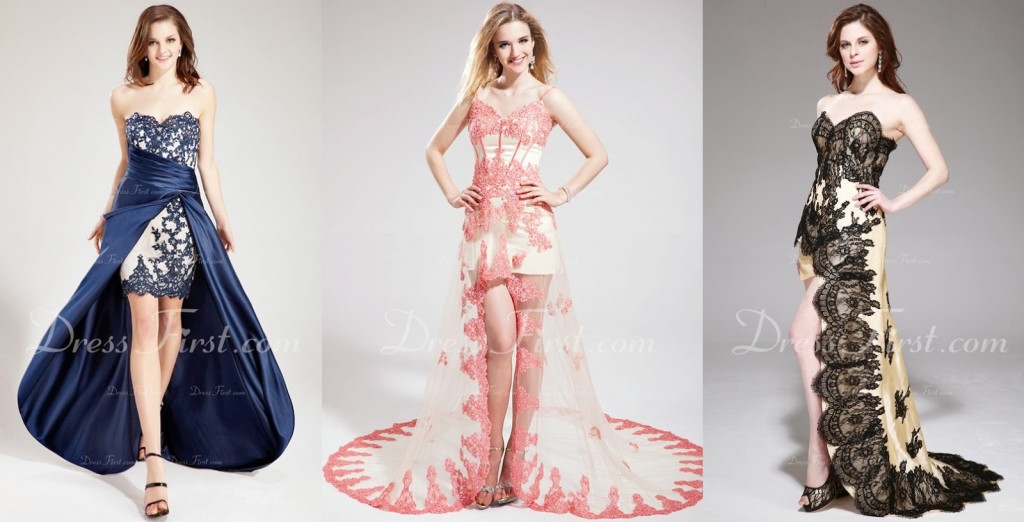 The high-low style dresses continue to be a big hit with trend-lovers and make a great choice for teens who want to highlight their fun personalities at prom. The above are three of our favorite styles from DressFirst's vast offerings of high-low prom dresses. We love the chic, strapless silhouette and ruffles on the Princess V-neck Asymmetrical Chiffon Sequined Prom Dress With Ruffle, the beading and bountiful tulle train on the Sheath One-Shoulder Asymmetrical Detachable Satin Tulle Prom Dress With Embroidered Lace Beading, and the playful, scalloped and asymmetrical hem on the Princess One-Shoulder Asymmetrical Chiffon Prom Dress With Ruffle Beading.
Sheer Illusion Dresses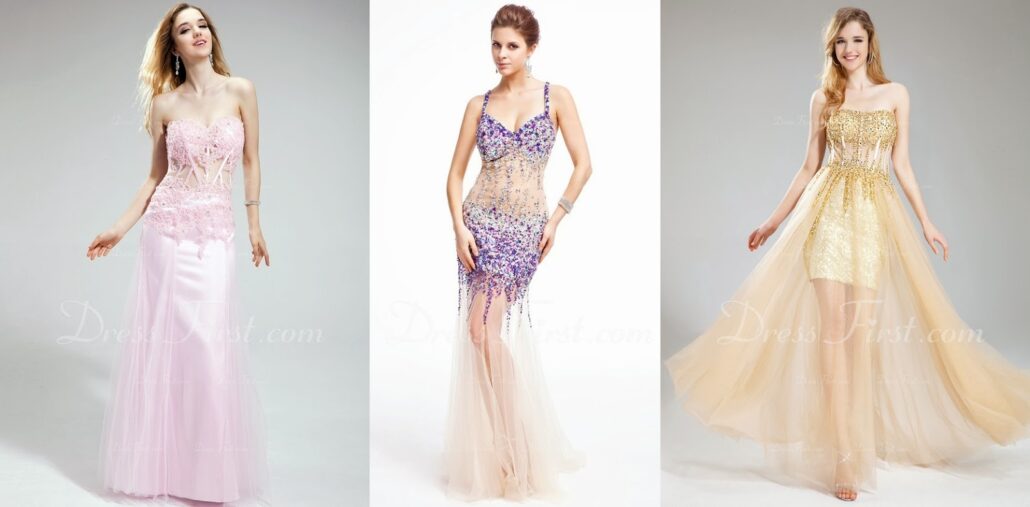 For those who want to show off the illusion of skin, DressFirst offers these sheer illusion styles. This not-so-subtle trend gives the alluring illusion of exposed necklines or sheer bodices although the sheer bodices seem to be the most popular trend out of the two. Whether the style is more subtle like the Sheath Sweetheart Floor-Length Tulle Charmeuse Prom Dress With Lace Sequins, daring like the Mermaid V-neck Sweep Train Tulle Prom Dress With Beading, or somewhere in between like the Princess Sweetheart Floor-Length Tulle Sequined Prom Dress With Beading, this trend is getting lots of well-deserved attention.
High Slit Dresses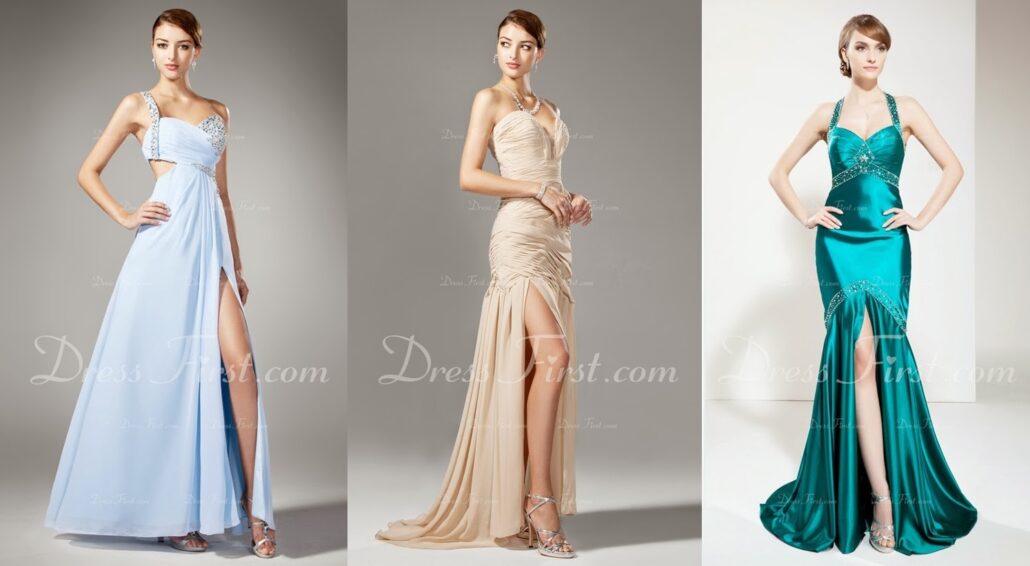 From the time Angelina Jolie's leg made it's appearance on the red carpet, High Slit Dresses have been on the rise….literally. The sexy and sophisticated style is has been making showing up on more runways and red carpets with no sign of stopping in 2014. Whether you go with a high side or front slit, designers are daring you to go higher. Our favorite DressFirst prom dresses with high slits include the Princess One-Shoulder Floor-Length Chiffon Prom Dress With Ruffle Beading Sequins with its off-center slit, the draping wonder with a perfect side slit that is the Sheath Sweetheart Sweep Train Chiffon Prom Dress With Ruffle Beading, and the Mermaid Halter Sweep Train Charmeuse Prom Dress With Ruffle Beading, which boasts a frontal slit.
Mini/Short Dresses with Sheer Overlay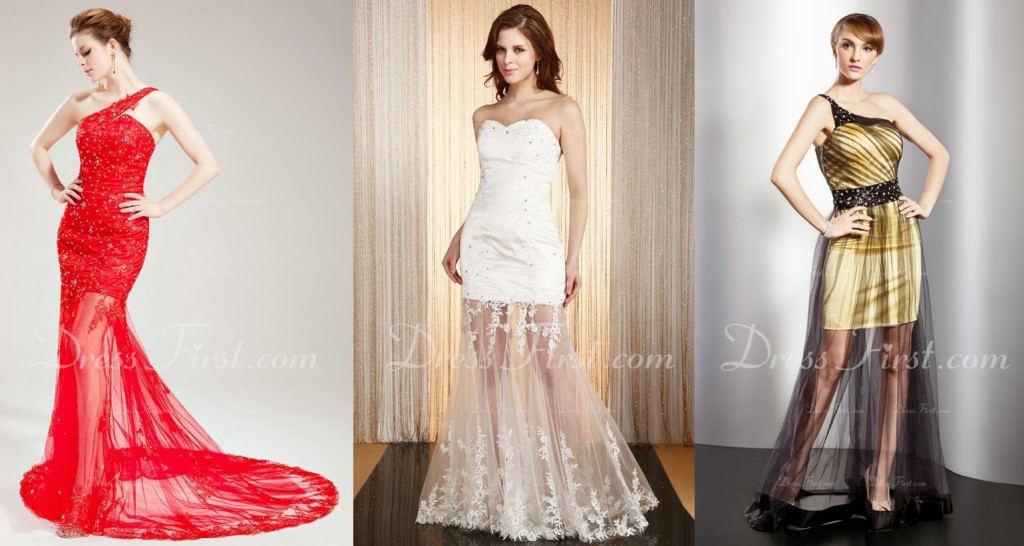 What do you get when you combine the sensuality of the high-low trend with the and elegance of the sheer illusion trend? The result is the fun, modern and chic Short Dress with Sheer Overlay trend. The attention-getting style not only highlights long legs, it allow teens to be sexy without trying too hard. We are salivating over the red hot and sultry Mermaid One-Shoulder Court Train Satin Tulle Prom Dress With Lace Beading Sequins, the super sweet Mermaid Sweetheart Floor-Length Satin Tulle Prom Dress With Lace Beading, and the elegantly edgy Sheath One-Shoulder Floor-Length Satin Tulle Prom Dress With Beading.
Dramatic Lace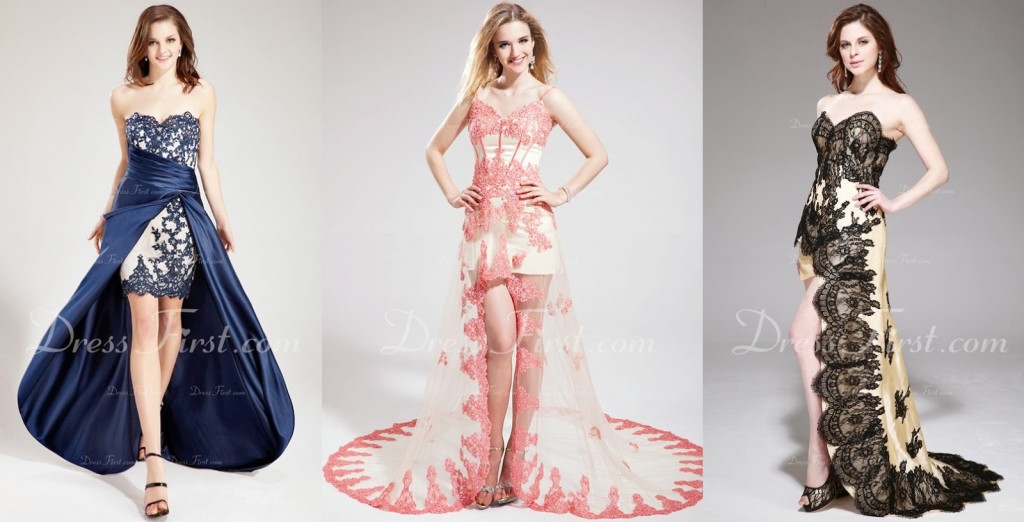 Another hot trend is lace, which is making a huge comeback in a dramatic way. No longer is lace being used as merely a trim or as a small detail. The super feminine trend is now being featured over more than half of dress styles. We're now seeing lace predominantly showcased as large lace inserts covering the bodice or entirety of dress styles. If you love this trend, one of these DressFirst styles should be your prom dress. For a more subtle lace look, check out the Princess Sweetheart Asymmetrical Satin Prom Dress With Ruffle Lace Beading – as you walk, the lace on the skirt reveals itself, matching the bodice, the Princess Sweetheart Asymmetrical Tulle Charmeuse Prom Dress With Lace Sequins, shows that pretty-in-pink doesn't have to mean reserved, while the bold and stunning standout that is the Sheath Sweetheart Asymmetrical Taffeta Prom Dress With Lace is as daring as it is beautiful.
As you can see, several of the above featured DressFirst prom dresses boasts more than one of the hot trends for the 2014 prom season and they are all under $200.00. This means no matter which style you choose, you are right on trend with these DressFirst prom dress picks without going over budget.
This is a "sponsored post." The company who sponsored it compensated me via a cash payment, gift, or something else of value to write it. Regardless, I only recommend products or services I use personally and believe will be good for my readers. I am disclosing this in accordance with the Federal Trade Commission's 16 CFR, Part 255: "Guides Concerning the Use of Endorsements and Testimonials in Advertising."