There's on thing you can be sure about fragrances, the right scent can enchant you. It can bring back memories of decadent dishes, travels to exotic, far away places or just to you in a mindset of those wonderful memories without physically being there. The following new fragrances from Chef Roble and Spadaro Perfume are launching very soon – we can't wait for you to try them, we know they will enchant you too: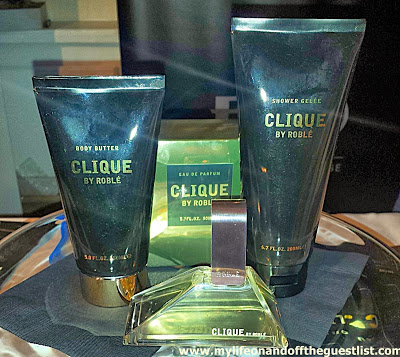 You know him from his BravoTV show or have been lucky enough to experience his delicious food, well this famed chef is ready to entice your senses with his new fragrance. Inspired by Chef Roblé's signature dessert, French Toast Crunch, featuring challah bread, cornflakes, cinnamon, salt, honey, rich chocolate and powdered sugar, the gourmand fragrance, CLIQUE by Roblé, opens with sparkling citrus cocktail notes, including blood orange, lime, triple sec, tequila, a pinch of salt, and spicy chipotle peppers. A complex floral heart explodes with wild jasmine, violet, tuberose and iris. The base is of course the chef's signature gourmand desert.
The CLIQUE by Roblé Fragrance collection includes:
1.7 Fl. Oz. / 50 ml Eau de Parfum – $59.50
5.0 Fl. Oz. / 150 ml Body Butter: Cocoa, Shea and Olive Oil rich moisturizing cream – $32.50
6.7 Fl. Oz. / 200 ml Shower Gelée : very gentle, SLS-free, luxurious shower formulation – $28.00
Spadaro's exotic fragrances has been beguiling wearers (and anyone who's been near them) for years. each scent representing an alluring destination, creator Kim Spadaro has travelled. If you've loved or experienced their sweet citrusy Sole Nero, sultry floral Doux Amour, or the sensuous and almost hedonistic Noche del Fuego, then you'll love their newest launch, Beso Del Mar (Kiss of the Sea). Inspired by a trip to the spanish island of Majorca, the new scent boasts notes that will both sooth and awaken a fire inside of you. The new fragrance is described as "Irresistible Bergamot gains unexpected depth when mixed with mysterious Patchouli and an exotic blend of Sandalwood, Vanilla and Honey spiked with Paprika and Saffron. Black Pepper, at once warm and cool — like a fire dance in the night, completes the seduction."
Each Spadaro Luxury Fragrance includes:
Eau De Parfum – $95.00
Luxury Shower Gel –$45.00
Luxury Bar Soap – $22.00
Fragrance Candle – $45.00
Spadaro also does good. For every purchase of a Spadaro product, a percent will go to "The Spadaro Foundation" which supports local charities in honor of her mother who battled cancer.