Just before NYFW, I had the extreme pleasure of receiving an abbreviated,
Hydropeptide
Facial at
The Setai Club & Spa on Wall Street
and a few product samples to take home, to learn more about the brand's new Clarify collection. This facial couldn't have come at a better time – the polar vortex had sucked all the moisture out of my skin and fashion week was just ahead.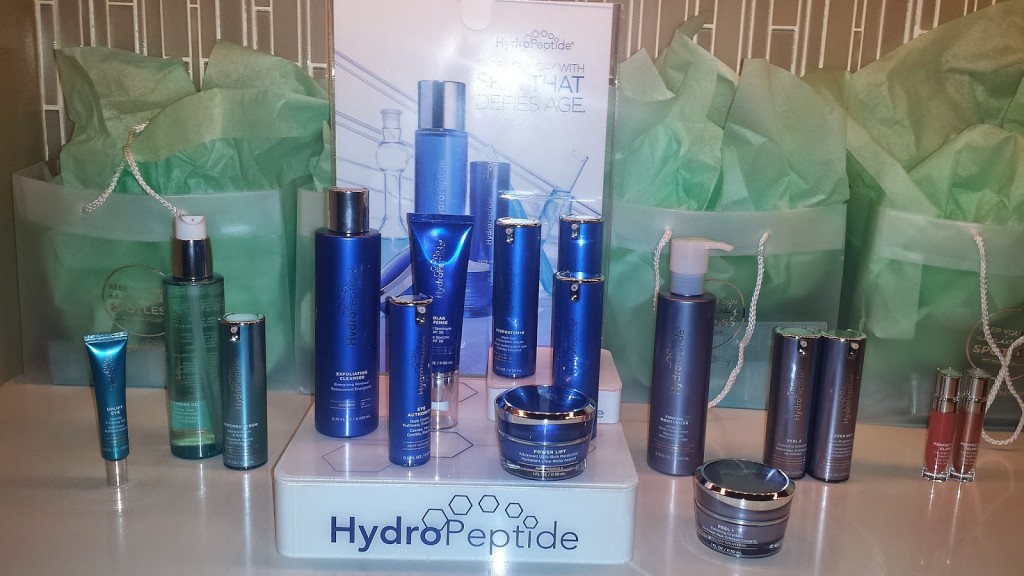 All Hydropeptide's products contain over 60 peptides with the number one mission of fighting aging; the Clarify Collection (pictured below) also deals with what my esthetician, Erin, called secondary concerns such as dehydration, redness, and acne.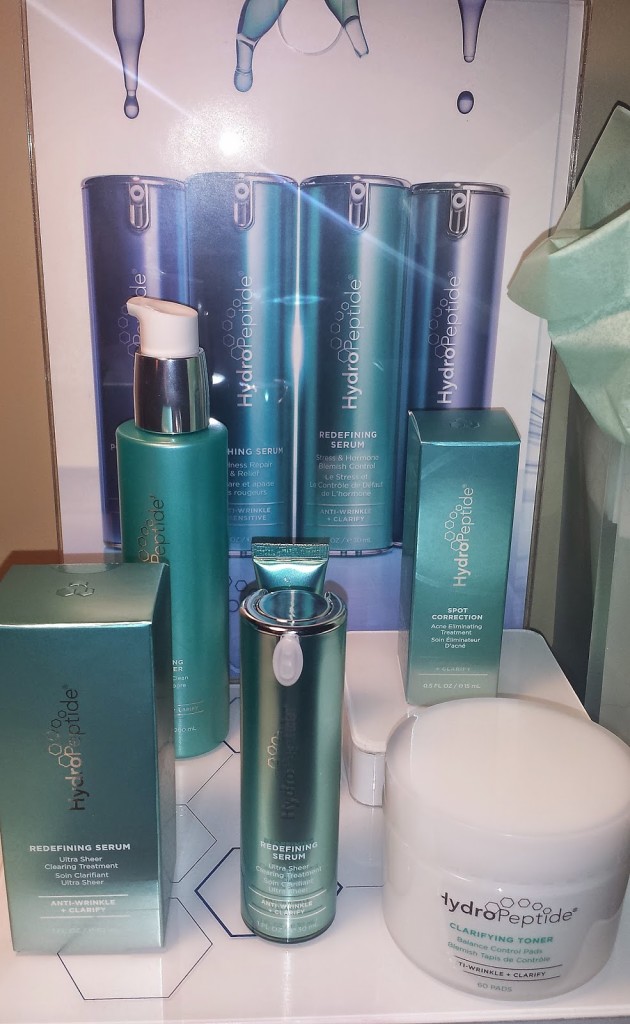 If you've never heard of peptides used in your beauty products, think of them as tiny chains of amino acids that together make up the proteins in the skin. Important proteins to note are: Collagen, a structural protein that has huge connectivity properties, and Elastin, which, like its name suggests, helps with the elasticity of our skin. As we age, the collagen in our skin breaks down and our skin appears less smooth and wrinkle-laden because structurally, it's not sound anymore.
My experience receiving a facial with the Hydropeptide Facial is as follows:
Erin was an amazing Esthetician. She was quite knowledgeable and broke down each product she used. The products were mild in scent,they smelled very clean and simple leaving you with a refreshing scent. The following Hydropeptide products were used in my facial in the following order:
1. Cleansing Gel: Cleanses, tones, and removes makeup. This cleansing gel felt as light as a serum and my esthetician used it to pre-cleanse the skin.
Here's a protip: use a damp sponge to remove the product.
2. Clay-based Purifying Cleanser: this clay-based tea tree oil cleanser boasted lots of anti-bacterial properties, perfect to deep clean my skin.
3. Clarifying Toner: toners are absolutely perfect to balance the pH of skin, as well as brighten and fight acne. This one was chock full of ingredients such as: azelaic acid (sebum regulation), lactic acid (gentle, hydrating acid ) and aloe (hydrating properties). One of the many botanicals present is Canadian willow herb, which helps with oil production.
4. Peptide massage oil: a coconut oil base, that's organic and non-comedogenic. This massage oil contains a peptide called Rejuage, which decreases oxygenation (slows loss of collagen and elastin of skin).
5. Clarify Redefining Serum: a wonderful and light treatment serum that contains salicylic acid and a growth factor that inhibits sebocytes, which help in controlling oil production.
6. Eye authority: an eye cream that addresses puffiness all in one cream
7. Power lift: this effective moisturizer was applied to my skin which contains emollients, humectants, ceramides, and occlusives, all to keep the moisture in the skin.
8. Solar Defence SPF: lastly, Hydropeptide's spf with color adjusting spheres, with a BB cream-like feel was applied. All in all, I would highly recommend, the peaceful Setai Club & Spa Wall Street and most importantly, the Hydropeptide Facial, which can be customized to your skin concerns.
The products felt wonderful and do not leave your skin feeling stripped. as I continue to enjoy the benefits with the samples I got to take home.


***Thanks to our Beauty Contributor, Laura of Blush and Beakers for covering the Hydropeptide Clarity Collection for My Life on and off the Guest List. Make sure to check out her blog.
Edited by Glasgow Skinner
Photos by Glasgow Skinner