A special note to all my coffee-addicted readers out there, if anyone ever tells you that coffee has no nutritional value and drinking too much might be unhealthy, just say three words to them –
RealBeanz Iced Coffee
. If you're looking for a coffee drink with health benefits, the ready-to-drink, nutrient enhanced RealBeanz range of gourmet iced coffees combines premium-brewed beans and reduced-fat milk with functional ingredients such as vitamins and potent herbs. These body-loving iced coffees have no artificial flavorings, coloring, sweeteners or preservatives, and are low in calories.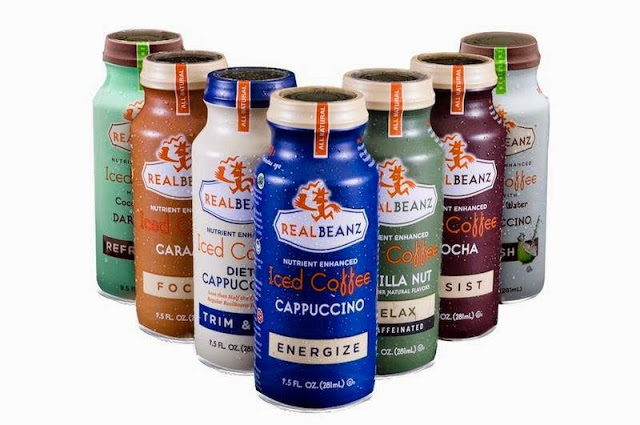 Do you find you're tired all the time? Step away from the energy drinks and grab a RealBeanz Energize Cappuccino Iced Coffee, an invigorating beverage blend featuring authentic Italian cappuccino coffee with a hint of cinnamon.
If you're counting calories but still love a good iced cappuccino, you will love the RealBeanz Trim & Fit Diet Cappuccino, an authentic Italian cappuccino coffee blend along with nutrient-based enhancements that are heavy on flavor and nutraceuticals that helps burn body fat and increase lean muscle.
For those of you who need to enjoy relaxation, grab and enjoy a RealBeanz Relax Decaffeinated Vanilla Nut Iced Coffee and it's smooth taste infused with imported coffee beans, creamy milk, Madagascar vanilla nut and naturally-calming herbs to sooth feelings of nervousness brought on by everyday stresses.
Think your coffee can't fight off that summer cold? Think again! The RealBeanz Resist Mocha features a strong mocha flavor that's loaded with powerful ingredients (like Green tea) that will add a boost to your body's immune system.
Need focus to take on your daily tasks? The RealBeanz Focus Caramel Iced Coffee features genuine caramel coffee along with brain-boosting benefits, by utilizing an intelligent blend of ingredients to keep things in absolute focus and improve your everyday activities.
Last but certainly not least, for those of you who love the benefits of coconut water will love the RealBeanz Cappuccino with Coconut Water and the RealBeanz Dark Roast w/Coconut Water, both are great to get through the day; made with 20% coconut water, Italian cappuccino and bold, premium-roasted coffee (respectively), these two delicious beverages will have you feeling refreshed.
The RealBeanz Iced Coffees comes in 9.6 oz bottles and retails for $1.99- $2.69 per bottle or you can buy a sample case of 7 bottles for $16.00 or a case of 12 bottles for $24.00 on www.amazon.com.