What better day than today, #InternationalBeerDay to announce the upcoming Village Voice Fifth Annual "Brooklyn Pour" Craft Beer Festival. On Saturday, September 26th, over 100 craft brews from New York (local beers unique to the city) and beers from around the globe, will converge in Greenpoint, Brooklyn at the Brooklyn Expo Center from 3:00PM – 6:00PM to offer unlimited tasting of 100+ beers, a souvenir tasting glass, entertainment, and an exclusive Brooklyn Pour photo booth.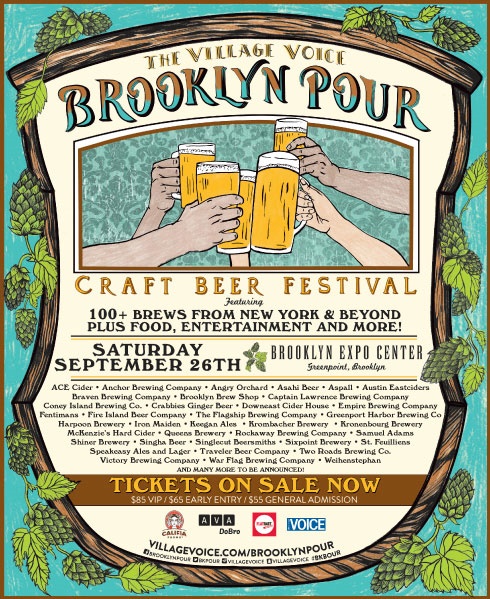 19 breweries have been confirmed to showcase their brews this year's event, including: Asahi Beer, Aspall, Austin Eastciders, Braven Brewing Company, Brooklyn Brew Shop, Crabbies Ginger Beer, Downeast Cider Hosue, Fentimans, Greenport Harbor Brewing Co., Harpoon Brewery, Kronenbourg Brewery, McKenzie's Hard Cider, Rockaway Brewing Company, Singha Beer, Singlecut Beersmiths, Sixpoint Brewery, St. Feuilliens, Victory Brewing Company, War Flag Brewing Company, with many more to be announced!
This year's Brooklyn Pour will feature three tiers of ticket options, which went on sale to the general public on Tuesday, July 28th at 12:00PM. The VIP ticket ($85.00) will allow guests entry one full hour early at 2:00PM, plus access to the private VIP lounge with a private bar, complimentary snacks, and a VIP Gift Bag. The Early Entry ticket ($65.00) will allow guests entry into the main room of the event a full half hour earlier at 2:30PM. The General Admission ticket ($55.00) allows entrance to the event at 3:00PM until the event finishes for all ticketholders at 6PM.
For more details on this year's three ticket options, visit: www.villagevoice.com/brooklyn-pour. Whether you're craft beer aficionado or novice, as an attendee, you will sample the best seasonal, micro and reserve brews from breweries around the country with a pinpointed focus on the tri-state area. The event's details are listed below:
DATE: Saturday, September 26th
TIME: 2:00-6:00PM with staggered entry as follows:
2:00PM – $85 – VIP Ticketholder Doors
2:30PM – $65 – Early Entry Ticketholder Doors
3:00PM – $55 – General Admission Ticketholder Doors
VENUE: Brooklyn Expo Center, located at 72 Noble St, Brooklyn, NY
TICKETS: http://bit.ly/BKPour15Tix
Sponsors for the 2015 Brooklyn Pour Craft Beer Festival include: Ava DoBro, Califia Farms, Barefoot Wine & Bubbly, Asahi Beer, Prairie Vodka, Crafty 'Cue Barbecue, Papaya King, Green Mountain Energy, Great Brewers, Manhattan Beer, and SKI Beer.