No woman wants to think about, let alone experience hair loss but for many, it is a problem. There are many possible causes of hair loss in women, from illness to medication to chemicals but it doesn't have to be a permanent issue thanks to the innovative and groundbreaking strides made in combating this issue. Pantene, one of our favorite hair care brands (it was a household staple for my family growing up) has launched two new products to help stop and reverse hair loss in women –
Pantene Expert Collection Hair Regrowth Treatment for Women
, which works wonders with their
Pantene Expert Collection Pro-V Advance+ Volume Boost Shampoo
.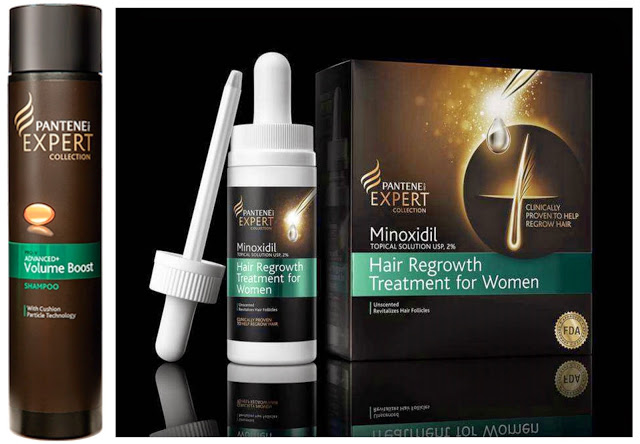 Pantene's newest launch is clinically proven to reinvigorate shrunken hair follicles which increases their size and helps to regrow thicker hair over time; just apply to the scalp twice daily as recommended of it to revitalize the hair follicles and lengthen the anagen or growing phase of the hair cycle. This allows your hair to become longer and thicker-looking. This colorless, unscented formula makes it easy to use, and won't interfere with your favorite fragrance and helps you maintain your normal hair care routine. The Pantene Hair Regrowth Treatment for Women can be used on both permed and color-treated hair and depending on your degree of hair loss, you should see moderate hair regrowth after 4 months of continued use. For those who are experiencing hair loss, please know you are not the only one. The video below shows three of the many women who worry about losing their hair:
More and more women, statistics say 70% of women, are likely to purchase a hair re-growth product from a well-known and trusted hair care brand, hence why Pantene has joined the fight against and get women talking about the stigma of hair loss.
In addition to the treatment, Pantene launched their Pro-V Advanced+ Volume Boost Shampoo as part of their Expert Collection to be used in conjunction with the Hair Regrowth Treatment for Women for visibly fuller, thicker-looking hair. The volumizing shampoo deeply cleans to give hair twice the volume boost thanks to a revolutionary cushion particle technology which provides two layers of micro-particles that bind themselves to the hair's surface. Its sheer formula is specifically designed to boost hair at the root and provide noticeably fuller, thicker-looking hair after only one use.
Pantene products are available nationwide at drug stores, food stores and mass merchandisers. The Pantene Expert Hair Regrowth Treatment For Women with 2% Minoxidil retails for $22.99 for a 30 day supply and $42.99 for a 90 day supply. For more information, visit www.pantene.com for more information.